A couple of weeks ago, Amazon.com (NASDAQ:AMZN) permanently reduced the Kindle Fire 8.9 HD price, from $299 to $269. While Amazon.com put forward the explanation that a larger geographical distribution allowed it to practice lower pricing, one could also speculate that either Amazon.com was stuck with a large supply of the slow-selling device, or maybe it was trying to compensate for overall revenue weakness.
Large supply
Before Amazon.com reduced the pricing on the larger Kindle Fire, the device routinely appeared in unflattering positions in Amazon.com's best seller list. Hovering between 8th and 18th, the device couldn't be selling well when products around it were not large movers, either.
Revenue weakness
At the same time, being a more expensive device that lends itself to being moved in quantity if promoted makes the larger Kindle Fire a prime candidate to try and recover from weak quarters in terms of revenue.
Amazon.com showed this during Q4 2012, where price promotions also hit the Kindle Fire 8.9 HD. Unsurprisingly, Q4 was very weak revenue-wise, with revenue coming in a full $1 billion below expectations. Apparently, the same might be happening to Q1 2013, which was also guided down by a full billion when compared to consensus estimates.
Right now, however, we have something new
Now, not only do we have Amazon.com lowering the Kindle Fire 8.9 HD price permanently, but we also have Best Buy (NYSE:BBY) promoting it even further! As we can see below, the Kindle Fire 8.9 HD is being proposed by Best Buy at $220 with free shipping, a full 18% below Amazon.com's already discounted price (Source: Slickdeals.net).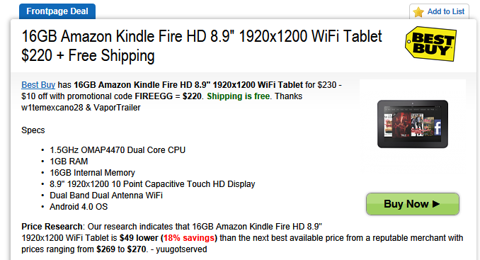 This has at least a couple of implications:
 
The first is that Best Buy is taking the fight to Amazon.com even harder. It chose to heavily discount an item where Amazon.com would be the natural supplier of choice. This brings with it the message that even in an Amazon.com product, it's cheaper to buy it at Best Buy. This goes beyond the recent price-matching campaign by Best Buy;
The second is that Amazon.com is probably still stuck with excess Kindle Fire 8.9 HD inventory and is getting desperate in moving it to the point where it's willing to deep discount it through third party retailers. Additionally, it might again indicate revenues are tracking below estimates. Here the clues are both Amazon.com's discounting of the larger Kindle Fire during Q4 2012, as well as recent data from ChannelAdvisor.

Conclusion
While little attention is given to it in the market, Amazon.com has been discounting its larger Kindle Fire harder and harder, to the point where Best Buy is now proposing the device at up to 18% cheaper than Amazon.com itself.
This is a further clue into Amazon.com's possible revenue weakness for Q1 2012, as well as Best Buy's newfound commercial aggressiveness.
Disclosure: I am short AMZN. I wrote this article myself, and it expresses my own opinions. I am not receiving compensation for it (other than from Seeking Alpha). I have no business relationship with any company whose stock is mentioned in this article.