Since peaking at nearly $48, 3D Systems (NYSE:DDD) dropped by nearly one third from its 52-week high. Shares changed hands recently at $32, and ended the first quarter of 2013 underperforming the Nasdaq index. Investors are looking for evidence that the sell-off in the stock is ending and that shares have support at current levels. There are 5 positive points that suggest the decline that began in January for shares of 3D Systems is over.
Positives
1) Strong Quarterly Earnings
3D Systems generated strong sales last quarter. Fourth quarter revenue grew by 45% to $101.6 million. Sales growth was supported by a 93% increase in printer and other revenue. The company ended the quarter with a backlog of around $11.4 million. The other strong figures were:
· Gross profit margins for 2012 were 51.2%.
· Non-GAAP net income rose by 64% to $0.39 per share.
· GAAP earnings were $0.19 per share for the quarter.
· Non-GAAP net income in 2012 was $67.9 million, or $1.25 per share.
2) Diverse Customer Base
3D Systems does not have any customers that account for more than 10% of revenue. In 2012, each portfolio category contributed to revenue growth. Categories included printers, materials and services.
3) High P/E Multiples Supported by Strong Sales
3D Systems is valued at a non-GAAP P/E of 26. This is supported by strong revenue growth across all portfolio categories. In 2012, revenue for print materials grew 46%. Service revenue grew 33%, but 3D Systems expects the total services growth rate to moderate in 2013. Revenue grew from all geographic regions. In the U.S., revenue grew 67% to $196.4 million, while in Europe it rose 21% to $100.7 million. Asia Pacific region grew at the fastest rate to $56.5 million and up 93%.
4) Revenue Growth Rate Exceeded Increase in Expenses
Revenue grew by 90% in 2012 over the previous year, while operating expenses increased 63%, from $74.13 million in 2011 to $120.6 million in 2012.
5) 2013 Forecast
Revenue growth is expected to be in the range of 24% and 37% in 2013. Earnings are expected to be between $1.00 and $1.15 per share (non-GAAP). The company experienced strong demand for its products in 2012, and expects this trend to continue.
A number of concerns remain for 3D Systems.
Negatives
6) Accounts Receivables Increased
Accounts receivables rose, causing day sales outstanding ("DSO") to rise from 67 days in 2011 to 72 days in 2012.
7) Anticipation of Strong Demand Already Priced In
The high valuation of 3D Systems may already be priced in by investors. Any unexpected drop in demand could push shares slower.
8) Short Interest Rising
Bearishness rose steadily throughout 2012 and now stands at 25.95 million shares. Below is a chart of short interest volume, adjusted for the 3 for 2 stock split.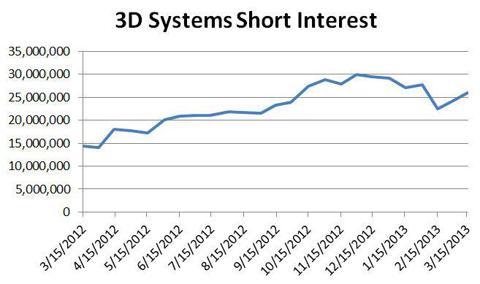 Click to enlarge
Data Source: Nasdaq
Comparison to Stratasys
3D Systems has a market capitalization of $2.97 billion, a level similar to that of Stratasys Ltd. (NASDAQ:SSYS):
| | | | | | |
| --- | --- | --- | --- | --- | --- |
| SYMBOL | MRKT CAP | P:SALES | P:BOOK | P:TANGBOOK | EV:SALES |
| 3D Systems | 2.97B | 8.39 | 6.18 | 21.5 | 8.18 |
| Stratasys | 2.85B | 13.23 | 1.81 | 12 | 12.61 |
Data Source: Seeking Alpha
3D Systems and Stratasys are highly priced, with an enterprise value of 8 times and 12.6 times sales respectively. Both companies also gave back most of the gains made in 2013: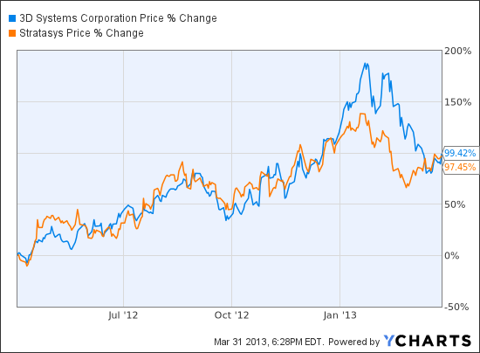 Stratasys beat analyst estimates when the company reported fourth quarterly earnings on March 4, 2013. The company earned $0.40 per share. Non-GAAP revenue rose 23% from the previous year to $96.4 million. The strong results helped shares reverse a downtrend in its shares.
Risks
Total operating expenses for 3D Systems increased by $28.2 million recently, and now accounts for 28% of revenue. On the financial statement, there are some notable risks. Interest expense grew in 2012 by six times from the previous year to $12.4 million. Depreciation doubled to $21.2 million. Despite the increase in interest costs, investors recently converted two thirds of $152 million in convertible notes. This will reduce interest expenses by nearly $3 million to around $5.2 million per year.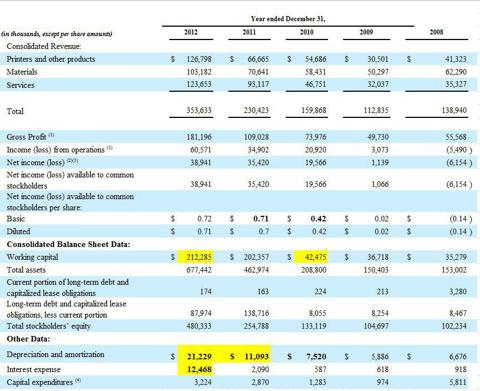 Click to enlarge
Source: SEC Form 10-K
Conclusion
3D Systems and Stratasys are heavily followed, and are outperforming the technology-heavy Nasdaq index over a 1-year period. The Nasdaq is up around 8%, compared to a 101% gain for both 3D Systems and Stratasys. When compared to a shorter time frame, both companies are underperforming the index. The short term underperformance of 3D Systems suggests that investors should be cautious on 3D Systems for now. If profit taking dominates as the second trading quarter of 2013 begins, 3D Systems could continue to underperform. The drop in shares creates an opportunity for investors who missed the initial run-up.
Disclosure: I have no positions in any stocks mentioned, and no plans to initiate any positions within the next 72 hours. I wrote this article myself, and it expresses my own opinions. I am not receiving compensation for it (other than from Seeking Alpha). I have no business relationship with any company whose stock is mentioned in this article.