As someone who covers a lot of short ideas on this site, one of the most important items I follow is short interest data. One must always be aware of the short interest in a stock. A large short base could spark a short squeeze on good news, while low short interest could spark a huge drop on bad news. Every couple of weeks, we get an update from Nasdaq on short interest data, and I report on what I am seeing. Today, I'm here to discuss the middle of March data. I will cover five technology names that have seen increases in their short interest numbers recently.
Apple (NASDAQ:AAPL):
Although I rightly called a short-term bottom in Apple about a month ago, the number of shares short in Apple rose over the first two weeks of March. Apple bottomed at $419 in early March, then was mostly stuck in the $425 to $435 range until a second half of the month breakout. Unfortunately, the stock that just missed $470 has lost almost $30 since its recent high, closing at $442.66 last Thursday. A couple of the reasons for the latest fall are below:
Apple has reportedly cut iPad mini shipments for the second calendar quarter of 2013. As most agree, this signals an upcoming refresh of the product line, but will probably mean Apple's calendar Q2 (fiscal Q3) estimates will be cut.
A big estimate cut from Pac Crest's Andy Hargreaves, who noted that demand for the regular iPad is weak and that the high end of the smartphone market is becoming saturated. Hargreaves cut his fiscal Q3 iPad forecast from 18.5 million to 15, while also cutting his fiscal Q2 and Q4 estimates.
Oppenheimer cut its Apple estimates for this fiscal year and next, while also reducing their price target from $600 to $550. The firm thinks most of the weakness is priced in, but notes headwinds will continue until we get a more clear product cycle or firm intentions for Apple's cash pile use.
I've been stating for months that Apple analysts will continue to take down estimates into Apple's quarter, and that continues to happen. Current estimates for Q2, Q3, and Apple's fiscal year are all at new lows. Analysts currently project that Apple's earnings per share will decline this year, if you include the 53rd week in last year's number. If you exclude that extra week, the growth number is just 2.22%, but that number is likely to come down. At this point, I think everyone needs to determine a reasonable expectation for Apple.
Now that I've covered some reasons for the stock's decline, let's focus on short interest numbers again. The number of shares short in mid-March was back up to 20.5 million, which is just under the 2nd-highest amount we saw back in late November. With the negative analyst reports coming out towards the end of the month, it wouldn't take much for short interest to hit a new yearly high when we get the end of March update. With almost 940 million shares outstanding, 20.5 million short is not much, but the number of shares short in Apple has doubled over the past year. Apple's short interest is a number worth watching, and it will be interesting to see where these numbers go as we approach Apple's earnings report.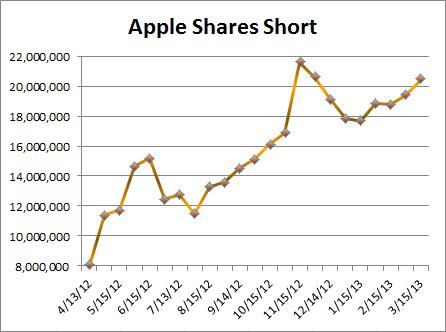 First Solar (NASDAQ:FSLR):
Short interest in the solar name has continued to increase after the company's terrible Q4 earnings report and guidance. The company reported a huge revenue miss in Q4, but did beat on the bottom line. However, gross margins decreased from Q3 levels, and the company forecasted that they would decline further in Q1. Additionally, revenue and earnings guidance for Q1 was well below expectations. First Solar shares, which traded north of $36 in February, now trade under $27.
Recent troubles in the solar industry have only increased the demand for short positions. Suntech (NYSE:STP) appears to be headed for bankruptcy, and JA Solar (NASDAQ:JASO) had a huge Q4 earnings miss and guided to a huge shipment drop in Q1.
As you can see in the chart below, the number of shares short in First Solar has risen by about 10% over the past month after hitting its lowest point in nearly a year. With just 87 million shares outstanding and a float of just 60 million, having more than 18.4 million shares short is quite significant. When First Solar reported some good quarters last year, the stock soared from $11.43 to over $36 a share. A lot of shorts covered, which helped fuel the rally. Should this company see some good news, additional short squeezes are possible. However, recent news out of this sector leads me to believe that the number of shares short will continue to rise in the near term.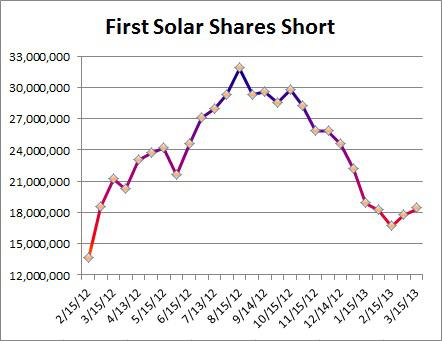 BlackBerry (NASDAQ:BBRY):
BlackBerry short interest at the mid March update marked a new high, as you can see in the chart below. Over 155 million shares were short, nearly triple the amount at the end of April 2012. Almost one third of the float is now short, with about 30% of the outstanding shares short. Should the shorts eventually need to cover, BlackBerry has been widely discussed as a major short squeeze candidate.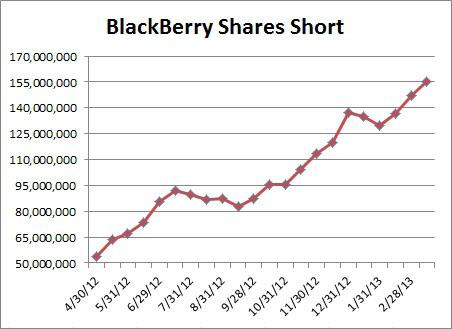 Now I'm sure everyone wants to know about the company's earnings report. I will give some details and thoughts, but also realize that the earnings report was on the last day of the month. Because short interest data is reported based off settlement dates, it is likely that we won't see the first impact of this earnings report until the mid April update (which I'll report on in late April).
So here are some quick thoughts on the earnings report. Yes, the headline numbers were mixed with revenues coming in a little light at $2.68 billion, but the surprise profit of $0.22 was nice. The company shipped about 6 million phones, roughly in line with estimates. Only about one million of those were BB10 units, which isn't surprising given the late quarter launch. As those phones continue to be launched, we'll get a better idea over the next quarter or two on how sales are really doing. It was nice to see margins jump, but those margins may be topping out if the company recently raised prices. The cash balance staying at $2.9 billion was a positive, giving the company plenty of financial flexibility for now. Overall, the report was decent in my opinion. It wasn't tremendous, but it wasn't terrible. For now, I think shares have more upside than downside, but I think a lot of that has to do with the large short count.
Google (NASDAQ:GOOG):
Not all stocks have taken part in the latest rally to new highs, and Google is evidence of that. Apparently, the $800 level proved to be too rich for some, and Google has already lost $50 from its 52-week high above $844. With Apple falling more than 2% on Thursday, Google also declined by more than a percent.
While Google's sales are certainly soaring after the Motorola Mobility acquisition, margins are going the other way. Google is moving to a lower margin business, and as competition in the smartphone and tablet space heats up, margins could compress further. Some also wonder what the margins will be on Google Shopping Express, a same-day delivery service that will attempt to rival Amazon (NASDAQ:AMZN).
Google's short interest has risen by 50% over the past three updates, as seen in the chart below. At nearly 5 million shares short, Google's short interest is nearing its 52-week high. However, with Google shares coming down a little over the past few weeks, I would not be surprised if Google's short interest comes down a little too. While Apple was falling, Google's stock was rising, up until the past few weeks. While some are calling for Google to hit $1,000, the number of shorts has increased with this stock rallying to new highs.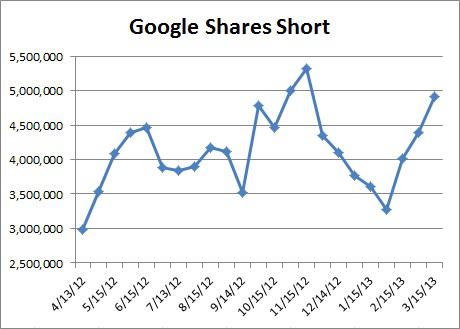 Facebook (NASDAQ:FB):
The social media giant has now seen three straight increases in short interest, after a 78% drop in short interest that started in late 2012. Facebook's short interest is up 57% in the past month and a half. However, the number of shares short is just 32.2 million, which is roughly one-third of the peak we saw in November 2012. At the same time, Facebook shares have been trending lower, towards their lowest point since December.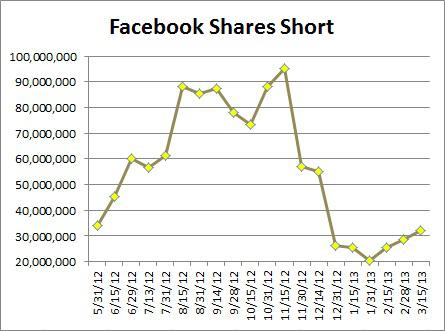 Some of the reasons for the fall have to do with Facebook's new news feed, which some have said is just another stream. Some investors are concerned about user fatigue. Additionally, as I've discussed before, Facebook announced expenses this year would be rising very quickly, more so than revenues. As a result, analysts have cut earnings estimates from $0.66 to $0.57 since the Q4 report. 2014 profit forecasts have been cut from $0.87 to $0.78 as well. Facebook currently trades for 45 times non-GAAP 2013 expected earnings, which is a bit rich for many. Google trades at roughly half that valuation, while Apple trades for just a quarter.
Final Thoughts:
Investors in these five names are hoping that the recent increases in short interest are a one-time issue. If these names can produce good news going forward, the number of shares short will reverse, and for some of these names, a nice short squeeze could occur. One thing is certain. These names have all seen large increases in short interest, and we'll see if any make this list when we get the next update in a couple of weeks.
Disclosure: I have no positions in any stocks mentioned, and no plans to initiate any positions within the next 72 hours. I wrote this article myself, and it expresses my own opinions. I am not receiving compensation for it (other than from Seeking Alpha). I have no business relationship with any company whose stock is mentioned in this article.
Additional disclosure: Investors are always reminded that before making any investment, you should do your own proper due diligence on any name directly or indirectly mentioned in this article. Investors should also consider seeking advice from a broker or financial adviser before making any investment decisions. Any material in this article should be considered general information, and not relied on as a formal investment recommendation.