Is the bear market over? Is the recession ending? Well, stocks have rallied off their lows in impressive fashion, the economic backdrop is improving, the Federal Reserve is buying every kind of asset imaginable and the consensus seems to be that this is nothing but another one of the sucker rallies we've experienced over the last six months. Put all that together and I'm pretty comfortable with the idea that stocks can continue to rise for a while longer.
One thing that a lot of the recent commentary ignores though is that while the Spring stock market rally has been nice, it still leaves the major averages down for the year.
click to enlarge images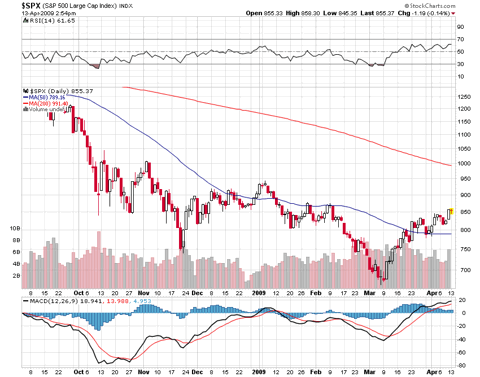 See article with charts.
The major international stock measure, the EAFE index, is also down for the year: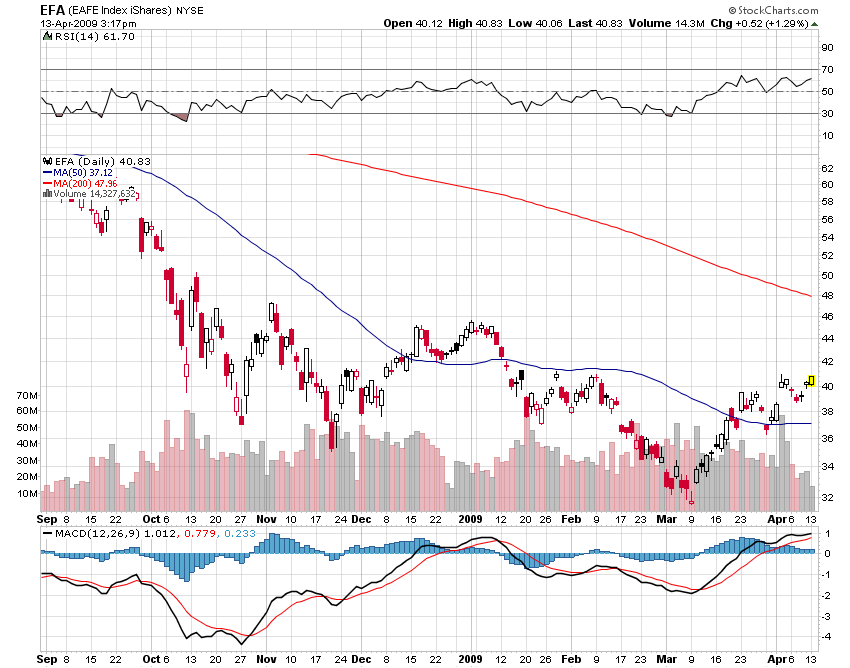 So, while this has been a nice few weeks, it does not a bull market make. There is probably room for the market to rally further and this may yet turn into a cyclical bull market if the economic stats continue to improve, but that's a long way in the future. In the meantime, there is a lot that needs to go right for stocks to keep climbing.
The economy does seem to be stabilizing though and for that we can thank the Federal Reserve. Bernanke has thrown everything but the kitchen sink at this recession and while I abhor his methods and worry deeply about the long term implications, we are seeing results. Monetary policy works with a lag, but it is powerful stuff. The Fed has essentially taken over lending in large parts of the economy, adding roughly $1 trillion in assets to its balance sheet. It would be surprising only if that didn't have any effect in the real economy.
With the Fed pushing down mortgage rates, the housing market seems to finally be finding a bottom, at least in terms of sales if not price. Home sales in CA and FL have been rising for 6 months. Nationwide, the housing affordability index is at an all time high (most affordable). A lot of commentators have derided the sales numbers by saying that they are mostly distressed sales, but to me that is irrelevant. The inventory needs to be cleared and the quickest way to do that is through lower prices. That is how this supply/demand thing works after all. Housing starts, existing home sales, new home sales and pending home sales have all seen recent improvement.
In fact, most of the economic news released recently has been better than expected, but that doesn't mean it was necessarily good. Retail sales are rising from the very depressed readings of late last year, but are still significantly below last year. Real personal income is rising (and so is the savings rate, finally). Factory orders rose last month but industrial production was down mostly due to the drop in auto manufacturing. And the job market remains dismal with the official unemployment rate now up to 8.5% and broader measures now in double digits.
Pinpointing the bottom of the recession is important in determining whether this stock market rally is sustainable. The two best indicators are the ISM manufacturing index (particularly the new orders component) and new jobless claims. The ISM index has risen for three months in a row but remains solidly in contraction territory. In past recessions the economy and the stock market tended to bottom as the ISM index did so if it continues to rise that would be very good news. Jobless claims are still very high but the rate of rise is moderating and initial claims actually fell last week by 20,000. One week does not make a trend though so some follow through over the next few weeks is essential.
The economy has fallen so far in some respects that a rebound is almost a fait accompli. Auto sales are running at about a 9,000,000 annual sales pace which implies a replacement cycle of over 20 years. Cars have gotten better but I don't think most people are going to keep their cars that long before buying a new one. New home sales have fallen to a level just over 400,000 annualized and the gross inventory is now falling. With 1.5 million new households forming every year (due to population growth and immigration), home building cannot stay at these low levels for very long. The key to both of these cyclical sectors is the credit market where the more direct effects of the Fed's actions are being felt.
Last week, Wells Fargo (NYSE:WFC) pre-announced first quarter earnings that were significantly better than expected. With the Fed forcing down short term interest rates, Wells reported that their net interest margin (the difference between their borrowing costs and their lending rates) had increased to over 4%. With a yield curve this steep even the dumbest banker can make money. Well, I guess I should wait to see if Citi (NYSE:C) reports a profit before I say that, but certainly most banks should see greatly improved margins. While the banks still face significant headwinds from bad loans (particularly in commercial real estate which are yet to be realized), the steep yield curve will allow most of them to book improved profits and earn their way out of this mess.
The other place we can see Fed policy having an effect is in the commodity markets. Although gold has stalled once again below the $1000 level, other commodities are rising smartly. Copper is up roughly 60% from its December low: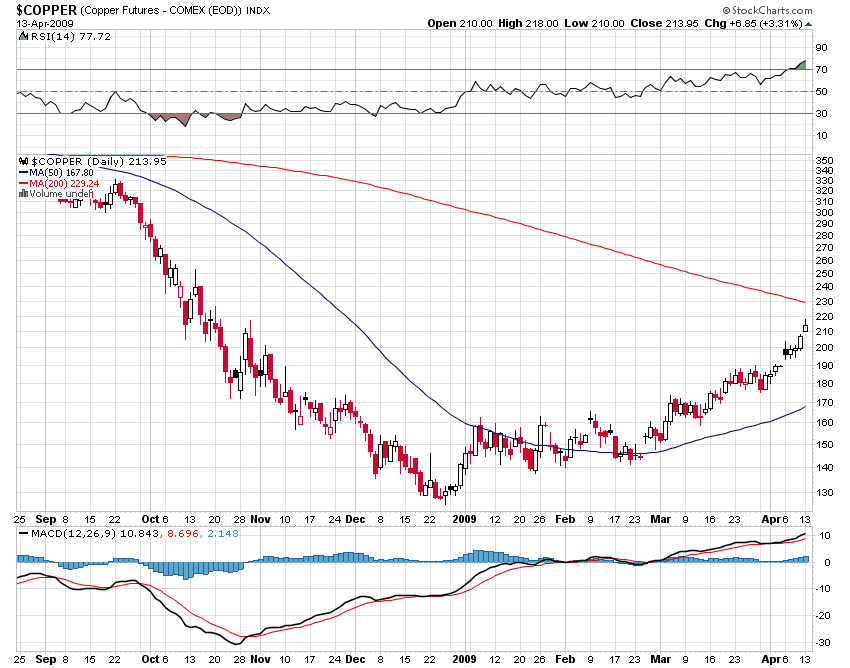 Copper is considered a leading indicator since it is used in so many different industries and the rise is being heralded as a sign of recovery. China is a big buyer but one wonders if they are just stockpiling for the future or if they have a need for it now. If they are just taking advantage of low prices to stockpile, the demand could ebb at any time. Technically, the price is approaching the 200 day moving average, where a pullback would be natural.
Platinum, another economically sensitive metal has also had a big move: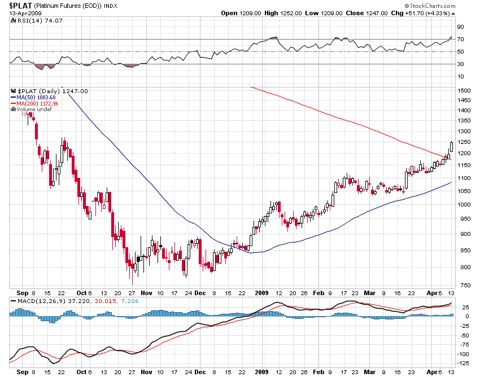 Finally, crude oil has risen even in the face of large inventories: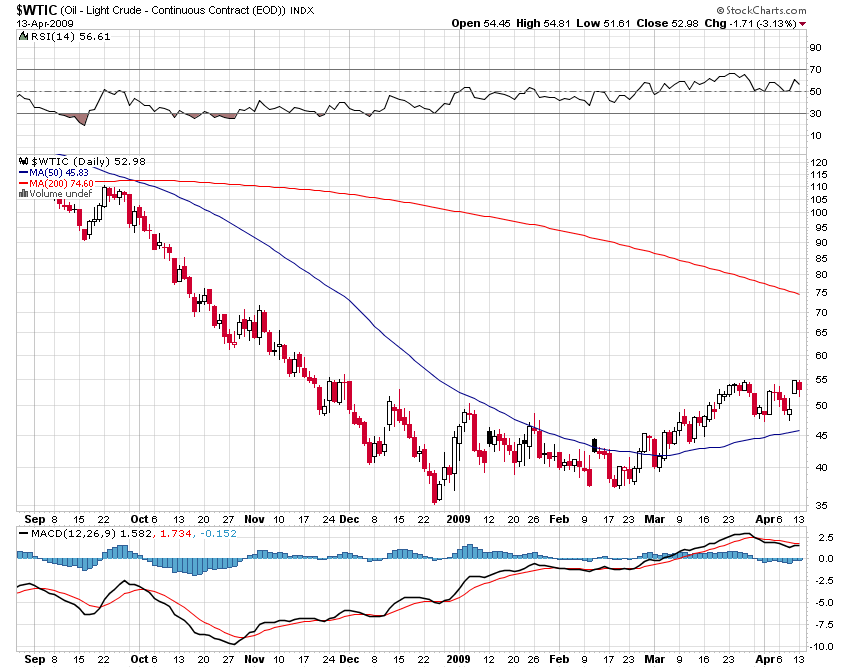 While most people see the rise in copper, platinum and crude oil prices as signs of an incipient economic recovery, I tend to see them more as indicators that the Fed's policy of inflation is taking hold. Monetary policy, as I said above, is powerful and as long as the Fed keeps expanding the money supply, it will create activity. The problem with using monetary policy in this fashion is that while the Fed can induce activity, it can't ensure that the activity is productive or sustainable. The Fed is creating vast quantities of new money and by purchasing mortgages and Treasury bonds it is forcing interest rates down. If that sounds familiar, that is because it is the same thing they did during the last recession and every other recession for as long as I can remember. The result last time was a housing bubble; where the bubble will form this time is anyone's guess, but commodities are a good candidate. And if the Fed's money printing continues to erode the value of the dollar, all hard assets, including real estate, should perform well.
The Federal Reserve (and most every other central bank in the world) is attempting to restore the status quo that existed prior to the bursting of the housing bubble. While some commentators have expressed concern that the Fed will not be able to accomplish this dubious goal, I am much more concerned that they will. A true economic revival would spring naturally from a decrease in our debt load and an increase in our savings. Increased savings would ultimately be allocated, through the individual decisions of millions of investors, to the most productive and profitable investments available. What the Fed and the Obama administration are trying to do is force investment into specific sectors of the economy (housing, "green" energy, etc.). Overinvestment in real estate is at the root of our current problems and government directed investment has a long track record of failure and corruption. Neither housing, nor any of the alternative energy sources are particularly productive, efficient or profitable investments absent government subsidies. These investments will produce activity, but an important question is what more productive investments will be foregone in their favor? What will be the long term effect on economic growth if we waste resources on these chosen sectors while failing to fund more important, but as yet unknown ones? Current policy boils down to a very large bet that Ben Bernanke and President Obama are making wise investment choices. Personally, I prefer the wisdom of crowds to the preferences of a few politicians.
In the short term, monetary and fiscal policy are starting to create economic activity. How quick and how steep the recovery will be is a topic of heated debate among economists. The consensus seems to be that recovery won't come until the end of this year or early next year and that the recovery will be anemic. Considering the track record of economists, especially over the last few years, I feel comfortable in saying that the consensus is likely to be wrong. The question is, how will it be wrong? Will recovery be sooner than expected? Will it not come at all or until sometime later next year? Considering the scope of the fiscal and monetary stimulus, my best guess is that the sooner scenario is becoming increasingly likely. Some economic research also shows that the steepness of the recovery is related to the depth of the downturn. Deep recessions are generally followed by sharp recoveries.
Despite the seemingly big moves in various markets, I have made very few changes to our portfolios. Stocks, REITs and commodities still do not have favorable technical readings and the economic environment, regardless of the better than expected news flow, is still too uncertain to warrant any big changes. I am convinced that the Fed's actions will prove inflationary, but until that starts to show up more convincingly in some asset class, it seems best to wait patiently for more evidence.
Review of the Asset Classes
Stocks
US Large Cap - S&P 500
The short term picture has improved, but this is still a bear market. The S&P faces resistance at around 875 and my upside target is the 200 day moving average which should come into play around the 950 area depending on the timing of the move. Downside support is at the 50 day moving average (currently around 790). I have not raised our exposure to stocks yet and am inclined to sell some if we reach the 200 day MA.
US Small Cap - Russell 2000 Value
Very similar to the large cap index, the Russell 2000 Value index has resistance around 680 and my target is the 200 day around 750.
REITs - iShares US Real Estate
Initial resistance around 32.5 and my target is 37.5. Initial support is at the 50 day MA and further support is offered at the 23-25 area. REITs have actually performed better than I would have thought given the negative sentiment regarding commercial real estate. I also suspect that if the Fed is as successful as I believe in regards to inflation that REITs, and real estate in general, will perform much better than anyone expects.
Commodities - iShares GSCI Commodity Trust
While some individual commodities, such as oil, copper and platinum, have had big upside moves, the general commodity indices have not performed as well. GSG is building support at the 50 day MA (about 25) and has further support at the previous lows around 22.5. First upside resistance is at 27.5 with further resistance at around 32. Longer term I am using the 200 day MA as a target and expect it to come into play around 37.5. When the economic recovery becomes more obvious, I expect to see the most explosive gains in commodities. While it may take longer for the Fed's inflation to show up in the CPI, commodities should feel the effects first. Most commodities have good supply/demand fundamentals. Production has been halted during the recession reducing supply, financing for new production is scarce and inventories are generally low.
Fixed Income - iShares 7-10 Year US Treasuries
Longer dated Treasuries sold off sharply from mid December to early February, but have since returned to an uptrend. There should be some support at 95 and better support at 93. Upside target has to be the old high of around 99. I suspect that Treasuries are tracing out a long term top. As the economic recovery takes hold, Treasury prices should drop (and interest rates rise). However, one must remember that the Fed is buying Treasuries and until that operation is over, prices are unlikely to drop much.
I like the TIPs market better:
iShares TIPS
The uptrend here has been more gradual but impressive nonetheless. Support is just over 100 and upside resistance can be found at the old highs around 105. If I'm right about inflation down the road, TIPs should outperform nominal Treasuries.
Other Charts
Currency Shares - Australian Dollar
The Australian dollar tends to move with commodity prices and has performed well recently. There is little overhead resistance until around 78.
Gold - iShares COMEX Gold Trust
As fear about the economy has receded so has the price of gold. I am still bullish long term, but the short term is neutral at best.
Homebuilders - MDC Holdings (NYSE:MDC)
Homebuilders are no longer in free fall. MDC has a good balance sheet with $1.4 billion in cash and no debt maturing before 2012. They are generating positive cash flow now.
Selected Foreign Markets
Chile
Chile is an often overlooked market that is among the best performers this year.
China - iShares FTSE/Xinhua China 25
China's market got crushed last year to the tune of about 75%, but is one of the best performers this year.
Surprising Stocks
Home Depot (NYSE:HD)
Could this be an early indicator of a recovery in housing? Home Depot has been on a tear recently.
Best Buy (NYSE:BBY)
People may be spending less, but Best Buy stock doesn't show it. It doesn't hurt that one of their biggest competitors is in liquidation (Circuit City).
Disclosure: Long S&P 500, Russell 2000 Value, China