Is cotton turning from outperformer to underperformer? I think so. Year-to-date, cotton was up 23% as it peaked two weeks ago, making it one of the best performing commodities. But a 7% correction in cotton, along with a bearish USDA report that crushed most AG products last Thursday, has me thinking… will the baby (cotton) be thrown out with the bath water? We're currently trading just above 87 cents, above an up sloping trend line that's held all of 2013. I expect it will break this time around.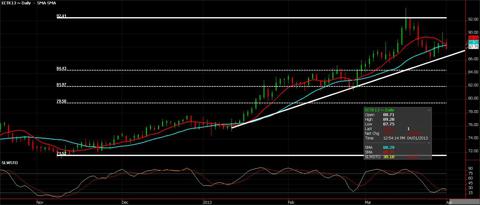 Cotton bulls will point to the fact that China is buying an exorbitant amount of cotton. But in my eyes, this has already been priced in. Only additional purchases could get cotton to a higher level, in my opinion. Besides, I think cotton has some catching up to do on the downside -- just consider recent action in soybeans (just gave back $1/bushel), wheat (off 9.5% in the last two sessions) and corn (lower by 12%). These crops, like cotton, grow out of the ground and thus potentially compete for acreage in some areas. Watch for cotton to follow corn, wheat and beans lower, in my opinion.
Bearish cotton traders should use the Fibonacci levels in the chart above as profit target guides. My favored play in cotton is bearish trade in July or December futures. Traders looking for a hedge are advised to sell short futures while simultaneously selling put options 1:1. I do not see cotton trading low enough to warrant deep discounts at the clothing retailers (sorry, all American Apparel shoppers)… but a trade back to 80 cents looks like a fine trading opportunity to me.
Risk Disclaimer: The opinions contained herein are for general information only and not tailored to any specific investor's needs or investment goals. Any opinions expressed in this article are as of the date indicated. Trading futures, options, and Forex involves substantial risk of loss and is not suitable for all investors. Past performance is not necessarily indicative of future results.
Disclosure: I have no positions in any stocks mentioned, and no plans to initiate any positions within the next 72 hours. I wrote this article myself, and it expresses my own opinions. I am not receiving compensation for it. I have no business relationship with any company whose stock is mentioned in this article.