"May you live in interesting times."
-- Chinese Proverb and Curse.
The first quarter earnings reporting season of April-June has been particularly interesting since 2010. S&P500 fluctuations in the period ranged between 7.4% and 15.9%, providing opportunity for the astute investor. This recent history and the current investment landscape suggest we approach the upcoming earnings season with caution to minimize portfolio damage and seize opportunities to profit from a down market. This article summarizes some of the evidence for an impending downturn in the second quarter, then suggests ways to prepare for it.
The Trends: Quarter 1 and Quarter 2
In the first three months of 2010-2012, the trend was the optimists' friend, with gains of 4.8%, 5.4% and 11.6% respectively in the S&P500. The second quarter was a different story. It ended down 11.9%, 0.4%, and 3.2%. Within the quarter there were drops of 11.9%, 4.5% and 9.4% from the starting price, and prices fluctuated 15.9%, 7.4% and 10.2%. As the unbroken advance in 2013 continues, the likelihood of a retracement to consolidate gains increases.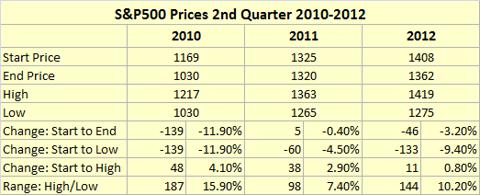 Bellweathers Ringing
Last week provided some stark, unexpected evidence of business conditions. Two bellweathers, Fedex (NYSE:FDX) and Oracle (NASDAQ:ORCL), reported quarterly results that were disturbing to investors. Fedex came in with earnings of $1.23 rather than the expected $1.38 and shares dropped over 9%. Oracle met profit expectations but missed on revenue by over 4%, enough of a shock for shares to fall over 11%. Third bellweather Caterpillar (NYSE:CAT) reported that global equipment sales fell 13% in the three months ending in February. With the possible exception of Oracle, these were not weaknesses from idiosyncratic conditions within the companies. There was softness across large parts of their business. By contrast, superior results from Lennar and Guess received a surprisingly tepid market response.
Operations on the Corporate Body
Many corporations responded to the recession by cutting personnel, reducing capital spending, and other measures to reduce costs. These were very effective in boosting profits, even in the face of lower revenues. However, after three years these programs are fully implemented, and additional increments to profit margins will be minimal. Further, improving economic conditions have reduced the imperative to find new efficiencies, which in any case would be difficult after three years of effort.
What's Important in the News
The amount of news and information available at any point in time is staggering, and part of the investing challenge is determining what is meaningful for the decision making process. Those of us old enough may remember when the market reacted immediately to the any information on the U.S. balance of payments, the federal deficit, or Middle East politics-things that barely register now. Since November there has been a strong tendency to focus on good news, almost regardless of content, and ignore the bad. Even the sequester threat in December barely caused a ripple in the major indexes. The response to early earnings reports above may be a sign that this is changing. A change in focus from positive to negative is something to watch for closely, and would accelerate a downward market trend.
Changing Investment Stance
Market history since the recession in tandem with recent developments suggests that the next three months could see a pullback of 5 to 10 percent as first-quarter earnings are reported. Evidence of negative surprises is accumulating and the reaction could be severe. The situation is not clear enough to justify radical portfolio changes, but reducing exposure to equities would be prudent. This would include lower exposure to SPDR S&P 500 (NYSEARCA:SPY) and other broad based investment vehicles to defend against a broad market decline, as well as lightening up on individual stocks. Prospects for successful companies may look bright today, but Fedex and Oracle are stark reminders of how quickly this can change. By moving more to cash, most investors will be in the happy position of taking profits and eliminating loss risk, and cash can be redeployed quickly and easily if changing conditions warrant it. This may mean missing another few percent of gains if the market continues its climb, but that is certainly less consequential than suffering a drop of 5-10% or more.
A more aggressive approach to an impending pullback is to buy inverse ETFs that will rise in a market decline. These ETFs are available from a number of companies. Pros hares' offers the 1x inverse Short S&P500 (NYSEARCA:SH), 2x inverse Ultrashort S&P500 (NYSEARCA:SDS), 3x inverse UltraPro Short S&P500 (NYSEARCA:SPXU), and others based on different indexes. The usual caution about leveraged ETFs applies: they are suitable for short-term trading only. Leveraged funds can gain or lose value quickly and their structure contains an inherent deterioration in net asset value over time. This happens very quickly in 3x funds, and I do not recommend them.
Earnings season begins with results from Alcoa (NYSE:AA) on Tuesday, April 9, and it's possible there will be earnings warnings even before then. These early reports, in combination with patterns in the second quarter over the past several years, could quickly establish the investment climate for the next three months.
Disclosure: I have no positions in any stocks mentioned, but may initiate a long position in SDS, SH over the next 72 hours. I wrote this article myself, and it expresses my own opinions. I am not receiving compensation for it (other than from Seeking Alpha). I have no business relationship with any company whose stock is mentioned in this article.