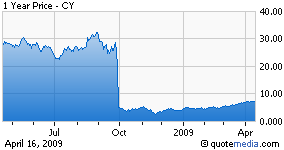 Cypress Semiconductor (NASDAQ:CY) Thursday morning checked in with a beat-and-raise Q1 financial report.
For Q1, the chipmaker posted revenue of $139.3 million, down 17.3% from a year ago, and off 15.6% sequentially, but above guidance and ahead of the Street consensus of $123.5 million. The company reported a non-GAAP loss for the quarter of 22 cents a share, one penny smaller than the Street forecast for a loss of 23 cents.
One slightly odd item from the release is that a headline above the text reports that the company sees Q2 guidance "significantly above Street consensus," but the specific information on guidance appears to have inadvertently been left out of the text. A spokesman for Cypress says the company sees revenue for Q2 of $145 million to $153 million, which really is nicely above the Street consensus at $129 million. Cypress will provide EPS and gross margin guidance on its call this morning; I will pass along details on when I get them.
Cypress also said in its release that it believes Q1 should be the trough for both revenue and gross margin. The company notes that Q1 non-GAAP gross margin in the quarter of 34.6% was short of guidance, and down 7.9 percentage points sequentially, "due mainly to record low utilization levels and inventory reserves." Inventory decreased 17.8% sequentially. Cypress said book-to-bill in the quarter was 1.12, with all divisions above 1.
"Customers are beginning to place backlog orders and to restock depleted inventory level," Cypress said.
CY Thursday morning is down 16 cents, or 2.2%, to $7.17.