Windstream Corporation (NASDAQ:WIN) is the ninth largest telecom service provider in the United States. If you have never heard of the company, surely you recognize its main competitors: Sprint (NYSE:S), AT&T (NYSE:T) and Verizon (NYSE:VZ). Perhaps you've heard of Alltel and Valor, which merged in 2006 to form what is now known as Windstream. The company provides voice, internet, cloud computing and other networking services for business and residential customers. With annual revenues of $6 billion compared to an industry average of $7 billion, Windstream is not a big player, but that doesn't mean it isn't worth a look.
The Windstream Advantage
Windstream exists as a company for a reason. Customers choose the services it provides because something is being offered that no other company is able to do as well or as cheaply. When I perused the case studies of customers that chose Windstream, no big names popped out. A few familiar faces were in the crowd:
Coldwell Banker
George Washington University
Thomson Reuters Healthcare
The list is filled with small to mid-sized businesses and quite a few government customers like small cities and school districts.
The common theme among its happiest customers was the ability of Windstream to fulfill their requirements quickly and efficiently, with a high degree of customization. Whereas larger telecom companies might have to force changes upon their customers with a "take it or leave it" approach, Windstream is better able to adapt the solution to meet the needs of its clients.
I believe the key to Windstream's viability in an industry with stiff competition and razor thin margins is the growth of small businesses, which requires more flexibility than what larger telecoms can provide. If you are like me and see the number of small businesses growing in the future, then Windstream's outlook should at least be stable, perhaps even bright. Indeed, the Russell 2000 index is making all-time highs practically every day. These strongly performing small-cap stocks are Windstream's potential and existing customer base.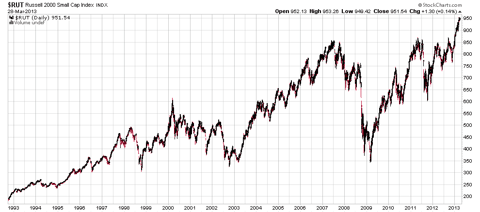 As one would expect, revenue and cash flow are increasing for the company in the wake of this growth environment: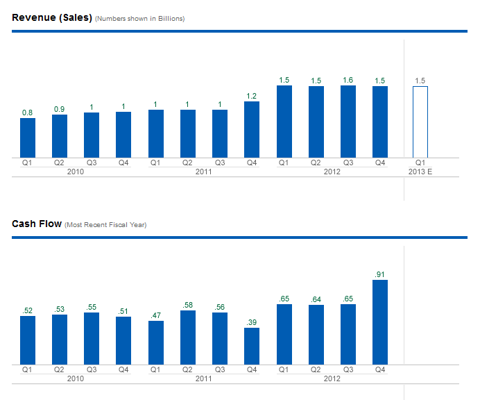 Significant Insider Accumulation
Insiders have been snatching up the stock in the past two years. Just last week, three executives bought additional shares:
| | |
| --- | --- |
| Insider | Amount |
| Jeffery Gardner - CEO | $8,180 |
| Dennis Foster - Chairman | $52,885 |
| Carol Armitage - Director | $8,130 |
The green circles below indicate insider buying. In March 2013, there was a flurry of insider buying in the $8-$9 range.
Source: J3SG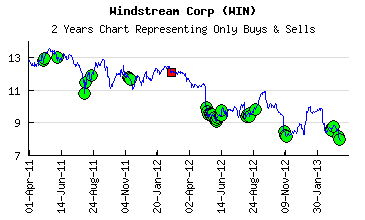 The entries have been quite good at predicting short-term bounces, but many of the buyers are now underwater in their positions. Due to the track record of the buyers, I can't claim this time will be any different than past. Insiders can be wrong about their own company's stock. However, the stock seems to be basing here, and insiders are accumulating rapidly. That tells me something.
The Risks
Investors might see the client base as a red flag. Investing in a company that has no large clients as a reliable source of revenue could be seen as risky. The tightening of government spending could actually cause a company like Windstream to lose revenue as municipalities and small businesses struggle and make cuts. Windstream is also debt-laden, with $9 billion in debt. That's more than the market cap of the stock.
Those are legitimate concerns, but bear in mind the stock peaked in the beginning of 2011 at $14 and dropped to $8 since then. At some point, these issues become fully priced into the stock. The question is whether the market has gone overboard in discounting the worry without considering the potential for upside surprises. A bet on Windstream is a bet that worries over sequestration and a weak economy in the United States going forward are overblown. At $8, perhaps there is some value here.
Let's dig into the numbers to figure out why the stock dropped so much.
Five Earnings Misses In A Row
Ouch. That'll sink a stock. Windstream has suffered from a bad case of overzealous estimates by the 16 analysts that cover the stock. Top line revenues have been climbing, but the bottom line has been falling. Combine a series of earnings misses with already lowered expectations, and you get a 42% drop in the stock.
| | | | |
| --- | --- | --- | --- |
| Quarter | Estimate* | Actual* | Earnings Miss |
| Q4 2011 | 0.20 | 0.19 | -0.01 |
| Q1 2012 | 0.14 | 0.13 | -0.01 |
| Q2 2012 | 0.13 | 0.12 | -0.01 |
| Q3 2012 | 0.13 | 0.12 | -0.01 |
| Q4 2012 | 0.13 | 0.11 | -0.02 |
| Q1 2013 | 0.11 | ??? | |
*non-GAAP
First quarter earnings for 2013 are expected to come in at 0.11. The analysts finally caught up to the trend and decided to dramatically lower estimates. These analysts have a track record of being late to the game after having missed five quarters in a row. Maybe this lowered estimate is an overreaction to a bad losing streak, and Windstream could meet or beat the Street this quarter. I don't have a crystal ball when it comes to projecting earnings, but I can diagnose when sentiment shifts on a stock, and the mood seems pretty negative right now.
What is Driving Earnings Lower?
The decline in earnings was rooted in increased capital expenditures related to fiber and tower projects and broadband stimulus projects, which management expects to wind down after 2013. Total operating expenses as a percentage of revenue increased from 75% in Q3, 2011 to 84% in Q3, 2012. Assuming the rising trend in revenues continues, or even if it simply stays level, earnings and cash flow should increase in 2014 as these expenditures fall off the income statement.

CEO Jeff Gardner spoke about this in the Q4, 2012 conference call:
"..Our priorities for 2013 include first, we expect to substantially complete our capital investments related to fiber to the tower projects, reaching 4,500 towers by the end of 2013. In addition, we will finish most of our broadband stimulus initiatives, which expands our addressability to roughly 75,000 new households. As we exit 2013, we will see capital spending related to these projects decrease substantially."
Now perhaps we have a clue about why the insiders are buying so aggressively.
Windstream As An Investment
Windstream pops out on stock screens for its dividend yield, which comes in at 12.6%. Sprint pays no dividend. AT&T pays 4.9%, and Verizon pays 4.2%. Windstream is the fourth highest yielding stock in the diversified telecommunication services space, even among international providers, and it is the highest yielding US telecom in its sub-industry. Windstream has paid a $0.25 quarterly dividend since 2005. In that time, the dividend has never been raised or lowered.
| | |
| --- | --- |
| Company | Dividend Yield |
| Royal KPN (OTCPK:KKPNY) | 26.5% |
| France Telecom (FTE) | 17.2% |
| Magyar Telekom Tavkozlesi (OTCPK:MYTAY) | 12.6% |
| Windstream | 12.6% |
Today's Losers Are Often Tomorrow's Winners
Anyone remember these names towards the end of last year? It seemed they were all going out of business at the time. Now, they are some of this year's strongest performers. This is a lesson for investors about finding opportunity when sentiment has become too negative in a stock.
| | |
| --- | --- |
| Stock | YTD % Gains |
| Hewlett-Packard (NYSE:HPQ) | +57% |
| Best Buy (NYSE:BBY) | +86% |
| RadioShack (NYSE:RSH) | +52% |
| SuperValu (NYSE:SVU) | +100% |
As for the dividend yield, a high yield in and of itself is not a reason to buy a stock. Some view high dividend yields as riskier because the high yield is a result of a major plunge in the stock price. Indeed, that's exactly what happened with Windstream. A major drop in the stock is enough to make anyone a little bit leery of entering an investment.
I recognize that a high dividend yield is often the result of a stock that is trending lower, but at some point, the high yield itself is a valuation metric. When the stock yielded 7% back in 2011, that might have been seen as a good yield, yet a 40% drop in price more than made up for any dividend collected during that time. The same could happen from these levels, or even worse, the dividend could be cut. However, I believe the dividend is safe because the insiders would not be buying the stock so aggressively if that were a concern, or even if it were, they still view the stock as undervalued. Just because a dividend gets cut does not mean a stock is overvalued prior to the cut.
Conclusion
Given my outlook for small business growth and the confidence shown by insiders, I believe Windstream is a buy around $8. The winding down of capex projects should increase earnings in 2014. The trend in cash flow is positive for Windstream and will enable the company to continue to pay the $1 annual dividend and also pay down some debt. An aggressive target is $16 over the course of the next four years, similar to the rise in price from 2009 to 2010 when the stock rose from $6 to $14. The dividend should be reinvested even if the stock drops more. The immediate outlook is positive for Windstream, but I may revise my view in the coming months and will keep readers posted.
Disclosure: I have no positions in any stocks mentioned, but may initiate a long position in WIN over the next 72 hours. I wrote this article myself, and it expresses my own opinions. I am not receiving compensation for it (other than from Seeking Alpha). I have no business relationship with any company whose stock is mentioned in this article.