Improving Trends In The U.S. Economy
Most would accept that the macroeconomic environment in the U.S. is improving. For example, unemployment is slowing declining, although is still far from 2008 levels (see below). Assuming this trend continues, it creates an opportunity for stocks leveraged to U.S. consumer spending to potentially outperform the broader market. When talking about the typical U.S. consumer, bear in mind that disposable income per person is approximately $32,000 on average, with a savings rate of roughly 5%. When looking for opportunities, the products and services that will benefit from an improving consumer need to be both relatively inexpensive and discretionary.
U.S. Unemployment Rate 2008-present
click to enlarge)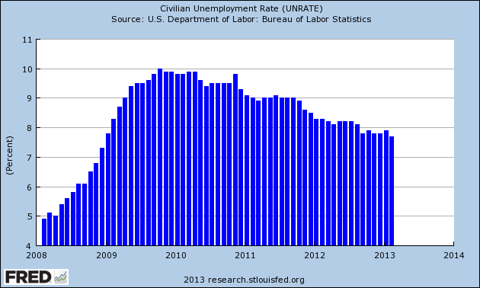 Four Criteria To Determine Fit With The U.S. Consumer Opportunity
The sort of investments that benefit from the strengthening U.S. consumer have the following attributes:
U.S. focused - clearly any exposure outside the U.S. isn't bad per se, but means that the impacted of U.S. consumer growth is diluted on the business by the presence of other markets.
Accessible to a majority of U.S. consumers, with a particular focus on low-income consumers where acceleration in spending is likely to be greatest as the economy improves.
Have an economic moat in terms of a valuable asset that is hard to replicate.
Have operational leverage, in terms of fixed costs and low marginal cost of serving additional customers. These sorts of businesses are best poised to see the greatest profit growth from incremental revenue.
Ideally be attractive investments in terms of fundamental ratios and momentum.
Comparing Two Ideas Against The Criteria
Two companies that may fit this model are Speedway Motorsports (NYSE:TRK) and Six Flags (NYSE:SIX).
| | | |
| --- | --- | --- |
| Criteria | TRK | SIX |
| Primarily US focused | yes, all race tracks in the US | primarily, 16 parks in US, 1 in Mexico, 1 in Canada |
| Accessibility to US consumers | moderate - average ticket price $88 | moderate - adult ticket $62 |
| Economic moat | Yes, significant fixed investment in creating a racetrack and gaining key races and TV rights | Yes, significant investment in building and maintaining a park |
| Operational leverage | Very high, 50% gross margin and 8% net profit margin | High, 92% gross margin and 36% net profit margin |
| Attractive on a fundamental basis | Good - 18x trailing P/E, 16x forward P/E, 3.5% yield, 0.8x book and basically flat over last 52 weeks | Mixed - 11x trailing P/E and 4.2% dividend yield, but >4x book and 29x forward earnings, at 52 week high |
Recent Stock Price Performance
Six Flags enjoyed a strong past 12 months, whereas Speedway Motorsports has been broadly flat.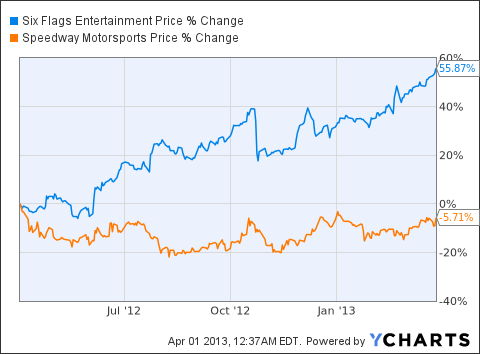 SIX data by YCharts
Overall Assessment
Neither, Six Flags nor Speedway Motorsports are perfect investments to play the strengthening U.S. consumer, but they are pretty good. The biggest concern in both cases is that ticket prices are reasonably high for lower income consumers; this may impede lower-income groups being able to afford them. However, on most other criteria they perform well, Speedway Motorsports does better on leverage simply because its current margin is so low and therefore, any growth will cause a disproportionate increase the net income. Six Flags looks a little less attractive on financial metrics, in particular price/book and forward P/E are high relative to the broader market.
Recommendation
Speedway Motorsports appears a sensible way to play a strengthening U.S. consumer. There is an economic moat because new racetracks are hard to build and attract premium races to. The income statement suggests operational leverage, which is in keeping with what one would expect from a business where the cost of staging a race is largely fixed and hence incremental growth in attendance is very valuable. Equally the stock is reasonably valued on most metrics. Six Flags has a similar story, though the forward P/E and price/book are concerns.
Risk Factors
This is predicated on U.S. consumer continuing to strengthen. If that does not occur then these investments are unlikely to succeed.
As noted above, both services are relatively expensive, with $60-80 ticket prices and this may impede their ability to reach the lower-income consumers who are most likely to benefit from the improving economic environment.
Speedway Motorsports and to a lesser extent Six Flags are smaller stocks with less geographic diversity. This may give them greater stock specific risks than other companies.
Disclosure: I am long TRK. I wrote this article myself, and it expresses my own opinions. I am not receiving compensation for it (other than from Seeking Alpha). I have no business relationship with any company whose stock is mentioned in this article.