A recent Forbes article names some of the most shorted Dow stocks and not surprisingly, Caterpillar, Inc., (NYSE:CAT) makes the list and comes in at the number 13 position. While many investors seem to always take a bullish view on this stock, there are good reasons for the shorts to be involved. First of all, this stock is well below the 52-week highs even as the S&P 500 Index (NYSEARCA:SPY) surges to new record highs. Many shorts have been doing just fine in this stock as it has become a laggard that seems to continually drift lower in face of the market rally. Caterpillar is a globally recognized brand and it makes some of the world's finest heavy equipment. However, the negatives seem to be outweighing the positives. Here are some reasons why it could continue to drift lower, to the benefit of the shorts: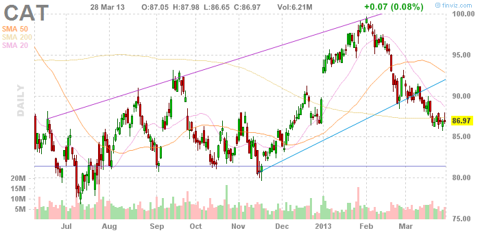 Click to enlarge
1) As the chart above shows, Caterpillar is in a downtrend and so far, it does not appear to have found a strong support level. Since August of last year, Caterpillar has found support at about $80. The chart also shows that Caterpillar shares have broken below the 50- and 200-day moving averages, and that could mean the next solid support level might not be found until the stock reaches the $80 level, once again.
2) Caterpillar makes heavy machinery that is used in numerous industries, which includes construction, farming, mining, heavy infrastructure and others. Some of these industries have been under pressure and that could be reducing demand for Caterpillar. For example, many gold mining companies are becoming more cautious on capital expenditures since gold prices have drifted lower along with many gold mining stocks. Other industries that rely on mining equipment are also pulling back. Iron ore and coal have been under pressure as demand for iron ore (which is used in making steel) wanes and coal, which has seen major price declines due to low natural gas prices, also suffers from excess supply, which has caused mine shutdowns. China has been driving plenty of demand for iron ore, coal, and construction for many years, however, many believe that China could see a potential real estate bubble collapse and growth rates have already started to decline. That appears to be reducing the outlook for Caterpillar as well.
3) Caterpillar recently reported a significant drop in orders. It said that global sales declined by 13% in the three-month period ending in February. Sales in the Asia-Pacific region were down 26%, and even North America was weaker than some analysts expected with a roughly 12% decline. Based on these results, analyst estimates appear to be overly optimistic, for at least the first half of 2013.
4) Reduced levels of sales could be increasing inventory levels, which is an expensive problem to have. Furthermore, if you wanted to pick a Dow stock that had the strongest balance sheet, it would not be Caterpillar. This company has about $3.3 billion in cash, but a much larger amount of debt, which stands at around $40 billion. That is a large debt burden, especially when sales are declining.
Here are some key points for CAT:
Current share price: $86.97
The 52-week range is $78.25 to $109.77
Earnings estimates for 2013: $8.01 per share
Earnings estimates for 2014: $9.38 per share
Annual dividend: $2.08 per share, which yields 2.4%
Data sourced from Yahoo Finance. No guarantees or representations are made.
Disclosure: I have no positions in any stocks mentioned, and no plans to initiate any positions within the next 72 hours. I wrote this article myself, and it expresses my own opinions. I am not receiving compensation for it (other than from Seeking Alpha). I have no business relationship with any company whose stock is mentioned in this article.
Disclaimer: Hawkinvest is not a registered investment advisor and does not provide specific investment advice. The information is for informational purposes only. You should always consult a financial advisor.