The market has rallied 10% on a year-to-date basis reaching new all-time high levels. However, some of its components have not enjoyed investors' attention. One of these components is the basic materials sector. iShares Dow Jones US Basic Materials ETF (NYSEARCA:IYM) has underperformed the S&P 500 by rallying a modest 2%. As sectors rotate to favor, Freeport-McMoran (NYSE:FCX) and Southern Copper Corporation (NYSE:SCCO) caught my attention for potential capital appreciation. I believe that an exposure to copper through these companies must be considered because: 1) China's economy is showing signs of recovery, which should increase the demand for the metal. 2) These companies are trading at cheap-on-valuation prices. 3) They have solid business models. 4) They offer modest dividends to dividend-seeking investors.
Underlying

Performance

Year-to-Date

P/E

Forward P/E

Profit Margin

Dividend

SPY

10.50%

14.00

2.03%

IYM

1.80%

13.00

1.91%

FCX

-2.36%

10.38

6.94

22.08%

3.78%

SCCO

-0.19%

16.48

13.61

28.38%

2.56%
China's copper demand
China accounts for 40% of the global demand for copper, and the metal's demand may be used as a barometer for its industrial activity. China's demand for copper will increase in the near future, according to some reports (Fig 1). Although China is also the main producer of refined copper, its production growth may be hindered due to new emission policies set by the government. According to an article published in Reuters the construction of smelters may prove a challenging situation. Jiangxi Copper Company Ltd. is China's top producer of refined copper. The company reported an increase of 16% for 2012. Moreover, the company has plans for expansion via the construction of new smelters. However, the company had to stop the construction of its new smelter because it did not comply with emissions regulations set from the local government. The construction of the smelter is on standby until the company obtains the necessary permits. As China tightens its emissions and air pollution policies, the build of new smelters will be challenging. Thus China's copper external supply will increase. Therefore, U.S. copper companies should elevate their copper output and net incomes.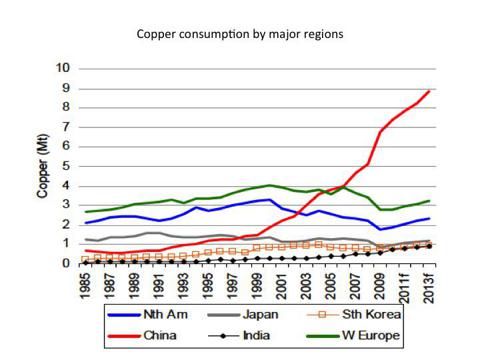 Figure 1. Projected copper demand by region.
Cheap on valuation
Freeport-McMoran, a $31.4 billion market value company, is trading with a P/E of 10.38, and a forward P/E of 6.94. On the other hand, Southern Copper Company, a $31.7 billion market value company, is trading with a P/E of 16.48, and a forward P/E of 13.61. These companies are somewhat cheap on valuation. The balance sheet carries no significant debt for FCX. On the contrary, SCCO's balance sheet carries a sizable debt, with a debt ratio of 0.88. However, its solid business model should reduce its debt in the interim. These companies have underperformed the S&P 500 by declining 2% to 0% on a year-to-date basis (Figure 2). As sector rotates to favor, these companies provide an excellent opportunity for capital appreciation.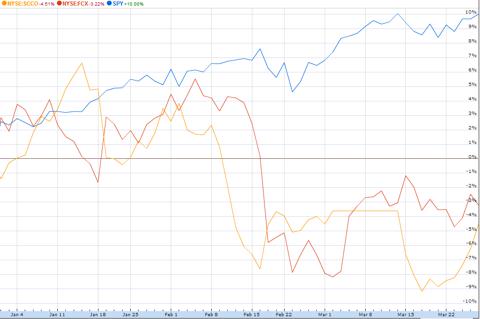 Figure 2. Performance on a year-to-date basis from SPY (blue), FCX (red), SCCO (yellow).
Solid business model
These companies have a strong business model. According to their most recent earnings report, FCX's net income increased 16% from $640 million to $730 million on a quarter-over-quarter basis. On the other hand, SCCO's net income declined 1% from $537 million to $531 million on a quarter-over-quarter basis. However, the companies are operating with profit margins above 20%. As China's copper demand pushes the metal prices higher, these companies should increase their net income.
In addition, FCX has diversified to oil and gas production. Also, the company announced the acquisition of a cobalt chemical refinery on March 29th, 2013. This strategy widens its already diverse portfolio, and its sales on a quarter-over-quarter basis should increase.
Juicy Dividend
These companies have a strong history regarding dividend distribution. Dividends of near 3% can only be possible if the company shows a healthy balance sheet. FCX has hiked its dividend since 2009. Further, the company offered special dividends in 2010 and 2011. Its current payout ratio is 39%. On the other hand, SCCO has offered dividends to its shareholders since 1996. It is offering a 2.5% dividend, with a payout ratio of 79%. These dividends attract dividend-seeking investors creating demand for the stocks.
Conclusion
As China tightens its emissions and air pollution policies, the creation of new smelters for copper production is hindered. Therefore, the sales of American companies should increase from the rising demand. Freeport-McMoran and Southern Copper Corporation are two copper production companies with solid business models. Furthermore, these companies are "somewhat" cheap on valuation, and they offer stable dividends to its shareholders. For these reasons, a long position may be considered in these two companies.
Disclosure: I have no positions in any stocks mentioned, and no plans to initiate any positions within the next 72 hours. I wrote this article myself, and it expresses my own opinions. I am not receiving compensation for it (other than from Seeking Alpha). I have no business relationship with any company whose stock is mentioned in this article.