The Philippine focused exchange traded fund iShares MSCI Philippines Investable Market Index (NYSEARCA:EPHE) has gained another 2.5% on a Fitch ratings upgrade. This uptick added to gains already made in 2013.
"More companies in the real economy can now consider us an investment destination President Aquino said, adding that an investment grade for sovereign debt should lead to lower borrowing costs for Philippine companies in international markets."
The Philippines got an upgrade from Fitch ratings to "investment grade" based on strong sovereign external balance sheets and a consistent current account surplus. Neena Mishra for Zacks reports that the ETF gained 2.5% n the upgrade, adding to the 15% year-to-date return in 2013. Over a 12 month period, the ETF is up 41%.
The economy grew 6.6% in 2012 and is expected to gain 6% in 2013.Domestic consumption makes up about 70% of the GDP, keeping the country somewhat insulated from global economic downturns. President Aquino is credited for turning the economy around, while trying to control corruption and tax evasion.
"Finance Secretary Cesar Purisima said the Aquino administration remains committed to eliminating corruption, spending on infrastructure and improving the overall business climate. Fitch credited the Aquino administration's centerpiece reforms, including fiscal management and the recent introduction of higher taxes on alcohol and tobacco to boost revenues," Associated Press wrote.
The young population in the Philippines helps to reinforce growth, as most are English-speaking. The island chain is creating some stiff competition for India. The country is still far behind most other Southeast Asian neighbors as far as direct foreign investment, however, the catalysts are in place for more to come.
iShares MSCI Philippines Investable Market Index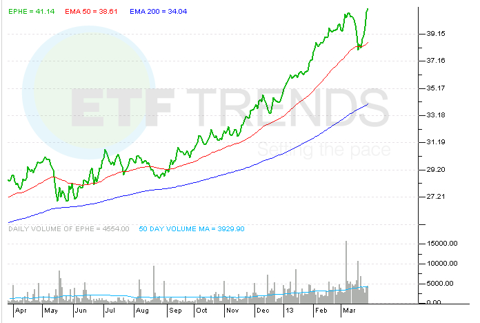 Click to enlarge
Tisha Guerrero contributed to this article.
Disclosure: I have no positions in any stocks mentioned, and no plans to initiate any positions within the next 72 hours. I wrote this article myself, and it expresses my own opinions. I am not receiving compensation for it. I have no business relationship with any company whose stock is mentioned in this article.