This article focuses on American Capital (NASDAQ:ACAS) and compares it to the 23 BDCs covered in previous articles. I changed the title from "The Good, The Bad and The Maybe" series of which this would be Part 20. Please visit bdcbuzz.blogspot.com for updated info or see the list of previous BDCs covered at the end.
Business Development Companies (NYSEARCA:BDCS) lend to small and mid-sized businesses, with limited financial leverage, paying out most of their income to investors and paying little to no corporate tax.
These are the five general criteria I use to evaluate BDCs:
Profitability (EPS to cover dividends, growth)
Risk (diversification, volatility, leverage)
Payout (sustainable, consistent, growing)
Analyst Opinions
Valuation (P/E, PEG, NAV)
For more information about BDCs, how I evaluate them, and my BDC investment philosophy, please see this article.
Below is an oversimplified table evaluating the companies I have reviewed among a universe of 30 BDCs giving them a relative score between 0 and 10 (10 being the best). In reality I use different weightings for almost 100 data points on each company and my personal rankings (based on my risk/return comfort) are close to these but far from exact. In future articles I will add the new companies to this table as well as update info.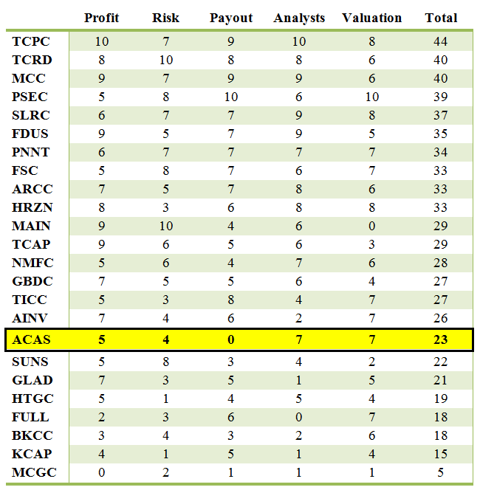 American Capital
Market Cap: $4.5 billion
Div Yield: 0%
Div/EPS: 0%
P/E: 12.6
Price/NAV: 0.82
Debt/Equity: 0.14
Recent Developments
March 28 - Announced that in the first quarter of 2013, it purchased approximately 9.0 million shares of its common stock.
Profit
Since 2007 annual revenues have declined by almost 50% (see chart below) but recently have seen modest growth of around 4% a year.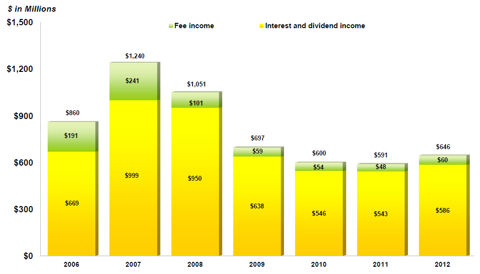 Operating expenses excluding interest, expense reimbursement from American Capital Asset Management, LLC, debt refinancing costs and stock based compensation, divided by total shareholders' equity, has improved significantly since 2009 (see chart below).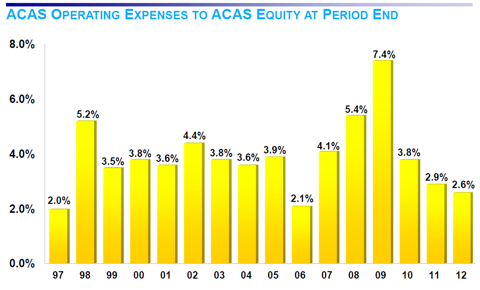 EPS in 2012 were down 9% from 2011 and little growth is expected through 2014. However, since the IPO in 1997 and through the fourth quarter of 2012, the company has earned a 10% compounded annual return, including interest, dividends, fees and net gains, on over 340 realizations of senior debt, subordinated debt, equity and structured products investments, totaling $18 billion of committed capital.
Risk
As of December 31, 2012, it had investments in 139 portfolio companies totaling $5.3 billion at fair value with better than average industry diversification (see chart below) but the ten largest investments at fair value accounted for 57%, including European Capital at 15% with continued EU exposure.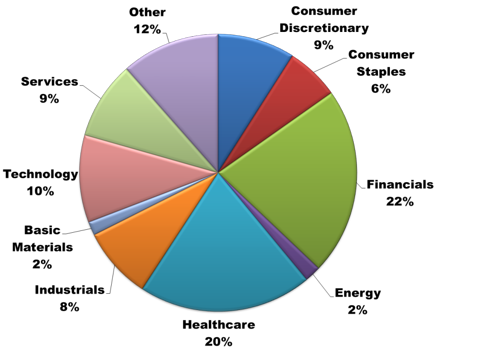 Only 16% of the portfolio is senior debt, 21% is mezzanine or subordinated debt, 5% is "Structured Products" and the remaining 58% are various forms of equity (see chart below). Included in the Structured Products are collateralized loan obligation ("CLO") securities, collateralized debt obligation ("CDO") securities and commercial mortgage backed securities ("CMBS"). In a previous article I discussed some potential issues with these types of investments including potentially riskier and less transparent than direct investments in portfolio companies, repayment priority of more senior debt holders, thinly traded, not listed on traditional exchanges, making them less liquid, difficult to value and more volatile. However, ACAS manages some of these investments itself and it only accounts for 5% of the portfolio. Other BDCs that invest in CLO type vehicles are KCAP Financial (NASDAQ:KCAP) with 24% of its portfolio, TICC Capital (NASDAQ:TICC) at 32%, Prospect Capital (NASDAQ:PSEC) at 14% and Ares Capital (NASDAQ:ARCC) which has recently reduced its exposure to 1%.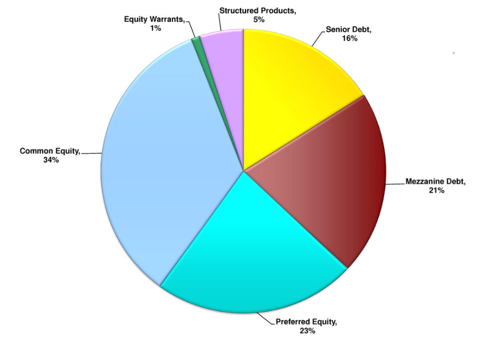 Recently the credit quality of the private finance portfolio has been declining due to higher leverage ratios of its portfolio companies (see chart below).

For detail on the footnotes of this chart please visit the ACAS web site here.
When interest and/or principal payments on a loan become past due, or if the borrower is not expected to be able to service its debt and other obligations, loans are placed on non-accrual status. Some BDCs have high non-accruals like ACAS, PSEC, KCAP, Gladstone Capital (NASDAQ:GLAD) and MCG Capital (NASDAQ:MCGC). As of December 31, 2012, ACAS had non-accruing loans at cost totaling $260 million or 12.9% of total loans at cost or 9.0% of total loans at fair value. This is among the highest in the industry but has shown improvements in the last two quarters (see chart below) and is less than GLAD, currently the highest at 16.4% on a cost basis.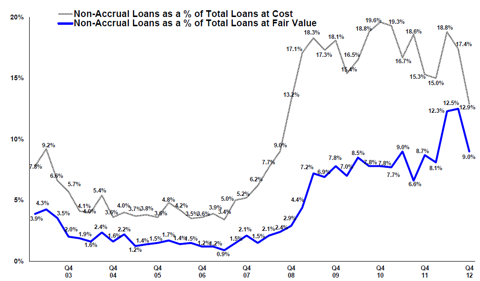 ACAS and THL Credit (NASDAQ:TCRD) have the lowest debt to equity ratios at 0.14. But ACAS has some of the highest volatility ratios and poor down market performance dropping 97% during the recession.
Payout
On September 30, 2011, ACAS changed from a regulated investment company ("RIC") to a Subchapter C and discontinued paying dividends. Under Subchapter C, it was able to carry forward any NOLs historically incurred to succeeding years and will probably not have to pay taxes for a while. ACAS has decided not to pay dividends until its share price returns to NAV and is using earnings for share repurchases, paying down debt and building the portfolio. In March it announced that in Q1 2013, it made open market purchases of approximately 9 million shares, or 3% of outstanding shares as of December 31, 2012, at an average price of $14.23 per share, totaling approximately $128.3 million.
Analysts
Most analysts downgraded the stock shortly after the conversion to a Subchapter C but currently rate it between a "Hold" and a "Buy" with a wide range of target prices from $12 to $18.
Valuation
Since most BDCs pay 90% or more of earnings to shareholders, large NAV growth rates are rare with the exception of ACAS and Main Street Capital (NYSE:MAIN). Usually when a company has high NAV growth rates investors pay a premium to book value such as MAIN currently trading at a 70% premium. ACAS is currently trading at a discount of around 20% probably because it does not pay a dividend. Below is a chart showing the average price to book ratios since its IPO.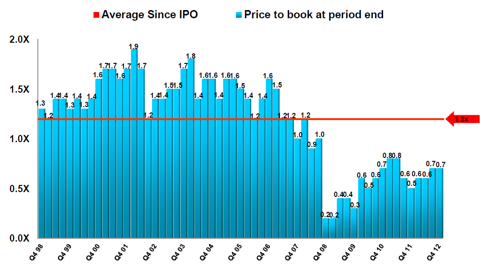 The P/E of 12.6 uses the net operating income for 2012 of $397 million or $1.16 per share and does not take into account the unrealized appreciation of portfolio company investments. This is higher than the average of around 11. The PEG ratio is higher as well considering analyst expectations for growth in the next two years is low.
Summary
What is good about ACAS? It definitely stands out among BDCs in many ways including being one of the more seasoned, larger and dominant companies in the industry, as well as favored among many analysts and investors (especially here on SA). Obviously the continued growth of NAV per share and repurchase programs showing management's confidence that the stock is undervalued, are excellent indications. However, the calculation of NAV for all BDCs is an area of concern because most of the assets are not traded in active markets accessible at the measurement date for identical valuation but instead are considered Level 3 investments where measurements "are unobservable and cannot be corroborated by observable market data." This is not necessarily a bad thing since it leaves room for assets to be undervalued such as European Capital ("ECAS"), with a valuation below its NAV as a result of applying several discounts in computing the fair value.
ACAS has one of the higher risk profiles due to the majority of the portfolio in equity or mezzanine debt with declining credit quality and high non-accruals, which are potentially driving some of the volatility and poor down market performance. Obviously investors of ACAS are trading dividend payout for capital gains but those gains could quickly be erased if NAV is materially impacted through either internal or external causes such as the last recession when it declined over 90%. I prefer dividends paid throughout the year with the further upside of capital appreciation and less volatility.
At this point ACAS's stock price has outperformed most BDCs and is now 18% away from NAV. It is still a good buying opportunity but as the price approaches NAV or if there is an economic downturn I would be very concerned.
Investors waiting for ACAS to pay dividends again might have a long wait. Maybe when the stock price is closer to NAV, the company invests substantial amounts of earnings to grow the portfolio to increase taxable income and use up its NOLs, encouraging ACAS to return to a tax structure that requires pass-through dividends is one of many scenarios. If they decided to pay a dividend soon the yield would be close to 8% assuming they pay 100% of NOI, which is on the low side but implies the current pricing of ACAS is adequate.
Two final charts below show insider buys and sells over the last two years for ACAS and TCRD. Many of the sells for ACAS are automatic sells but there is a lack of green showing insider buys.
ACAS

TCRD

Many of the charts used in this article can be sourced back to the ACAS website here.
Previous articles:
Disclosure: I am long TCPC, MCC, MAIN, PFLT. I wrote this article myself, and it expresses my own opinions. I am not receiving compensation for it (other than from Seeking Alpha). I have no business relationship with any company whose stock is mentioned in this article.