On Thursday, March 14th Comerica, Inc. (NYSE:CMA) announced that "the Federal Reserve had completed its 2013 Capital Plan review and that it did not object to the Comerica capital plan and capital distributions contemplated in the plan. The plan provides for up to $288 million in equity repurchases for the four-quarter period commencing in the second quarter 2013 and ending in the first quarter 2014."
As a result of Comerica's buyback plan, I wanted to examine several of the catalysts (including the company's buyback plan) behind my decision to establish a long position in Comerica.
Based in Dallas, Texas, Comerica, through its subsidiaries, provides financial products and services primarily in Texas, Arizona, California, Florida, and Michigan. The company operates in three segments: Business Bank, Retail Bank, and Wealth Management. Shares of Comerica which carry a P/E ratio of 13.41 and a PEG ratio of 2.05, settled at $35.95/share on volume of 1.77 million shares by the end of Friday's trading session. One of the things I should point out for growth investors is the fact that shares of CMA are 14.78% higher since January 1st of this year. From an income perspective, shares of CMA currently yield 1.89% ($0.68).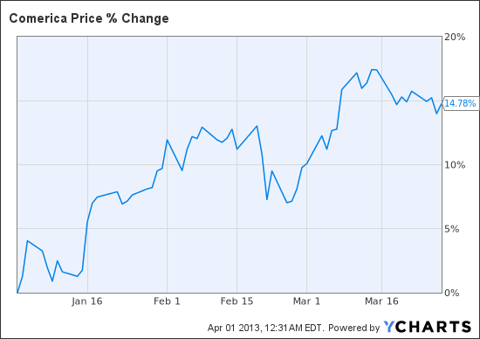 There are three things to consider when it comes to Comerica, and they are the company's recent uptrend which could signal a positive near-term upswing, its plans to initiate a $288 million dollar share buyback program, and the company's dividend behavior over the last 5 years.
Uptrend Status: Based on Friday's closing price, shares of CMA are trading 0.49% above its 20-day simple moving average, 3.43% above its 50-day simple moving average, and 15.11% above its 200-day simple moving average. That indicates a short-term, mid-term and long-term uptrend for the stock which generally translates into a buying mode for traders.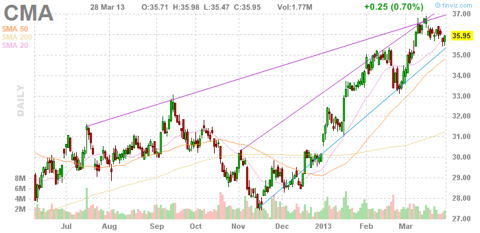 $288 Million Buyback: When a company like Comerica has established a fairly large cash position (of $14.83 billion by the end of 2012), it tends to either initiate a stock buyback or distribute some of the cash to its shareholders in the form of a dividend. In the case of Comerica, the company has chosen to initiate a share buyback program valued at roughly $288 million. Buybacks of this nature benefit shareholders in such a way that their equity increases as the number of outstanding shares decreases.
According to Comerica's Chairman and CEO Ralph W. Babb Jr., "the company remains focused on its ability to not only execute its 2013 Capital Plan, but continue to return equity to its shareholders in the form of buybacks and dividend distributions." Any company which takes a proactive stance in returning equity to shareholders while maintaining a sustainable dividend seems to be a pretty viable option from both an income and growth standpoint.
Dividend Behavior Since March 2009: If you happen to be in the market for a sustainable dividend, CMA offers just that. Since March 2009, when the company was paying just $0.05/share per quarter, Comerica has increased its dividend a total of three times bringing its quarterly payout up to its most recent distribution of $0.17/share. One of the more attractive qualities about the company's dividend is its payout ratio, which stands at a very conservative 21% as a result of the company's 35% increase in net income for the fourth-quarter. Comerica's most recent dividend increase was announced on January 22nd.
Conclusion: When it comes to those who may be looking to follow my lead by establishing a long-term position in Comerica, I'd keep a watchful eye on both the company's current share buyback plan and dividend behavior. If the company can continue to execute a steady course of action when it comes to such things as returning equity to its shareholders, then I see no reason why a position should not be established at present levels.
Disclosure: I am long CMA. I wrote this article myself, and it expresses my own opinions. I am not receiving compensation for it (other than from Seeking Alpha). I have no business relationship with any company whose stock is mentioned in this article.