I've been drinking beer even longer than I've been investing. I consider myself somewhat of an armchair expert on the bubbly beverage. It's not a bad idea to invest in things we know so I decided to take a closer look at brewery companies and see if they would make good investments.
The biggest name is Anheuser Bush Inbev (NYSE:BUD). This was the result of an acquisition of Anheuser Bush by Inbev in 2008. It has a P/E of 22.4 and pays a dividend of 1.57%. As a beer drinker myself I find it hard to recommend a company that makes Budweiser - a beer that blatantly breaks the Bavarian purity law without any apparent feelings of guilt. However its stable of products also include Hoegaarden, which has one of my favorite beers in the world. Its wheat ale is in my opinion the closest you can come to having an angel dance on your tongue.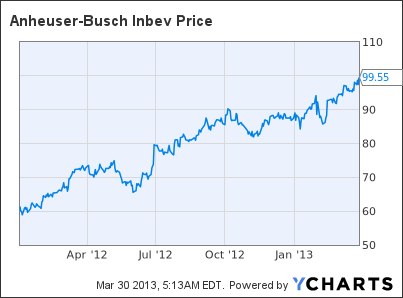 Molson Coors Brewing (NYSE:TAP) resulted from a merger of Molson Brewery and Coors in 1995. Molson was famous for its beer - Molson Canadian. It may seem ironic to some that this beer is no longer purely Canadian. Molson Coors has a P/E of 20.2 and a yield of 2.6%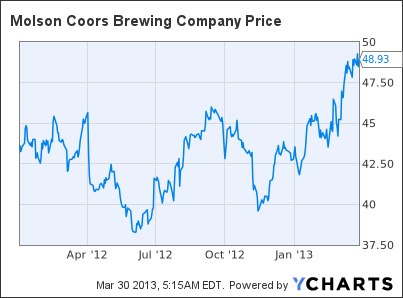 I don't see a whole lot of value in either one right now. People invest to make money, but I can also understand wanting to own a piece of your favorite company. For example the Green Bay Packers sold shares in the football club. The shares can't be resold but for $250 you can have a piece of paper that says you are a shareholder. It's a fairly brilliant marketing strategy. I think it's possible to have both however.
Let's have a look at some of the smaller players. Boston Beer (NYSE:SAM) has been in business since 1984 and has been a public company since 1995. It has a P/E of 36.2 and does not pay a dividend. Its earnings per share were $4.43 / share in 2012 verses $3.73 in 2011. After recent mergers in the U.S. it has become the number one wholly American Brewery with a market capitalization of over 2 billion dollars.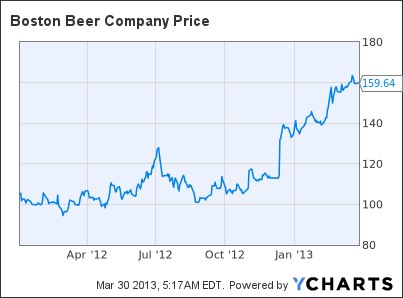 Craft Brew Alliance (NASDAQ:BREW) is an association of three different brewers in the U.S. Two are in the Pacific Northwest and one is in Hawaii. It has a P/E of 57.5 and does not pay a dividend. Earnings per share were $0.13 in 2012 vs. $0.17 for 2011 (excluding a 1 time gain). I can't comment on the beer but it certainly appears to be more than fully valued at this present time.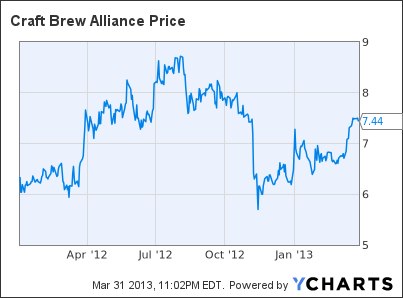 I will now suggest an alternative that might be under the radar for a few. Big Rock Brewery, (BR.TO) on the Toronto stock exchange and (OTCPK:BRBMF) on the grey market, started off as a regional brewery in western Canada with its headquarters in Calgary. It has been in business since 1985 and has been a public company since 1997. The vast majority of the business is in western Canada but the product is now available in other parts of Canada, and in very limited amounts in South Korea. It has a P/E of 20.3 and pays a dividend of 5.4 %.
Big Rock Brewery

The dividend has been stable for the last 2 years. It's hard to analyze the dividend history because previously it was organized as an income trust. A change in government regulation led to it being reorganized as a corporation. A short history on Canadian income trusts: Income trusts started off for real estate investments and gas and oil royalties. The income trusts didn't pay corporate taxes; instead the profits were passed on to the shareholders in the form of monthly distributions. Therefore it was up to the individual investors to pay the taxes. This investment vehicle became immensely popular with companies of all shapes and sizes converting to this format - everything from fertilizer to fast food. To stop a perceived tax bleed the Canadian government effectively did away with most income trusts except for real estate, going back somewhat to its original format.
Big Rock has started to focus more on margins as opposed to volume. Its earnings were up from C$0.42 in 2011 to C$0.68 for 2012, even though their volume was down 1.5%.
It currently has a dividend of C$0.80. Normally I would like to see the earnings more than cover the dividend but the earnings also could reflect such things as depreciation on equipment and differed taxes. 2012 saw an increase in sales revenue, operating profit, and a decrease in total debt verses the previous year.
Another factor to consider is that the brewing industry has a substantial history of mergers and acquisitions.
Mergers /Acquisitions Involving Canadian Breweries
Molson took over Carling O'Keefe in 1989. Carling O'Keefe was itself the product of a take-over by Canadian Brewers.
Molson of Canada merged with Coors of the U.S. in 2005.
Labatt Brewing Company was purchased by Belgian's Interbrew in 1995. Now it's part of Anheuser-Busch InBev.
Sapporo Brewery of Japan purchased Sleeman Brewery in 2006.
Labatt purchased Columbia Brewing Company in 1974.
Granville Island Brewing Company was acquired by Molson Coors in 2009.
Lethbridge Alberta Brewery was acquired by Molson in 1958.
Alexander Keith's Brewery was acquired by Labatt in 1971.
Labatt (at the time part of InBev) acquired Lakeport Brewing Company in 2007.
Creemore Springs Brewery was acquired by Molson in 2005.
I'm sure there are many other examples that could be added to this already dizzying list.
The major breweries have also noticed the appeal of the microbreweries. Not only do they buy out smaller breweries but they also imitate them. Imitation is the sincerest form of flattery. If you look on a bottle of Rickard's Red for example you will see it was made by the Capilano Brewing Company: except there is no such company. Capilano was taken over by Molson in 1958. Rickard's Red wasn't introduced until 1984.
Big Rock with a market capitalization of 89 million would be an easy acquisition for one of the major players. As a beer drinker I would hope that doesn't happen but as an investor, I think the possibility of a takeover is certainly there in the background to limit downside risk.
And for my personal vote of confidence: when I'm in Canada I usually either drink Big Rock or Moosehead (Moosehead is a private company). I will probably look at taking a small position in Big Rock sometime in the next month or so.
Disclosure: I have no positions in any stocks mentioned, and no plans to initiate any positions within the next 72 hours. I wrote this article myself, and it expresses my own opinions. I am not receiving compensation for it (other than from Seeking Alpha). I have no business relationship with any company whose stock is mentioned in this article.