An extended stock market (NYSEARCA:SPY) received an excuse to sell off Monday after a report showed manufacturing activity pointed toward modest, rather than robust, economic growth. From MarketWatch:
The Institute for Supply Management's survey of senior executives fell to 51.3% from 54.2% in February. While a number over 50% signals industry expansion, the latest ISM reading was a disappointment to Wall Street. Economists polled by MarketWatch expected the index to match the reading in February, which was the highest in almost two years.
Defensive Sectors Lead
The market's leadership in recent weeks has had a decidedly defensive slant, which placed Monday's declines in the "not surprising" category. One example of defensive leadership comes from utilities (NYSEARCA:XLU). As economic and technical concerns increase, investors are often drawn to XLU's 3.86% dividend and low volatility profile. As shown in the chart below, utilities vs. the S&P 500 recently experienced a bullish breakout and completed the steps necessary for a basic trend change. Notice a similar bullish breakout occurred in late March 2012, just as the S&P 500 was peaking.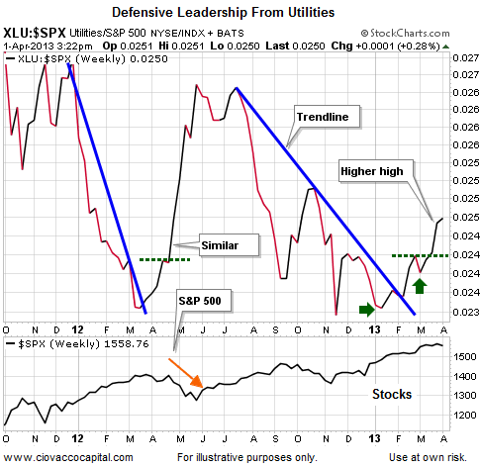 Click to enlarge
The March 29 video below outlines numerous concerning signals from the market similar to the XLU vs. S&P 500 chart above, including growing fear in the credit markets and recent weakness in former market leaders financials (NYSEARCA:XLF) and homebuilders (NYSEARCA:XLB).
Cyprus Concerns Linger
A MarketWatch article outlines ongoing concerns related to the recent aid package for Cyprus, including that the "problems may be worse than imagined, requiring changes to the bailout or making it unworkable." No matter how many times European Union officials say Cyprus was "unique," the cat is out of the bag relative to deposits and "bail-ins."
North vs. South
While rhetoric between North and South Korea is not uncommon, recent statements have ratcheted up tensions. Since Kim Jong-un took power after the death of his father, Kim Jong-il in late 2011, North Korea has been issuing increasingly threatening comments, including using the term "state of war." From an April 1, 2013 New York Times article:
President Park Geun-hye of South Korea ordered the country's military on Monday to deliver a strong and immediate response to any North Korean provocation, the latest turn in a war of words that has become a test of resolve for the relatively unproven leaders in both the North and South.
Cautious Stance
Given a smattering of less-than-thrilling economic reports around the globe, a defensive-oriented advance in stocks, loose ends in Cyprus, and a more threatening tone between North and South Korea, we will maintain a conservative investment stance. Even the strongest of bull markets experience corrections from time to time
Disclosure: I have no positions in any stocks mentioned, and no plans to initiate any positions within the next 72 hours. I wrote this article myself, and it expresses my own opinions. I am not receiving compensation for it. I have no business relationship with any company whose stock is mentioned in this article.