Investment Summary
Wells Fargo (NYSE:WFC) is a financial service company that focuses primarily on mortgage banking, wholesale banking, consumer, and commercial finance. The bank is traded on the New York Stock Exchange at a current price of $35.39 and a market capitalization of $186.73 billion.
Though Wells Fargo continued to face difficult economic conditions, net income grew nearly 19% in 2012 from the prior year. This was driven primarily by net non-interest income, which rose 11.8% from 2011. Low market interest rates continue to keep mortgage refinancing at record volumes, accounting for over 70% of total loans originated, though declining per quarter. With the exception of 2008, net income has steadily grown year over year for a ten year, showing management's ability to produce revenues during times of increased uncertainty in the industry. The bank's loan portfolio has been slowly increasing, but net interest income has been decreasing. These trends are likely to continue into 2013 as we predict low rates will limit the bank's growth.
As market conditions continue to slowly improve, the highly focused real estate lender is positioning itself well to grow long term. Cheap borrowing costs have allowed the bank to hold high levels capital, increasing their safety and creating future sources for lending when demand increases. Trends in the real estate market point towards higher home prices and less foreclosures, an encouraging outlook for this bank.
Business Description
Wells Fargo is a diversified financial company that provides services all around the world. It is the fourth largest American bank by assets and the largest by market cap. It holds the second largest consumer deposits and are the market leader in mortgage underwriting. In 2008 it bought Wachovia in a $14.8 billion all stock transaction, more than doubling its total assets. With a strong concentration on traditional bank operations, Wells Fargo provides its shareholders with limited long term risk and the opportunity for large future expansion.
Sector & Industry Overview
Revenue growth is a major issue for the coming year in the banking industry as low market rates are squeezing net interest margins towards 3%. Companies are desperately seeking growth, but are continuing to provide loans to only the safest customers. 37% of bank lending is focusing on the top 10% of income earners, though others argue this number is closer to 20% of top income brackets. The recent crisis has placed a focus on stricter capital lending, forcing banks to improve the health of their loan portfolios and remaining balance sheet.
Bright spots are emerging as the real estate market has finally begun to rebound. Though income for 2013 will be pressured in a low interest rate environment, the long term outlook for the industry looks promising. Banks have turned away from sub-prime lending that took place prior to 2008, creating a safer market with new regulation. Increasing deposit volumes are providing banks with cheap capital, but limited investment opportunities are being presented. Executives from companies are predicting strong revenue growth over a three year period in wealth management and traditional lending services. These two will benefit from increased consumer investment as confidence and employment continue to improve. Though new regulations pose threats to large banks, their role will not limit the industry's growth.
Competitor Comparison and Positioning
Wells Fargo's three main competitors are JP Morgan (NYSE:JPM), Citigroup (NYSE:C), and Bank of America (NYSE:BAC). All of these companies are large market caps. Wells Fargo is set apart from its competitors by their superior risk management policies. During the financial crisis Wells was the only among its four competitors that avoided the abuse of complicated derivatives which almost collapsed all three competitors and the entire market. Wells Fargo has established a dominant position in the diversified financials industry because of its size, long history, and continuing success. Since doubling in size after acquiring Wachovia, Wells is now the largest mortgage lender in the United States responsible for one third of the mortgage market.
In 2012, ROA, ROE, and Profit Margin were all higher than JPM, C, and BAC. These numbers all indicate that Wells Fargo has high efficiency with the profitability of the firm. The stock's beta is also lower than each competitor, indicating that Wells Fargo has lower volatility than competing companies. As for the Price to Earnings ratio, only JPM (9.41) beats Wells (10.53), although they are both beating the industry average of 11.65. This number is a great indication of the value of the company, because compared to competitors, you are getting more earnings for the same investment.
| | | | | |
| --- | --- | --- | --- | --- |
| | WFC | JPM | C | BAC |
| 52-Week Price Range | 29.80 - 36.60 | 30.83-49.68 | 24.51-44.71 | 6.72-12.42 |
| Market Cap | 186.37B | 186.19B | 127.55B | 122.23B |
| Shares Outstanding | 5.27B | 3.81B | 3.03B | 10.78B |
| Institutional Ownership | 78.10% | 73.80% | 66.30% | 59.00% |
| Insider Ownership | 0.06% | 0.51% | 0.10% | 0.00% |
| 12-month Beta | 1.23 | 1.65 | 1.93 | 1.76 |
| Dividend Yield | 2.80% | 2.50% | 0.10% | 0.40% |
| Trailing P/E | 10.53 | 9.41 | 17.25 | 45.36 |
| Forward P/E | 9.10 | 8.40 | 8.10 | 8.79 |
| Price/Book (mrq) | 1.27 | 0.95 | 0.68 | 0.55 |
| ROA (NYSE:TTM) | 1.42% | 0.92% | 0.42% | 0.19% |
| ROE | 12.89% | 10.98% | 4.27% | 1.79% |
| Profit Margin | 23.96% | 23.22% | 12.71% | 5.57% |
| Debt to Equity | N/A | N/A | N/A | N/A |
| PEG ratio (5-yr expected) | 1.04 | 1.24 | 0.73 | 0.61 |
Source: Morningstar Direct
Investment Risks
Weak conditions in the economy and real estate market are posing continued threats to Wells Fargo. Since the bank depends on traditional consumer lending, they are experiencing low demand for new mortgages and loans. Low interest rates have caused a record volume of mortgage refinancing, levels that are unlikely to be sustainable in future quarters. Net interest margin fell to 3.56% in the fourth quarter 2012, from 3.89% in same period of 2011. This percent will likely continue to decrease in 2013 as Wells Fargo experiences increased deposit volumes but limited low risk lending opportunities. Since the bank underwrites a large portion of mortgages, any that they hold in their asset portfolio are exposed to significant interest rate risk. When interest rates increase, the market value of these mortgages would decrease.
Wells Fargo has been forced to turn to nontraditional forms of business to generate revenues during these difficult conditions. They played a large role in the recent Heinz takeover that Berkshire Hathaway (NYSE:BRK.A) and 3G Capital took part in. This shows that they may begin to partake in riskier lending, exposing them to increased risk. Credit raters may consider a possible downgrade from their currently high A2 rating. Such actions could lead to increased costs of capital and put pressure on future earnings.
Financial Analysis
Earnings
Net Income for the past five years has been on a sharp incline. In 2012 Net Income was $18.9 billion, a drastic increase from a lowly $2.7 billion in 2008. WFC's EPS has also shown a similar trend, increasing steadily from 0.70 in 2008 to 3.36 in 2012. These huge increases in Net Income have come from consumers taking advantage of refinancing their mortgages to take advantage of the extremely low interest rates. Wells Fargo is the United States' largest mortgage lender and it pulled in $188 billion in mortgage applications after the third quarter in 2011.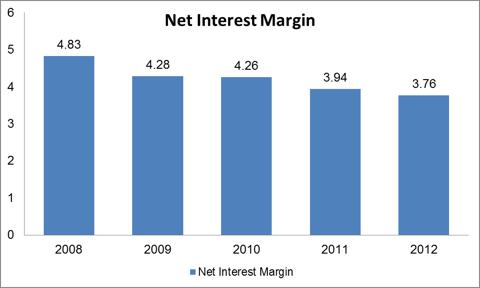 Source: Wells Fargo's 2012 Annual Report
With such strong recent profitability some investors are suspicious as to why the stock price remains at a steady hover around $30-35. This is most likely due to the Net Interest Margin. The chart (right) will show that over the past five years, with a steady increase in profits, there was an equally steady decrease in the Net Interest Margin. The Net Interest Margin tells how successful a firm's investment decisions are compared to its debt situations; or, how successful the bank has been with its own asset investments. Wells Fargo has made a lot of money from the increased number of loans due to low interest rates, but because of these low interest rates, the return from the loan interest rates compared to interest they pay out on deposits remains low. Over the next few years, while interest rates remain low, it is expected the Net Interest Margin will also remain low, only to go up in 2015, when interest rates are expected to rise.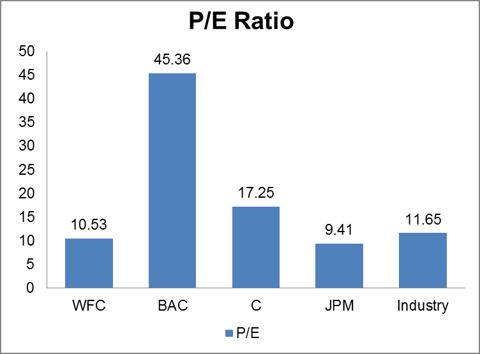 Source: Morningstar Direct
WFC's EPS has steadily increased since 2008, going from $0.70 to $3.36 in 2012. The large spikes in 2011 ($2.85) and 2012 ($3.36) are most likely due to the authorization as well as execution of repurchasing shares. The bank was approved to repurchase 200 million shares. Wells Fargo spent $3.9 billion on repurchasing shares, which 62% higher than in 2011.
Wells Fargo also boasts a P/E ratio that beats BAC, C, and the S&P 500. The chart below will show JPM as the only company with a lower P/E ratio, by only a narrow margin. Having a P/E ratio lower than the industry indicates a high value company, getting more earnings for a lower investment.
Operating Metrics
Return on Equity in is 12.69%, having increased from 3.62% in 2008. This ROE is higher than all of their competitors and the by far beats the 5.5% industry average. This high number indicates that Wells Fargo generates better profits than the industry, that they operate efficiently, and that they care to continue adding value to their shareholders.
Return on Assets is 1.42%, which is much higher than their closest competitor of 0.92%, indicating the company is well managed. The management knows how to use assets efficiently to generate above average earnings.
The Operating Margin is a ratio that shows what proportion of the company's revenue is left over after paying for variable costs in the business. Wells Fargo is once more pulling ahead of its competitors with a 39.65% OM, 35.88% , 13.38% , and 5.77% .
Relative to its competition and the industry, Wells Fargo is at the forefront in operating metrics.
Balance Sheet & Investment
The total assets are $1,441,774 million and total liabilities are $1,282,863.00. The company would have no problem paying off the long-term debt of $111,415 million as their deposits and capital levels continue to grow. Low interest rate conditions are allowing for cheap short and long term borrowing, providing no problems for the bank to meet its payments. Wells Fargo's acquisition of Wachovia in 2008 greatly expanded its balance sheet and made it the fourth largest bank by assets in the nation. Though these assets are creating little return with interest rates at record lows, they will spur net income growth when rates rise. By expanding their balance sheet, deposits will continue to grow. In 2012, total deposits grew by more than 9%, similar results are expected in 2013. As consumers are looking to save more with increased economic conditions, Wells Fargo will experience raised levels of capital and a further healthier balance sheet.
Valuation
| | | | | | |
| --- | --- | --- | --- | --- | --- |
| Model | Price Target | Weighting | Weighted Price | Alpha | Key Assumptions |
| 0-Alpha | $ 37.67 | - | - | - | Beta: 1.29, Re: 8.94% |
| Price / Earnings | $ 36.44 | 25% | $ 9.11 | -3.48% | Estimated 2013 EPS: $3.06 |
| Price / Book Value | $ 38.68 | 25% | $ 9.67 | 2.85% | Estimated Future BV: $29.31 |
| Dividend Discount | $ 39.42 | 25% | $ 9.86 | 4.94% | D0 = $0.30, Dividend Growth = 9.41% |
| Forward P/E | $ 39.09 | 25% | $ 9.77 | 4.01% | Average Forecasted EPS= $3.38 |
| Current Price 3/1/2013: | $ 35.39 | Target Price: | $ 38.41 | 2.08% | |
Source: Our Estimates
Our $38.41 price target derives from three valuation methods.
Zero Alpha Predicted Price: $37.67
Current Price: $ 35.39
Required return: 8.94%

Risk-free rate: 1.84%
Market Risk Premium: 5.5%
Beta: 1.29

Dividend: $.88
DDM approach price target: $39.42 (4.94% alpha)
P/E Approach price target: $36.44(-3.48%alpha)
P/E multiple: 11.92
'13E EPS: $3.06
P/BV Approach price target: $38.68 (2.85%alpha)
P/E multiple: 1.32
'13E P/BV: $29.31
Forward P/E Approach price target: $39.09 (-4.0% alpha)
F P/E multiple: 11.57
'13E EPS: $3.06
Risks to Price Target
Our target price could be affected by below expected volumes of loans and net interest income for 2013. Though we feel our models have used conservative growth rates, lower than expected lending would impact our valuations. Furthermore, if loss provisions were to increase due to riskier lending then net income would decline inversely. Continued uncertain real estate conditions pose risk to Wells Fargo as they are highly exposed to mortgage banking; an unexpected weakening of the market would have an adverse impact on the bank.
Disclosure: I have no positions in any stocks mentioned, and no plans to initiate any positions within the next 72 hours. I wrote this article myself, and it expresses my own opinions. I am not receiving compensation for it (other than from Seeking Alpha). I have no business relationship with any company whose stock is mentioned in this article.
Additional disclosure: This article was written by an analyst at Saibus Research. Saibus Research has not received compensation directly or indirectly for expressing the recommendation in this article. We have no business relationship with any company whose stock is mentioned in this article. Under no circumstances must this report be considered an offer to buy, sell, subscribe for or trade securities or other instruments.