Burger King (BKC) stock values have taken quite a hit over the last day and half, down about a $4 share.
The company pre-announced its Q3 2009 earnings Wednesday, noting it missed its revenue forecast, with significant falloff of traffic in some zones, with Germany and Mexico hard hit, and a corresponding company margins hit. Earnings per share were still expected in the $0.33 zone [the company Board did approve a $200M buyback plan in March so that had to have an effect, too].
Several SA authors opined on Burger King on Wednesday and Thursday.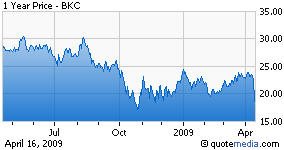 A review of the Q3 2008, Q1 and Q2 2009 supplemental earnings presentations, shows that EMEA/APAC sales comps were outpacing the US/Canadian trend since 2007/2008, but that seemingly now has reversed.
We are in a world wide recession and the variable impacts by country should not surprise us. But take a look at the marketing. US marketing tactics revolved/will around value, $1.39 Burger Shots, $1.49 Breakfast Shots, Angry Whopper and Tendercrisp. What about in Europe and Latin America? A world-wide marketing campaign has a lot of moving pieces.
There was very little international marketing strategy presentation or discussion in the Q2 2009 Earnings call (Feb. 9, 2009), so that could be a place to start to begin the analysis, especially given the quick traffic decline. Also, the margins decrease x-US/Canda was 170 bpts or more, a pretty big number considering the company's tone and expectations in February.