"Asian Stocks Decline After Japan Tankan Survey Misses Estimates"
"Japan stocks slip after 'tankan' survey results"
"Japan survey finds business sentiment improving"
"Abenomics" lifts Japan business mood, households' inflation expectations"
The blizzard of criss-crossing headlines over Japan's latest tankan survey is a classic case of media confusion when the financial market does not react as expected to what seems like good news. The Nikkei (NYSEARCA:EWJ) fell 1.6% in the wake of the tankan survey after opening just slightly down. (At the time of writing, the Nikkei was tumbling another 2%).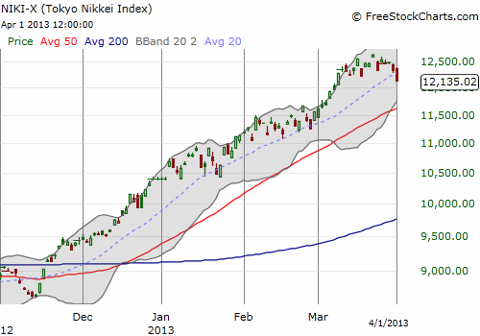 Click to enlarge
Nikkei tumbles within a still strong uptrend
The Japan-based ETF took an even bigger hit, falling 3.9% and almost wiping out all of March's hard fought gains in one day: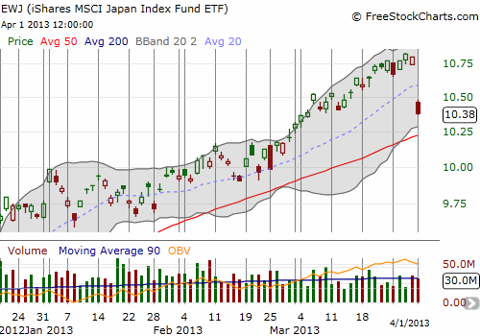 Click to enlarge
EWJ takes a big hit to start Q2
The highlights I read in one of the more insightful summaries about the tankan survey (see Reuters article ""Abenomics" lifts Japan business mood, households' inflation expectations") suggest that economic activity is mostly on the rebound in Japan. These are all quotes from the article:
…mood at big Japanese manufacturers improved in the three months of this year after deteriorating for two straight quarters
…big manufacturers' sentiment rose 4 points, to minus 8, roughly in line with a median market forecast of minus 7. They expect business conditions to improve in the three months ahead [me: this one point "miss" is the one straw some grasped to explain the market's decline]
…companies also saw prices of their goods and services falling less than they were three months ago
…an index of views on sales price moves improved for both manufacturers and non-manufacturers.
…sentiment index for big non-manufacturers improved 2 points to plus 6. The index for the three months to June was at plus 9.
…Big firms plan to cut capital expenditure by 2.0 percent in the current business year [me: one more straw...]
I suspect that today's dip is the start of a rare buying opportunity as the Bank of Japan (BoJ) meets this week and is likely to talk as aggressively as ever about attacking Japan's deflationary malaise. Of course, its work will not be easy as we learned last week that deflation still firmly rules the land. February's consumer prices fell 0.3% year-over-year, marking the fourth month in a row of declines.
I am relatively agnostic about surveys of intent and plans and find much more value in actual results. However, I DID find the survey's results on expectations for the Japanese yen (NYSEARCA:FXY) of particular interest: "Big manufacturers expect the dollar to average 85.22 yen in the current fiscal year from April, up sharply from their estimate of 80.56 yen for the previous year ended in March." This increased forecast is still 8.6% below current levels. This gap could suggest the market has gotten way ahead of itself. Time will tell. Monday morning's miss on the Institute for Supply Management survey of U.S. manufacturers (51.3 versus expectations for 54) was all the excuse the market needed. USD/JPY confirmed a breakdown below its 50-day moving average (DMA) as the U.S. dollar index weakened across the board. The 50DMA line has provided solid support in the currency pair's tremendous 5-month rise.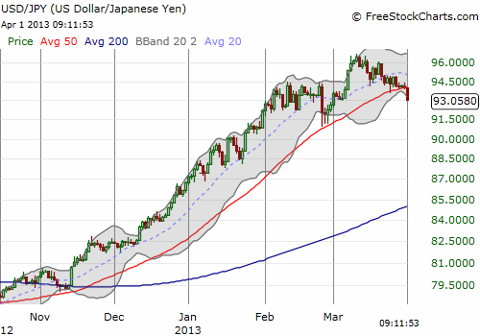 Click to enlarge
USD/JPY loses some of its steam as a primary uptrend breaks down
Note well how the yen has slowly but surely strengthened against the U.S. dollar for the past three weeks. This pattern is similar to other major currencies, especially versus the euro and British pound which have been sliding against the U.S. dollar for the past two months.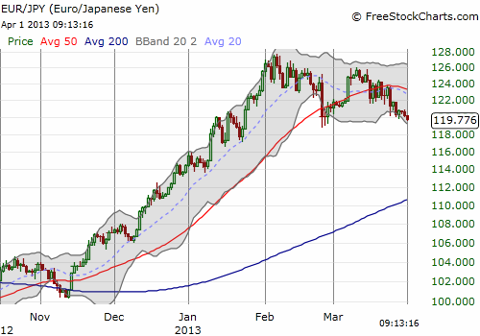 Click to enlarge
The euro has lost over 6% against the yen over the last two months
Source for charts: FreeStockCharts.com
Assuming the Nikkei's meteoric rise is at least partly reliant upon a weakening yen, then its weak start to Q2 is likely a very delayed response to the yen's increasing momentum. For now, I remain long EWJ, and I am building a fresh net short the yen in the expectation of another sharp reversal (backstopped with stop sell orders to initiate hedges if the yen moves sharply stronger as it has done from time-to-time). However, until the short-term trend turns around, I assume the downside risks for yen pairs are higher than they have been in a long time.
Be careful out there!
Disclosure: I am long EWJ. I wrote this article myself, and it expresses my own opinions. I am not receiving compensation for it (other than from Seeking Alpha). I have no business relationship with any company whose stock is mentioned in this article.
Additional disclosure: In forex, I am net short yen.