The core focus of Buffalo Wild Wings Inc. (NASDAQ:BWLD) centers on three things: Chicken, Alcohol and Sports. Shares are trading at a P/E of 27.5 and a Forward P/E of 23.8. Revenue growth over the past five years has averaged 25 percent per year and net earnings have grown an average of 24 percent per year during the same time period. Can we expect BWLD to grow into the number one stop for sports fans who decide not to visit local establishments? We think so. Panera Bread Co. (NASDAQ:PNRA) has become the go to spot for customers who want a quick dining experience just like Chipotle Mexican Grill, Inc. (NYSE:CMG) has become the destination for those seeking quick Mexican fare. If you ultimately believe BWLD can become the "Chicken, Alcohol and Sports" destination for the American public, then the opportunity for the company is a slam dunk.
Strengths - Management. They've grown the business to 900 locations with mix of company owned and franchised stores. International expansion into Canada and most recently Mexico is on its way. The company's ultimate store count target is 1,700, and by our estimates BWLD will reach it by 2020. This is possible with approximately 75 new stores per year, below the current 5 year growth trajectory of 13 percent new stores per year.
Zero debt, positive cash flow, low float (17.4M) and high short interest (26%) means there is fuel under this rocket.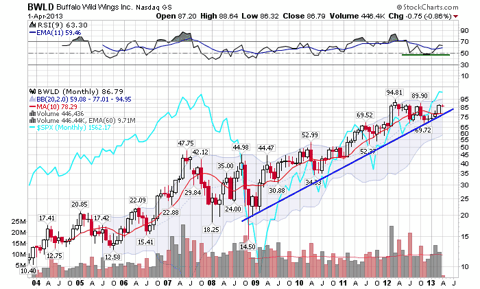 The monthly chart shows BWLD reacting off the trend line of a sustained multi-year uptrend. The RSI has support just below the neutral 50 level and remains in bullish territory but is not yet signaling an overbought condition. The only concern that the trend may be broken is the current condition of the weekly chart (shown below) and the headwind of any significant broader market correction.
Weaknesses - 39 percent of revenues are attributable to chicken. This can also be seen as an opportunity as chicken prices rose dramatically in 2012. If those costs moderate and the company continues to diversify its menu options there should be less volatile margins moving forward.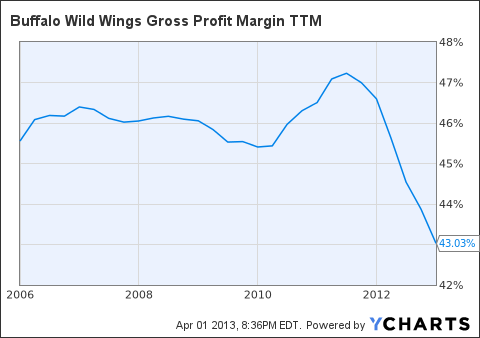 BWLD Gross Profit Margin TTM data by YCharts
Opportunities - While there are only 285 cities in the US with populations of 100,000 or more, BWLD has proven it can successfully execute in cities of a smaller size. In Mexico there are 174 cities with a population of 100,000 or more and in Canada there are 50. It is possible that BWLD franchisees will pave the way for growth internationally and maybe finally open up a restaurant in Providence, RI (pop 178K).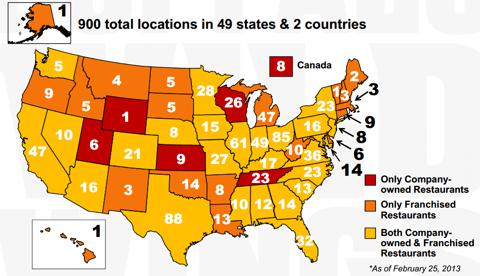 Threats - Local establishments. We like to think that BWLD has solidified itself as the go to chain sports bar for the American public. People will always flock to local establishments and they may never lose their regulars, but there will always be a share of the market who will appreciate the consistency and familiarity of chain fare (see Chili's, Applebee's, TGI Friday's). Panera has established itself as America's quick dining location just as Chipotle has made itself America's choice for quick Mexican fare.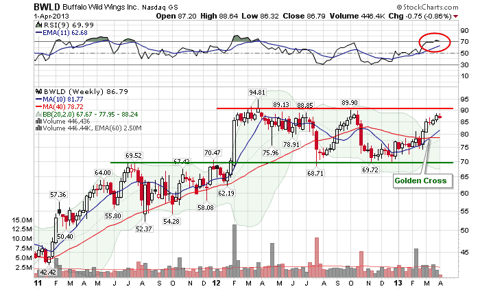 BWLD's weekly chart outlines the trading range that's existed for more than a year with price nearing the upper bound and the RSI breaking into overbought territory. The upside is that a Golden Cross may eventually support any pullback, which may be imminent due to the overbought condition found in the daily chart (not shown).
Conclusion
BWLD currently has 514 franchised restaurants and 386 company-owned restaurants with $2.5B in sales for 2012. PNRA has 809 company owned restaurants and 843 franchise operated restaurants for a total of 1,652 (almost the target store count for BWLD in 2020). Panera's current market capitalization of $4.8B is 3x larger than BWLD and trades at a similar earnings multiple. Here at Furbonacci we try and find the easiest and most common sense path to valuation. We believe a simpler approach to valuation enables us to focus on the bigger picture and look longer term. We believe the BWLD business plan is similar to that of PNRA and management can build the company to that store count while maintaining profitability.
Our one-year target of $88.75 means shares are currently fully valued. This is based on projected earnings of $3.55 per share as stated by the company in the most recent conference call. If BWLD can continue to operate and grow like it has over the past five years, the current shares would ultimately trade at $250 per share in the next 8-10 years, the time in which the company will be operating 1,700 stores based on opening 75-80 stores per year.
Disclosure: I have no positions in any stocks mentioned, and no plans to initiate any positions within the next 72 hours. I wrote this article myself, and it expresses my own opinions. I am not receiving compensation for it (other than from Seeking Alpha). I have no business relationship with any company whose stock is mentioned in this article.