It was recently announced that Cisco Systems (NASDAQ:CSCO) was raising its quarterly dividend again. Cisco investors were very surprised last summer when the company raised the dividend by 75%, and since then the stock has done very well. Cisco promised to return at least 50% of free cash flow to investors via dividends or buybacks, and the rising dividend is certainly evidence of that. Today, I'll analyze the dividend news, show why Cisco has increased its presence in a very select group, and show why Apple (NASDAQ:AAPL) is now on the clock.
First, the Cisco news:
Cisco announced that it would be raising its quarterly dividend from 14 cents a quarter to 17 cents. On an annual basis, that brings the dividend from 56 cents a year to 68 cents a year. The following statement was provided in the press release:
"We are increasing our dividend as part of our strategy to deliver a consistent return to our shareholders, in line with our capital allocation commitment," said Frank Calderoni, executive vice president and chief financial officer, Cisco. "Cisco's continued execution and strong financial position enable us to provide a higher dividend directly to our shareholders."
Cisco's dividend will be paid on April 24, 2013 to all shareholders of record as of the close of business on April 8, 2013. With Cisco shares closing Monday at $20.83, the new 17 cent quarterly dividend represents an annual yield of 3.26%. Using Monday's close, the old 14 cent dividend would have yielded 2.69%.
Some may have been a little caught off guard by the dividend raise. When Cisco raised the dividend back in August by 75% to 14 cents a quarter, I assumed that they would pay that 14 cents for four straight quarters, and then raise it. I, probably like many, was expecting a second half of the year raise for Cisco.
However, it appears that Cisco's raise might actually be right on target. As you can see in the chart below, Cisco first started paying a dividend in 2011, and it started at 6 cents a quarter. They paid that rate for four quarters. After two quarters at 8 cents, we got the raise to 14 cents, and that dividend was paid out twice. So we've had eight dividend payments, and this 17 cent one will be the ninth. If you think about Cisco's year now, the dividend raises should be in April.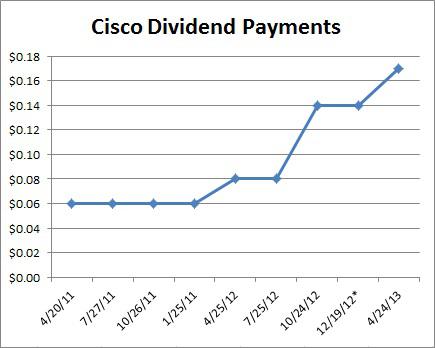 *Dates represent payment date. Like many other names, Cisco accelerated its prior payment before the rise in tax rates at the end of 2012.
The end of a dry spell?
For a while, Cisco was one of the dogs of the tech sector. The stock was not doing well, shareholder buybacks did not seem effective, and investors were getting frustrated with CEO John Chambers. The 5-year chart below shows how Cisco's stock has been stagnant.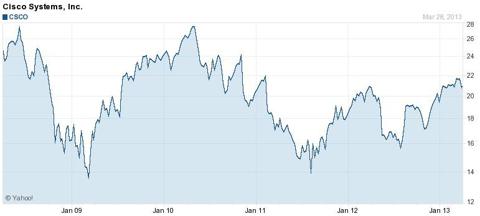 (Source: Yahoo! Finance)
But when Cisco announced the 75% raise in its dividend, everything seemed to change. The stock rallied strongly on the news, and after falling back a bit, has headed higher again. Cisco was recently at a 52-week high until an analyst downgrade resulted in a quick pullback. However, the day that Cisco announced the dividend raise, the adjusted close (factoring the dividend) was $17.10. Cisco is up almost 22% since that close, and that includes the fact that we are more than $1 off the recent high. I'm not saying this is the start of an extended, multi-year run for Cisco, but for now, the August 2012 dividend raise has sent the stock higher. The recent raise in the dividend to an even higher level should help as well.
A select few:
Before the recent raise, Cisco was a member of an exclusive club. Only four US technology names (not counting service-type names like AT&T (NYSE:T) and Verizon (NYSE:VZ)) had a market cap of over $100 billion and a dividend yield over 2%. Apple was another one of those names. You can probably guess what the other two are as well, Microsoft (NASDAQ:MSFT) and Intel (NASDAQ:INTC). The following table shows some comparisons between these four names, as of Monday's close.

Now you may notice the last item I presented, the one-year adjusted return of each name. Cisco is the only name that shows a positive return over the last year. In fact, all four of these names have trailed the PowerShares QQQ ETF (NASDAQ:QQQ), which is up 2.73% over that time.
So what is my point here? Well, Cisco shares have done incredibly well lately, and I think a lot of that has to do with the huge increase in the dividend. Cisco has more than doubled its dividend over the past year, from 8 cents to 17. If you calculate Cisco's yield based on the dividend raise, Cisco is now one of three that have a $100 billion market cap and a dividend yield over 3%.
Now it's Apple's turn:
Cisco's share price has really turned since the huge dividend raise, and I think that Apple should take a page out of this book. You saw in the table above that Apple is down more than 27.4% over the past year. You may think that Apple did really well right after it announced its new dividend in March of 2012, but you would be wrong. If I go back the extra few weeks, Apple is still down over 25.6%.
We all know that Apple has the cash to raise the dividend. Now all the company has to do is actually raise it, and probably significantly to get the stock to turn. Apple might want to rejoin the exclusive club from above, meaning a yield above 3%, and potentially higher than that. Here are some key dividend levels to watch (based on Monday's close).
3.00% yield - Quarterly dividend of approximately $3.22, which would be about a 21.4% raise from current levels.
Cisco's 3.26% yield - Quarterly dividend of approximately $3.50, which would be about a 32.1% raise from current levels.
Microsoft's 3.28% yield - Quarterly dividend of approximately $3.52, a raise of approximately 32.8% from current levels.
Intel's 4.20% yield - Quarterly dividend of about $4.50, a raise of approximately 70% from current levels.
Just two years ago, Cisco started paying a dividend. It was small at first, and we've had three dividend raises since. With Apple having a much larger cash balance and more financial flexibility, it is time for Apple to now raise its dividend. Maybe it needs a 75% dividend raise to get shares going again.
Final Thoughts:
Cisco raised its dividend again, and now the yield is more than 3.25%. Cisco is now yielding more than a 30-Year US Treasury Bond. It's the second dividend raise for Cisco in the past 8 months, and shares have rallied strongly since. Cisco is part of a select few technology giants that have massive market caps and pay sizable dividends. There are now three names that have market caps over $100 billion that pay dividends yielding more than 3% annually. That should change when Apple raises its dividend, which hopefully will be soon.
Disclosure: I have no positions in any stocks mentioned, and no plans to initiate any positions within the next 72 hours. I wrote this article myself, and it expresses my own opinions. I am not receiving compensation for it (other than from Seeking Alpha). I have no business relationship with any company whose stock is mentioned in this article.
Additional disclosure: Investors are always reminded that before making any investment, you should do your own proper due diligence on any name directly or indirectly mentioned in this article. Investors should also consider seeking advice from a broker or financial adviser before making any investment decisions. Any material in this article should be considered general information, and not relied on as a formal investment recommendation.