Market Recap:
The market saw some correcting as we expected to happen from our weekly outlook after it missed ISM Index expectations Monday morning. With the market as strong as it has been, it will have to see some profits come off the table to attract a new round of buying. We believe headlines will dominate the movement of the market this week and moving forward. The ISM came in at 51 Monday morning, which does show a growth phase. Yet, expectations were for the ISM Index to come in at 54. That miss caused some weakness in the market. Further, data from Japanese manufacturing was fairly weak and hurt Asian markets. That news also did not help the market. Yet, construction spending came in at 1.2% rise, beating the 0.9% expectations. That news as well as issues with Apple (NASDAQ:AAPL) in China hurt markets. Still, the market has a ton of data to still be digested this week and could go either way.
The Dow (NYSEARCA:DIA) dropped six points and the S&P 500 (NYSEARCA:SPY) dropped seven points.
Stocks To Trade:
Today, we are looking at bullish positions in Procter & Gamble (NYSE:PG) and American Express (NYSE:AXP) and bearish positions in LinkedIn (NYSE:LNKD).
PG is continuing to look quite solid and remains one of our favorite potential longs moving forward. The company combines solid value with strong fundamentals along with safety. As this market starts to look toppy, traders/investors want to make sure they have some solid safety plays for the market. PG is a good choice. The stock looks to be setting up for a potential move higher and has some decent catalysts moving forward.
First off, the company has value. Currently, the future P/E sits at 17.7 with price/sales at 2.5. Both levels show decent value, but when we are looking at a blue chip name like PG with beta at 0.45, we cannot expect very low valuations. Yet, with a future P/E at 17.7, the stock has potential as we look for around a 20 P/E on average. What is more important, though, is that PG provides safety and protection.
How is that?
Take a look at 2008. The stock only dropped about 15% that year. While not enticing, the general market dropped about 50%. During moments of uncertainty, PG becomes attractive. What more is that there is opportunity in the shares during positive times as well. Right now, we see that the company has about 6-8% growth in earnings in 2013 and 2014, which is a very solid rate. With only about 2-3% sales growth expected, the company is expanding margins as well. How are they doing that? The company is going to move away from emerging market expansion, which has led to lower margins as those customers moved away from premium products. PG is moving back to its core markets and slowing the international expansion. They want to focus on the BRICs as well as those countries more likely to see discretionary spending increasing and seeing the middle class rising in wealth. We believe this move is very attractive, and margin expansion will help PG attract upside.
With low beta and a strong fundamental product makeup, we like PG as a part of any portfolio and believe the stock offers a nice buy point if it can break above 78.00.
Trade: PG, Long
Entry: Break of $78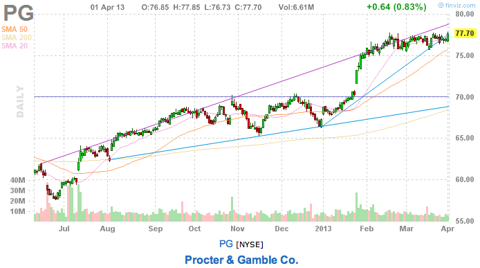 Another stock we like right now is American Express. Despite the fear we have about the market, we believe that AXP and credit card companies have potential. Consumer credit has been rising as of late. In January, credit logged its largest increase in five months as consumers added $16B in credit. Spending has been rising for the economy, and consumers are using credit as a large way to pay for items. Consumer spending rose 0.7% in February and 0.4% in January. Trends for spending help the market tremendously. AXP will benefit from these trends, and we believe that a strong fundamental backdrop of spending will help the stock outperform the market. Right now, AXP has great value as well. The company's future P/E is 12.5 (well below the 15 level we look for value) along with 2.2 price/sales ratio (below 3). Moving forward this year, the company is expected to see earnings expansion nearing on 10% and over 10% next year.
The growth for this stock is, we believe, in the continued shift from debit/cash spending habits to credit. Further, as credit spending becomes easier, it will become more popular. The company has made credit card usage easier by adding initiatives like teaming up with Twitter to offer deals to clients based on businesses and products they tweet along with "t-commerce," which is the company's movement into the television market to offer ways to buy products feature in shows while the show is airing. We believe the company's groundbreaking moves into these technologies separates them from Visa (NYSE:V) and MasterCard (NYSE:MA) and continues with AXP's image.
"The technology that we are pioneering along with our partners is the first step in fundamentally changing the way that audiences can discover, engage with and ultimately have access to the things they see on television,' said Lou Paskalis, VP Global Media Content Development and Mobile Marketing, American Express.
From here, we believe that AXP has more upside. With lots of earnings potential over the next two years, the company should see plenty of upside, and we believe that consumer credit remains one of the best signs of confidence beings regained in the marketplace. We like buying the company on a break of 67.50.
Trade: AXP, Long
Buy Point: 67.50.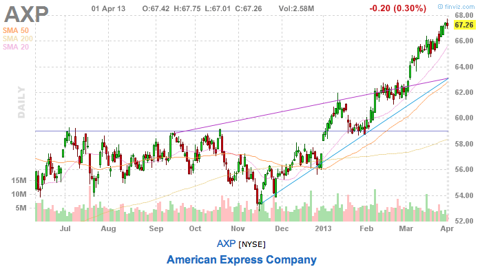 One stock that we believe looks like it could see some correcting moving forward is LinkedIn. While the long-term potential of the company is interesting, we believe that its valuations are too drastic currently. If the market starts to correct, we could see quite a bit of profit taking starting to occur for LNKD. Right now, LNKD sits with an 85 future P/E and 20 price/sales ratio. Both rates are extremely high. With an 85 future P/E, that means that the company will have to see significant earnings growth just to become fair valued. How much growth? If earnings grew by 500% by the end of 2014 taking EPS from 0.19 to 0.95, the company's P/E would still be 179. The company has to grow EPS to around 3.5 to even see a reasonable growth valuation of 50. How long will that take? Analysts are expecting EPS to increase to around 2 by the end of 2014. Therefore, it is not unreasonable to expect EPS at 3+ in 2015. Yet, in the best-case scenario, the stock has already priced in growth through 2015. That situation, additionally, means that no snags can present themselves.
As an investor, would you rather invest in that scenario or one like AXP where the company has growth at about 1/4 of LNKD but valuation at 2% of LNKD? So much future growth is already priced into the stock that we believe some correction and flat lining will have to occur at some point for the stock. Further, this value scenario does not even begin to discuss potential snags and pitfalls. The company has attractive features like marketing potential, ad revenue, search engines, and more. Yet, we see the company as having a limited economic moat. Facebook (NASDAQ:FB) and Google (NASDAQ:GOOG) are both noticing the success of LNKD and want to be a part of it.
Facebook, while much more focused on the social part, can cut into the pie of jobs with their new Facebook Jobs Board. The company was able to get 1.7M listings on their site in the first day as they used a combination of recruiting sites to list on the board. Currently, LNKD offers much less in the way of jobs and is in no way a jobs board. Yet, FB has 1B users and LNKD has 187M. To expect that FB cannot compete for jobs dollars is to be ignorant to the fact that companies want the easiest, cheapest way to get quality hires. Additionally, GOOG will definitely push for the jobs market if LNKD and FB have long-term success.
All in all, LNKD has potential. Yet, is it the potential to grow by more than 1000% in the next two years? We do not believe so. If the market starts to correct, look for LNKD traders running for the sidelines, and with a short float at under 5% but value at 1000, we can see that number rising. Be careful if you are a LNKD investor and start to think about taking some profits off the table.
Trade: LNKD, Short
Sell Point: Break of $172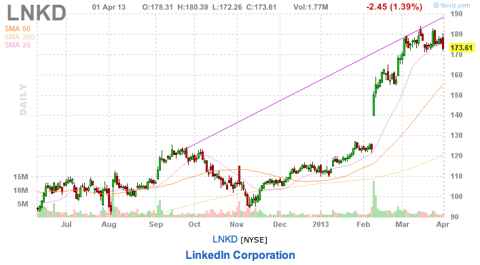 Market Outlook:
The market will be looking towards auto/truck sales Tuesday as the main data point along with the European markets Manager Purchasing Manufacturing Indices from Germany, France, England, and the Euro-Zone. The market could benefit from strength in Europe as it continues to be one of the largest reasons for potential downside. Auto sales have been off to a great start, and their March numbers will be very key. The issue for the market is that March numbers have been so-so. FedEx (NYSE:FDX) and Caterpillar (NYSE:CAT) both noted weakness last month, and ISM showed weakness Monday. If sales were down drastically, where we would expect a decline from sequestration and tax refund issues, it could damage the market even more. Look for an interesting move Tuesday, but we should still expected muted action until employment numbers start to come out on Wednesday.
Disclosure: I have no positions in any stocks mentioned, and no plans to initiate any positions within the next 72 hours.
Business relationship disclosure: The Oxen Group is a team of analysts. This article was written by David Ristau, one of our writers. We did not receive compensation for this article (other than from Seeking Alpha), and we have no business relationship with any company whose stock is mentioned in this article.