April 1st marked a day of transformation for Chesapeake Energy (NYSE:CHK), as longtime CEO and founder Aubrey McClendon has officially stepped down, while former COO Steve Dixon has become the interim CEO. Chesapeake's history reads like a Greek tragedy of sorts, filled with pioneering exploration efforts and technological developments, mixed with gross financial mismanagement and huge conflicts of interests. In a hypothetical world where energy prices only went up, Chesapeake's mentality of land acquisition fueled by excessive debt would be a good one, but in the real world this strategy has exposed the company to huge risks, and paved the way for unattractive asset divestitures. While Chesapeake remains a very strong vertically integrated operator, I'm concerned that the company hasn't brought in a CEO from the outside that could take a fresh perspective to the job. Moving forward, I believe that Chesapeake could potentially be an attractive play on recovering natural gas prices and a more responsible financial structure could be a catalyst, but as of now I prefer other undervalued stocks in the sector such as Devon Energy (NYSE:DVN), BP (NYSE:BP) and Apache Corporation (NYSE:APA).
At a recent price of $20.35 and with 643MM shares outstanding, Chesapeake Energy has a market capitalization of roughly $13.09 billion. As of 12/31/2012, Chesapeake had $3.1 billion in preferred stock at liquidation value, $12.8 billion in long-term debt (net of cash), and another $4.1 billion in net working capital and other long-term liabilities. This equates to an adjusted enterprise value of roughly $33 billion, while the most recent PV-10 based on 10-year average NYMEX prices is $27.9 billion, and based on SEC pricing the PV-10 is $17.8 billion. At first glance, this doesn't scream to be a bargain stock, but it is important to keep in mind that Chesapeake is vertically integrated, and has huge acreage holdings that could potentially be sold or developed profitably, depending on market conditions of course. Chesapeake has been a first-mover in many of its key unconventional plays, which has caused the company to invest heavily in creating infrastructure. Through these investments the company has built the second-largest compression business in the U.S., the fourth-largest hydraulic fracturing company and the fifth-largest rig contractor. While it is desirable to possess such an attractive portfolio of assets, Chesapeake's CAPEX budget has consistently outpaced its operating cash flows, and in an unfavorable financing market the company could potentially look to offload these resources to raise cash.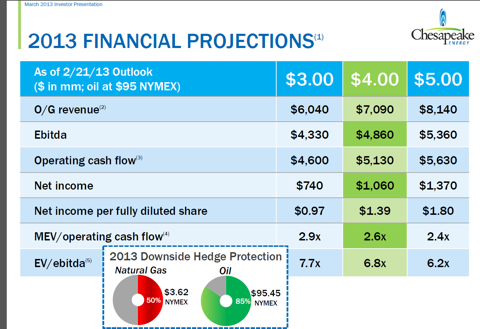 Click to enlarge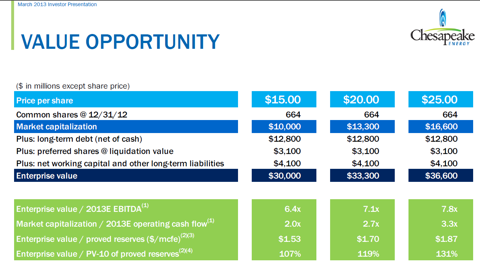 Click to enlarge
Chesapeake March Investor Presentation
Chesapeake Energy has taken advantage of the recent increase in natural gas prices to enhance its hedging positions in 2013 and 2014. Even if natural gas prices were at $5.00 and if NYMEX prices were $95, Chesapeake would only be generating around $1.80 in net income, and $5.63 billion in operating cash flow. Chesapeake has been growing production rapidly, particularly liquid production, and has huge acreage that could position the company for some of the better long-term growth in the industry, assuming the company can continue to finance itself. While natural gas and oil supplies are increasing in North America, LNG exportation and the shift towards natural gas in utilities and transportation could be catalysts' to higher prices. I believe that Chesapeake is roughly fairly valued, but represents a levered play on higher natural gas prices, and improved financial management.
The value proposition for Chesapeake bulls has historically been rationalized through net asset value calculations, which would use recent transaction prices on a portion of assets, to extrapolate the value for the entire acreage position. Even in 2008, when Chesapeake's leverage and CEO Aubrey McClendon's aggressive margining of his own finances embarrassed the company, Chesapeake was able to create aggressive financial deals through joint ventures and VPP's to escape alive. The problem is that with the decline in natural gas prices particularly, the value of some of Chesapeake's assets have in fact declined markedly. A perfect example was the company's sale of 50% of its interest in its Mississippi Lime play in Northern Oklahoma to Sinopec (NYSE:SNP). The company offloaded 425,000 net acres for $1.02 billion, while production from the joint venture assets averaged 34 Mboe/d net in the 4th quarter of 2012, and had roughly 140 MMboe of net proved reserves. This sale price of approximately $2,400 per acre was extremely disappointing in contrast with SandRidge Energy's 2011 sale at $4,400 per net acre, on less-developed land than Chesapeake's. As an analyst, I don't ascribe to focusing on short-term distressed sales to formulate a net asset value for the entire company, but the fact that Chesapeake had to sell at that price, is completely reflective of a terrible business model of a land speculation company, as opposed to a developer of oil and gas resources.
One need not look further than what happened with BP on the Deepwater Horizon spill to understand that E&P's carry operational and environmental risks, in addition to commodity price risk, so it is prudent to maintain reasonable amounts of financial flexibility. Devon Energy is a wonderful example of a well-managed company that was focused on natural gas prior to prices dropping significantly, that made prudent decisions to divest assets in the Gulf of Mexico and elsewhere in times of attractive pricing, to right-size the balance sheet so that is could optimize its liquids portfolio, while maintaining upside for when natural gas prices do eventually increase. Keeping modest debt-levels, paying dividends and buying back stock when it is attractive may not be as sexy as huge exploration discoveries, but Devon's management can be trusted with shareholders' capital. I believe that if Chesapeake Energy hired an experienced E&P executive with a solid capital allocation history as CEO, and combined that with Chesapeake's operational acumen, that the results could be very attractive for shareholders. I believe a sale to one of the major integrated companies would make sense at the right price, but companies have been resistant due to CHK's convoluted structure with all of the joint ventures, and I highly doubt that Aubrey McClendon was seen as someone that would be willing to sell. If Chesapeake puts its head down and reduces its CAPEX to be in-line with its operating cash flows, stops acquiring additional acreage, and continues with its key infrastructure projects on its most important plays, the company could emerge as a highly attractive buyout target in the next several years. If gas prices increase, which I believe is very likely, shareholders can be richly rewarded.
Chesapeake Energy has significantly reduced its rigs and CAPEX allocated to natural gas, and is instead is focused on growing its liquids portfolio. The company is aiming for 27% liquids production growth in 2013, and hopes that liquids will represent 26% of total production. The company has invested heavily to build infrastructure with an eye on reducing per unit production and GE&A costs. Getting rid of Aubrey McClendon's outrageous salary and expenses should be a great start towards improving these metrics. Steve Dixon intends on maintaining the current CAPEX plans for 2013 but doesn't believe expenditure will exceed $6 billion, which still will leave a shortfall in operating cash flow, requiring the company to divest assets. The company is targeting $4-7 billion in asset sales in 2013. This could be highly value destructive in what is arguably a 'buyer's market' and I believe that Chesapeake should either dial down its spending, or divest some of its operating and servicing subsidiaries to raise the cash. The company finished 2012 with about $4 billion in available liquidity but that could be eaten up quite quickly, if the company continues to spend so aggressively.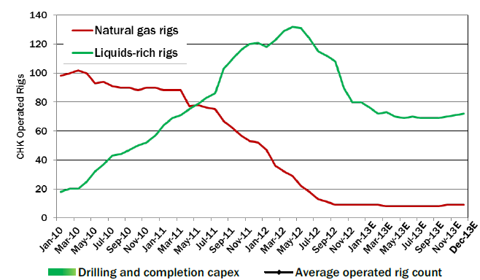 Click to enlarge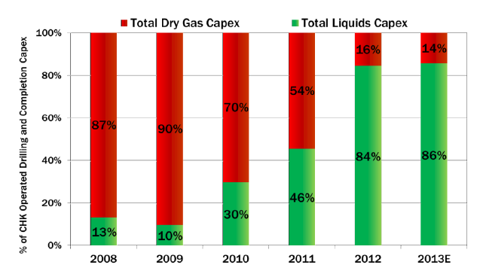 Click to enlarge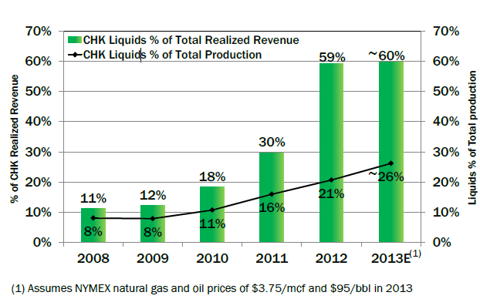 Click to enlarge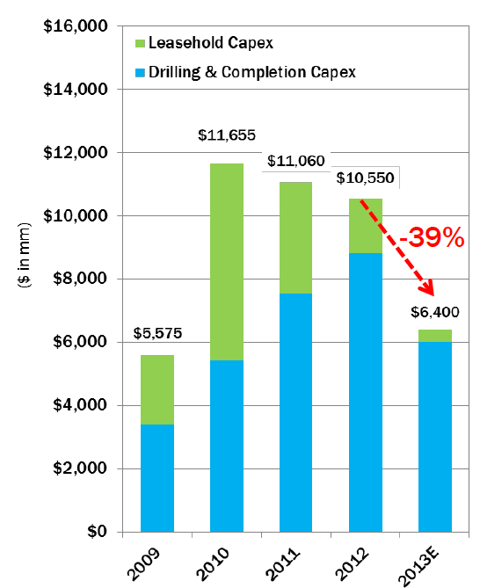 Click to enlarge
Chesapeake March Investor Presentation
I believe that Chesapeake Energy is a stock that should be monitored closely. If an experienced external CEO comes in to replace the interim CEO, and the focus is on aligning CAPEX with operating cash flow, and reducing debt prudently, the stock could be an attractive buy. If the board of directors determines that Dixon is the guy to run the show, and the financial management doesn't change materially, I'd recommend staying away. It is nothing personal about Dixon, as I believe him to be a fine COO, but when you have a company that has gifted enormous sums to McClendon from shareholders pockets, after he lost the majority of his wealth through leveraging up his own personal account on Chesapeake stock, skepticism makes a lot of sense. Activist investors have certainly made a positive impact and I believe that they will demand real changes be made. Companies like BP, APA and DVN are in better financial condition, and still have attractive growth prospects like CHK. Chesapeake is an interesting turnaround play, but at current prices, I'd prefer to focus elsewhere.
Disclosure: I am long APA, DVN, BP. I wrote this article myself, and it expresses my own opinions. I am not receiving compensation for it (other than from Seeking Alpha). I have no business relationship with any company whose stock is mentioned in this article.