Earlier in April the Dow Jones US Real Estate Index and the ETF tracking it (NYSEARCA:IYR) broke above the March highs. I had written an article about how to trade IYR with some price levels (both up and down) based on price-level analysis. I will review the price-action since then.
Price Targets Made: Both Ways
IYR tends to track the broad market (NYSEARCA:SPY) but with a very high Beta. The technical price levels I had listed turned out to be good reference price points to trade off.
"Purely based on technical levels, the upside price targets are: $29.70 (prior support), $30.88 (100% Fibonacci Extension of the zig-zag in March), 31.30 (61.8% retracement of 2009 High-Low), and $33.13 (a measured move up of the box consolidation in March; also a prior swing high). On the downside the targets are $29.33 (50% retracement of 2009 High-Low), 28.33 (March High), $28.07 & $27.21 (61.8% & 50% Fibonacci Extension of the zig-zag in March respectively) and $27.36 (38.2% retracement of 2009 High-Low)"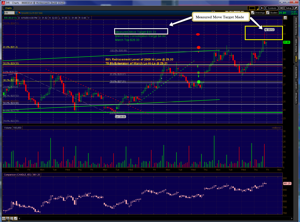 The initial break out over the March highs was met with a retracement. This was not surprising since the sector's weak fundamentals do not attract much long term money to support the price.
However, as the broad market rally refuses to die, IYR continues to move higher. The sector was helped by a number of secondary equity offerings which typically results in support from the underwriters.
The bankruptcy filing by General Growth Properties (NYSE:GGP) provided a catalyst for the sector today sparking a major rally. Bill Ackman, the hedge fund manager who owns 25% of GGP provided $375 in bankruptcy financing saying that it won't be forced to sell assets at fire-sale prices. IYR rallied to an intra-day high of $33.12, just a penny short of the measured move target of $33.13 I had suggested as an upside target.
Will the Gains Hold?
IYR sold off towards the end of the day ending the day at $31.91, almost 4% less than the high of $33.12. Though Wall Street is getting less bearish towards the sector, the fundamental risks associated with the sector continue to remain strong. It is unlikely that long-term money will patronize this sector with any strong conviction. As a result this sector continues to be a trade and not a buy-and-hold. I personally purchased some May $30 Puts on IYR as it reached my price target of $33.13.
Disclosure: Hold Puts on IYR and also trade IYR and SRS actively.