Emerson Electric Co. (NYSE:EMR) has increased its dividend every year for 57 consecutive years, giving investors reliable and increasing returns. In this article, I will be taking a closer look at this amazing company, judging its growth, yield and valuation over the last decade. I will compare EMR to the industry average (found on Morningstar.com) I have also chosen 2 of EMR competitors to use for comparison: Honeywell International Inc.(NYSE:HON), and General Electric Company (NYSE:GE).
Let's start by looking at the earnings per share and the dividend. As we can see in the graph below, the 2012 EPS was a lot lower than in 2011. This is due to a $0.72 impairment charge (as mentioned in EMR s full year result news release). Normalized earnings are at $3.39, which is 3.7% higher than the $3.27 of 2011. Average EPS increase in the 2003-2012 period was 8.3%.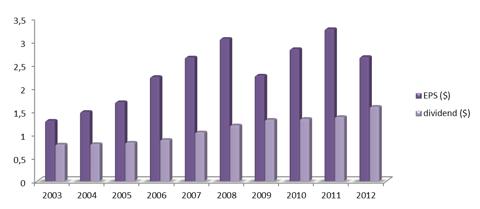 Analysts expect EMR's EPS to reach $4.01 in 2014 (Yahoo Finance). If we assume the payout ratio to remain at the current 60%, this would give us a yield on cost of 4.1% as soon as next year. I believe however, that the payout ratio for 2013 will be somewhat lower, considering the fact it was higher than usual in 2012, due to the lower EPS.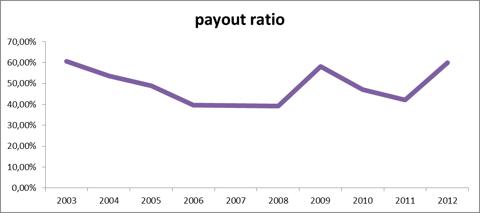 The dividend has grown at an average 8.2%, and at current prices ($55.87/share), will yield us 2.94%. This is well above the 2.18% Honeywell investors receive, and also above the 2.2% industry average. At 3.29% however, General Electric is the highest yielder.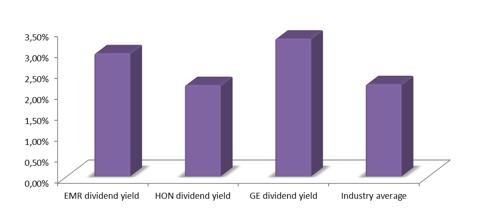 I really like the fact EMR uses its money to buy back shares. Over the past 10 years, the number of shares has gone from 841 million to 735 million, which has boosted up stock prices and dividends.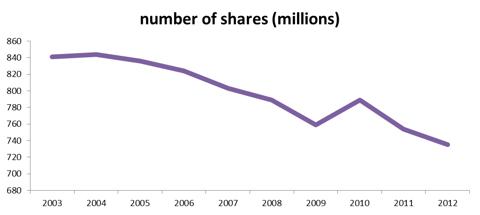 Short-term financials appear to be very healthy, with a current ratio of 1.42 for 2012. EMR has saved up quite a bit of cash over the past few years, as can be seen in the graph below. In 2012, EMR has cash and cash equivalents of 2.37 billion dollars. If this is used for increasing the dividend or buying back stock, I could see stock prices going up further.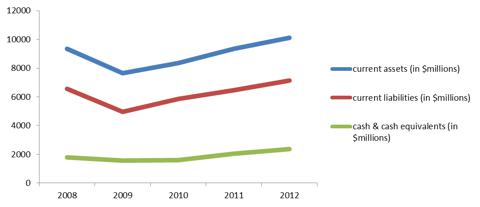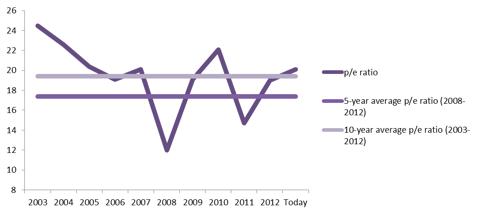 At current valuations, EMR seems to be a bit expensive, with a price to earnings ratio of 20.1. This is higher than the 10 year average of 19.4 and the 5-year average of 17.4. However, the p/e ratio is higher because the 2012 EPS was lower than usual. If we use the normalized EPS for 2012, we get a p/e ratio of 17.0.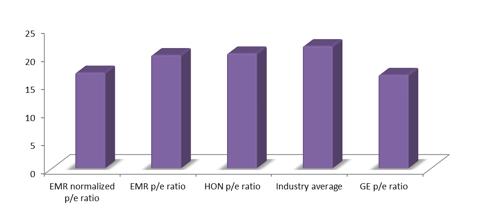 Conclusion:
A one-time expense lowered EMR's EPS for 2012, thus pushing up the p/e ratio. However, when using the normalized p/e, EMR seems to be very cheap, trading well below the industry average. Its dividend yield is surpassed only by General Electric. Its dividend history dates back over half a century, giving me great confidence in its ability to continuously increase dividends.
Disclosure: I have no positions in any stocks mentioned, but may initiate a long position in EMR, GE over the next 72 hours. I wrote this article myself, and it expresses my own opinions. I am not receiving compensation for it (other than from Seeking Alpha). I have no business relationship with any company whose stock is mentioned in this article.