Have you ever wanted to start a long position on a stock, yet the price was a tad too rich for you? This was my situation with Prospect Capital (NASDAQ:PSEC). I like the stock, its business model, and its monthly dividend. Prospect's share price took a bit of a tumble after receiving a downgrade to underperform from Wells Fargo. In addition to the downgrade, the stock also went ex-dividend on March 26. These two factors combined to send the stock down about 3%.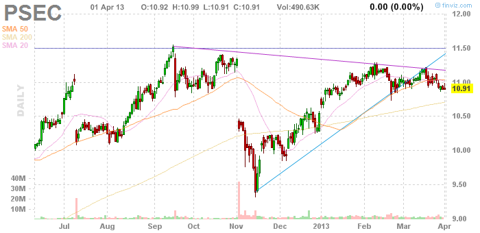 Before I get into the reasons on why I am bullish on Prospect, let me explain its business model. Prospect is a business development company ("BDC") that offers private debt and equity capital to middle market companies. Prospect's debt offerings include liens, senior loans, and mezzanine debt. To put this into English: Prospect basically lends to companies that are desperately in need of capital. Prospect is only willing to lend to these companies if it gets in return either high-yield debt or equity. You can read more about Prospect's business model in my earlier article.
Now, with that out of the way, let us look at some of the recent positive catalysts I have seen for Prospect:
Lower Cost of Capital
Cost of capital is an extremely important metric for Prospect. Since they do not use much leverage, getting this metric down tends to boost margins. I was recently surprised at how low an interest rate Prospect was able to get on a recent 10-year unsecured note. On March 8, Prospect announced that it had priced $250M senior unsecured notes due 2023. The notes will bear interest at a rate of 5.875% per year payable semi-annually. These notes are a much cheaper source of capital for Prospect than issuing stock, which as of April 1, yields north of 12%. While Prospect cannot solely rely on debt, it is nice to see Prospect benefiting from the historically low interest rates.
$800M in Originations During Q1 2013
After a weak start to the quarter, Prospect finished Q1 2013 with $800M in new loan originations. With the $800M of new originations during the quarter, Prospect now has nearly $3B in TTM originations. Some may have worried that Prospect may have been having trouble finding suitable new clients. Prospect tends to be rather picky in choosing its investments, and it shows via its low default rate, which as of year-end 2012 was only 1.5% of total investments.
Near Parity with Net Asset Value
As of December 31, 2012, Prospect's net asset value ("NAV") was $10.81 per share. At current prices, Prospect trades at only a slight 1% premium to NAV. I feel that buying Prospect at or below NAV is a prudent strategy since Prospect tends to frequently issue new shares, especially when its share price is above NAV.
Clarity Regarding Upcoming dividends
Included in its fiscal Q2 earnings report, Prospect announced its upcoming monthly dividends:
$0.110050 per share for February 2013 (record date of February 28, 2013 and payment date of March 21, 2013)
$0.110075 per share for March 2013 (record date of March 29, 2013 and payment date of April 18, 2013)
$0.110100 per share for April 2013 (record date of April 30, 2013 and payment date of May 23, 2013)
Notice a pattern? Prospect has been slowly increasing its dividend nearly every month since it started paying monthly dividends in 2010. As a BDC, Prospect pays out most (about 90%) of its net interest income. Since its inception, the long-term payout ratio for Prospect has been about 98%.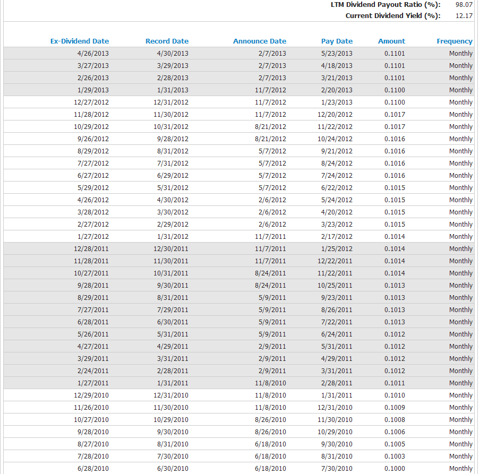 Conclusion
Due to the recent price decline, I have recently bought a small position in Prospect. While ideally I would have liked to have gotten the shares at under NAV, I feel that due to Prospect's outperformance starting a small position was worth the risk. Just to be clear, Prospect is a high-risk stock, and should not be anything but a small part of a diversified portfolio. However, due to the compounding effects of the monthly dividend, I feel that Prospect offers a decent risk adjusted return. I would also add to my position on any equity offering by the company.
Disclaimer: The opinions in this article are for informational purposes only and should not be construed as a recommendation to buy or sell the stocks mentioned. Please do your own due diligence before making any investment decision.
Disclosure: I am long PSEC. I wrote this article myself, and it expresses my own opinions. I am not receiving compensation for it (other than from Seeking Alpha). I have no business relationship with any company whose stock is mentioned in this article.