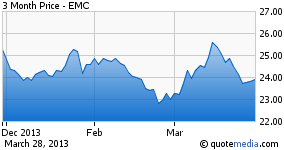 EMC Corp. (EMC) is one of the largest global providers of products and services related to enterprise data storage. The company owns an 80% stake in VMware (NYSE:VMW) and also a 69% stake in a new venture named "Pivotal" in the recent future.
I had discussed EMC last year in this article and have been accumulating this stock on dips as well, and even though the stock has badly underperformed compared to major indices so far, I believe that there are several key drivers in the coming quarters that will make EMC a superb long-term investment.
The Pivotal Initiative
In March 2013's strategic forum and investor presentation, EMC announced more details about its Pivotal Initiative - creation of a separate venture that focuses on a platform consisting of Big Data and cloud computing applications. EMC will thus have three separate platforms:
The Pivotal Initiative: a platform for Big Data and cloud apps.
VMware: Data center and virtualization platform.
EMC II: a platform focused on data storage, protection and intelligence.
The Pivotal venture is expected to be spun-off in the future and possibly made a public company, majority-owned by EMC (69%). It is expected to accrue $1 billion in revenue by 2017, according to this presentation. I believe this new development will help accelerate growth prospects for all these three entities.
Key Catalysts
There are several catalysts and important business drivers apart from the Pivotal venture that indicate that this company is due for a fine rebound:
There has been an explosive growth in data volumes at corporations and governments, thanks to the digitization revolution. Demand for EMC's data analytics and storage-related products and services will increase as these business entities will need to not only store big amounts of data, but also use it for the benefit of the business. A research report by McKinsey indicates that companies involved in the business of enterprise storage systems, data analytics, content management and data warehousing will benefit from a 40% annual projected growth in global data in the coming years. EMC is thus very well positioned for the next several years, especially with its Pivotal venture.
In 2006, EMC acquired RSA Security Inc. for about $2.1 billion. Since then, RSA Security has been an important contributor to EMC's operations. With more and more hacking incidents surfacing in recent times, information security has become one of the fast growing markets in the data space. Acquiring RSA was a smart move by EMC as a major data company, as this acquisition has positioned EMC very well in the industry.
According to analysts' estimates, the average earnings estimate is $1.86 for FY 2013, $2.07 for FY 2014 and $2.33 for FY 2015. The annual EPS trend for the next few years is included below, based on these consensus numbers.

Demand for EMC's products and services are seeing a strong uptrend. Revenues are expected to rise from $21.71 billion in FY 2012 to 23.47 billion in FY 2013 (more than 8% year-over-year increase) and analysts expect this uptrend to continue with a $25.40 billion revenue estimate for 2014.
In 2010, EMC acquired Isilon Systems, a fast growing network attached storage systems company. According to IDC's forecast, the medium-sized business segment that Isilon Systems, now EMC, caters to is poised to grow more than 35% annually, reaching close to $6 billion by 2014. It happens to be one of the fastest growing markets in the Big Data space.
Strong Fundamentals
EMC's Debt-Capital ratio of 6.7% and its balance sheet as well as liquid assets indicate that its debt repayment capabilities are sound. Its operating efficiency is strong as well, with solid metrics such as Return on Assets of 8% and Return on Equity of 13.12%. Its gross margin (60.4% in 2010, 62.6% in 2011, 64.5% in 2012), operating margin (22% in 2010, 23.9% in 2011 and 25% in 2012) and net margin (16% in 2010, 16.9% in 2011, 17.3% in 2012) have shown continuous improvement in the recent years.
EMC's cash from operations have shown a strong year-over-year trend since the past three years (see below).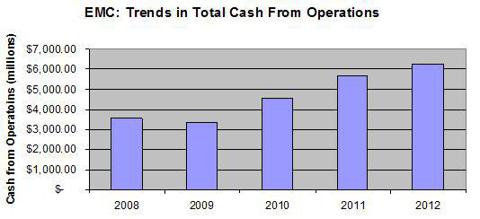 Risks
The biggest risk faced by technology companies like EMC is a sluggish global economy, as it directly affects the overall capital spending directed towards IT.
EMC has risks associated with acquisitions related synergies and integration. Execution risks related to the Pivotal venture should also be considered.
Conclusion
EMC's earnings as well as revenues are expected to rise in next couple of years, so actual growth is anticipated. Of the 38 analysts that cover EMC, 11 have a Strong Buy and 21 have a Buy opinion on the stock. Six analysts have rated the stock as a Hold and there are no Sell recommendations. The average price target for the stock is $29.50 a share. Both earnings and revenues are expected to rise in next couple of years, indicating actual growth.
Looking at the risk-reward for this investment and the prospects of Big Data analytics in the future, EMC seems like a premier technology play in your portfolio for the long run. Happy investing, folks!
Disclosure: I am long EMC. I wrote this article myself, and it expresses my own opinions. I am not receiving compensation for it (other than from Seeking Alpha). I have no business relationship with any company whose stock is mentioned in this article.