Do you ever wish you could put the screws on management to shake up the business and unlock shareholder value? Well, you can, albeit indirectly, through Carl Icahn's activism and an investment in the master limited partnership that he manages, Icahn Enterprises (NYSE:IEP). According to its recent investor presentation, IEP seeks undervalued companies in the Graham and Dodd tradition, and it often becomes actively involved, as seen in the recent Dell (NASDAQ:DELL) matter.
The types of situations in which Mr. Icahn typically gets active, include: (1) financial/balance sheet restructuring; (2) operation turnarounds; (3) strategic initiatives; and (4) corporate governance changes. Investors should expect more activism from Mr. Icahn because reportedly he believes there has never been a better time to effect change in companies due to a number of factors, including low interest rates and substantial cash balances, which is conducive to purchasing other businesses and/or returning cash to shareholders through buybacks or dividends.
Collection of Assets:
So, what do you get when you purchase IEP?
According to the recent investor presentation, IEP describes itself as a "diversified holding company owning subsidiaries engaged in the following operating businesses: Investment, Automotive, Energy, Gaming, Railcar, Food Packaging, Metals, Real Estate and Home Fashion. Through our Investment segment, we have significant positions in various investments which include Netflix (NASDAQ:NFLX) (9.9%), Chesapeake Energy (NYSE:CHK) (9%), Hain Celestial Group (NASDAQ:HAIN) (15.7%), Forest Laboratories (NYSE:FRX) (11.5%) and Transocean Ltd. (NYSE:RIG) (5.6%)."
Investors also get a portion of Dell shares ($1 billion has been invested so far), with a commitment of up to $4 billion more cash equity, should Mr. Icahn's takeover proposal be accepted by the Special Committee overseeing the sale. The details of the Dell proposal can be seen here.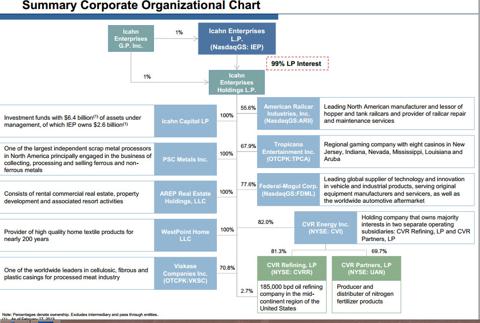 The types of businesses in the portfolio are as eclectic as the method in which they were acquired, including buying some of the businesses out of bankruptcy, through share exchanges and/or outright cash takeovers. In addition, Mr. Icahn returned all outside capital from his hedge fund in 2011, so there is no need to worry about investor redemptions: the money available to Mr. Icahn will be available in perpetuity. And IEPs investment mandate provides Mr. Icahn the allowance to invest in any type of security, in any industry and during any cycle over a longer term time horizon. That means that investors can expect their capital to be invested in the full spectrum of investments, including special situations such as bankruptcies or restructurings.
Historical Performance:
Of course, historical performance is no guarantee of future performance. But Mr. Icahn's historical performance is impressive, nonetheless. Since 2000, the value of the IEP units has increased 1,003%, or 20% annually compared to returns of 32%, 68% and 115% for the S&P 500, Dow Jones Industrial and Russell 2000, respectively (equating to annual rates of return of 2%, 4% and 6%, respectively). Plus, investors aren't encumbered by the 2% management fee and 20% performance fee levied by hedge funds.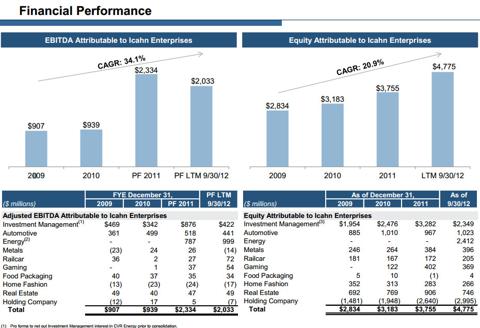 Using Stock as Currency:
As part of IEP's Graham and Dodd investment style, Mr. Icahn also has the ability to use IEP stock as currency. When Mr. Icahn believes it is fully or overvalued, or when he wants more cash to buy assets, IEP can tender shares in a public offering, as it did on March 6, 2013. The offering included 3,174,604 at $63/unit, netting proceeds of approximately $193 million. The extra powder could help Mr. Icahn in his target of Dell. Alternatively, Mr. Icahn can buy shares back if prices are too low in relation to underlying value. Prudent capital allocation, if used effectively, is a powerful tool for creating long-term shareholder value.
Dividend Yield:
Finally, if investors needed another, more tangible reason to invest: dividends. IEP recently increased its dividend to $4/unit, equating to a 7.3% dividend yield at current prices, payable in either cash or additional depository units. Mr. Icahn is bullish on the value of the units - he is reportedly taking his distribution in units for the foreseeable future.
Conclusion:
For those investors wanting to effect change on management but with little or no recourse to do so, IEP may be an interesting alternative. Mr. Icahn owns about 91% of IEP's units outstanding, so investors can be assured their interests are aligned with Mr. Icahn. Investors also get direct access to a collection of diversified businesses, spanning multiple industries.
If anything, owning IEP may add some excitement to an investors' portfolio. Just turn on CNBC or open a Wall Street Journal, and investors can see what Mr. Icahn is doing on a daily basis - fighting for board seats, negotiating with management, identifying spin off opportunities, among others - to unlock shareholder value.
Disclosure: I have no positions in any stocks mentioned, but may initiate a long position in IEP over the next 72 hours. I wrote this article myself, and it expresses my own opinions. I am not receiving compensation for it (other than from Seeking Alpha). I have no business relationship with any company whose stock is mentioned in this article.