As much as investors would like the fourth quarter earnings report to be a defining moment for BlackBerry (NASDAQ:BBRY), the bullish and bearish case remain equally balanced. BlackBerry earned a profit in the quarter that was helped by the CORE program, reducing $1 billion in operational costs. Conversely, the company lost 3 million active customers (mostly from the prepaid segment). The mixed result highlights the importance of BlackBerry 10 (BB10) additions against continued sales for BlackBerry 7 in price-sensitive regions. While BlackBerry 7 activations generate service revenue, BB10 devices earn higher margins. With the transition in BlackBerry's business model underway, who will emerge triumphant: the bulls or the bears? There are 8 things to look at to determine which group has an edge.
1. Operational Efficiency
A transformation in the supply chain helped improve working capital performance and production yields. When considering a reduction in headcount too, low profit margins likely reached a trough in previous quarters. In the fourth quarter, gross margins were around 40%, compared to 30% in the third quarter.
2. Uniqueness of Q10 (Device with Keyboard)
The scarcity of smartphone devices having a keyboard will give BlackBerry a moat, albeit a small one. The Q10 release in April will also be supported by initial positive momentum, since keyboard-based BlackBerry devices have a loyal following.
3. Enterprise Support
Enterprises still focus on the ease of management of all mobile device types. In addition to offering security, sales of BlackBerry Enterprise Server could become meaningful in the fiscal 2014.
During the roadshow, companies like SAP, Cisco (NASDAQ:CSCO), IBM, HP (NYSE:HPQ), and Citrix (NASDAQ:CTXS) demonstrated the integration of BlackBerry 10 with their product offering.
4. 50% Increase in Marketing Costs
BlackBerry plans to increase marketing by 50%. If previous estimates of $1.4 billion in marketing spending are accurate, then investors should expect costs to rise to $2.1 billion. Using SG&A as a proxy, most expenses will be related to market costs:
| | | | |
| --- | --- | --- | --- |
| | 2/28/2010 | 2/28/2011 | 2/29/2012 |
| Selling General Admin Expense | 2,071.19 | 2,400.00 | 2,604.00 |
| | | | $ millions USD |
Quarterly expenses were around $500 million:
| | | | |
| --- | --- | --- | --- |
| | 5/31/2012 | 8/31/2012 | 11/30/2012 |
| Selling General Admin Expense | 552 | 559 | 487 |
| | | | $ millions USD |
Data Source: Kapitall
5. Healthy Balance Sheet
Despite a 26% decline in unit shipments compared to the first quarter, BlackBerry earned a profit in the fourth quarter. Revenue growth was flat in the fourth quarter as BlackBerry shipped 6 million smartphones. In Q3, the company shipped 6.9 million devices. Cash and cash equivalents increased to $2.9 billion. The profitable quarter takes into account launches to 60 carriers across 40 countries, even though 223 carriers completed acceptance testing. BlackBerry still plans to launch BB10 to an additional 30 countries.
6. Lower-cost BB10 Planned
While BlackBerry 7 continues to be of strategic importance for building its user base, BlackBerry plans to launch a lower-cost BlackBerry 10 device later this year. Inexpensive smartphones are of strategic importance for both BlackBerry and Nokia (NYSE:NOK). Nokia is relying on its Asha series to compete in this segment. Similar to BlackBerry transitioning BBOS7 to BB10, Nokia is rumored to refresh Asha with a Windows Phone user-interface. Since January 2013, the share price of both companies diverged.
Since reporting quarterly results in January and announcing 4.4 million units in sales compared to 2.9 million in the previous quarter, Nokia gave up most of its gains in the last few months. BlackBerry shares are performing relatively better: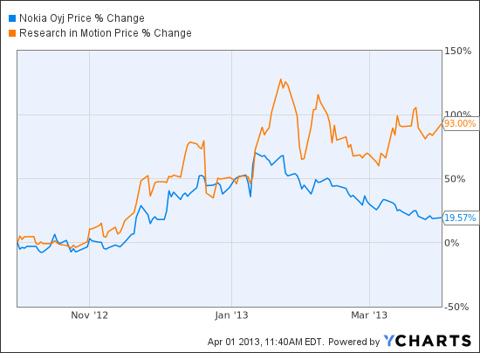 7. Service Fee Decline
In Q4, service revenue declined by 3% to $950 million. Service revenue accounts for 36% of quarterly revenues for BlackBerry. BlackBerry forecasts service fees will decline in the single digit percentage points in the current quarter. The CORE program will offset some of the decline, as will ongoing BlackBerry 7 sales.
8. US Market Matters
Early reports that there were no lineups for BB10 are significant for BlackBerry, although online sales and preorders were not mentioned. 22% of revenue depends on the North American market, with 14% of sales reliant on the U.S. market.
Google's (NASDAQ:GOOG) Android and Apple's (NASDAQ:AAPL) iPhone are often cited as the primary competitors for BlackBerry in the U.S. markets. In the near-term, BlackBerry needs to focus on Microsoft (NASDAQ:MSFT) and Nokia. Nokia Lumia devices, such as the Lumia 520 (for US $183) and Lumia 720 are the upcoming devices that compete with BB10.
In the most recent quarter, Microsoft gained market share from BlackBerry. BlackBerry released BB10 in the US in March, so the figures may change next quarter: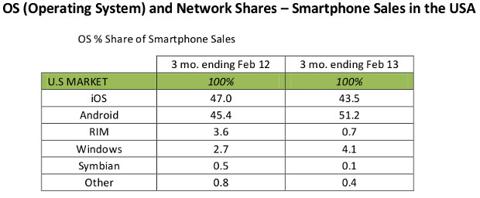 Source: Engadget
Conclusion
Market participants currently favor hope for BlackBerry shares to decline, since short interest volume increased again. Between February 28 and March 15 2013, short interest rose by 5.3% to 155 million shares. The short float is now over 31%. The heightened bearishness suggests that BlackBerry shares could rise in the short term to squeeze the bears. In the longer term, growing effectiveness in marketing will be needed to support a higher valuation for BlackBerry. Investors will know marketing is effective if sales of BB10 grow without the need to lower prices. When BlackBerry entered the tablet market with its Playbook, the aggressive marketing campaign was not effective. At the time, the tablet was incomplete. This time around, BB10 is ready for the mass market because it is a better operating system. The platform also has positive feedback from users and media and has much stronger app developer support. This suggests that bulls have an edge.
Disclosure: I have no positions in any stocks mentioned, and no plans to initiate any positions within the next 72 hours. I wrote this article myself, and it expresses my own opinions. I am not receiving compensation for it (other than from Seeking Alpha). I have no business relationship with any company whose stock is mentioned in this article.