On April 1st, Cytokinetics, Inc. (NASDAQ:CYTK) announced that it had initiated a Phase I "first time in human" clinical trial for CK-2127107. CK-2127107 is a potential treatment for improving skeletal muscle function in diseases and medical conditions associated with neuromuscular dysfunction, muscular weakness, and/or muscle fatigue. In this article I wanted to take a closer look at not only CK-2127107 but some of the contributing factors behind the company's 90% jump in year-over-year revenue and why I think another collaborative effort could be in the works for Cytokinetics.
Overview: Based in South San Francisco, California, Cytokinetics is a clinical-stage biopharmaceutical company, engaged in the discovery and development of small molecule therapeutics that modulate muscle function for the treatment of serious diseases and medical conditions.
The company's drug candidates in clinical development include Tirasemtiv, a skeletal muscle troponin activator, which is in Phase II clinical trials; and CK-2127107, a pre-clinical skeletal sarcomere activator for treating diseases or medical conditions associated with skeletal muscle weakness or wasting (Yahoo Finance).
Shares of Cytokinetics, which possess a market cap of just under $165 million settled at $1.14/share on volume of 981,500 shares by the end of Monday's trading session. One of the things I should point out for growth investors is the fact that shares of CYTK are 70.84% higher since January 1st of this year.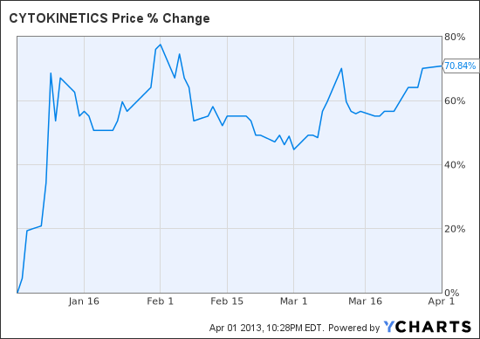 CYTK data by YCharts
CK-2127107:CK-2127107 is what's known as a skeletal sarcomere activator, and according to the company's website,
the skeletal sarcomere activators which are currently under the development of Cytokinetics, have demonstrated pharmacological activity that may lead to new therapeutic options for diseases and medical conditions associated with aging, muscle weakness and wasting and neuromuscular dysfunction.
By directly improving the skeletal muscle function in patients suffering from a wide range of severe muscular ailments, a small molecule-based activator of the skeletal sarcomere has the potential to enhance functional performance and quality of life in patients suffering from such diseases as amyotrophic lateral sclerosis, also known as ALS or Lou Gehrig's disease. Given the fact there is no known cure for ALS, any positive development with regard to the disease, and more specifically the management of pain in patients diagnosed with the disease, could play a vital role in the upside potential of the company.
90% Increase in Revenues: According to the company's earnings which were released on February 5th,
Revenues for the twelve months ended December 31, 2012 were $7.6 million, demonstrating a 90% increase when compared to the $4.0 million for the same period in 2011. Revenues for the twelve months of 2012 included $4.2 million from our collaboration with Amgen (NASDAQ:AMGN), a $1.5 million from our collaboration with Global Blood Therapeutics, Inc., a $1.3 million of grant revenue from the NINDS, and a $0.6 million from our collaboration with MyoKardia, Inc. Revenues for the twelve months of 2011 included $2.0 million from our collaboration with Amgen, $1.7 million from our NINDS grant, and $0.3 million from our collaboration with Global Blood Therapeutics, Inc.
Based on the company's year-over-year revenue numbers, management should continue to focus on the strengthening of its pre-existing collaborations and begin to seek out similar types of efforts throughout 2013. For example, the company's preexisting collaboration with Amgen resulted in a $2.2 million increase in annual revenue, and its newly initiated collaboration with MyoKardia added an additional $0.6 million in revenue.
Do I believe a near-term partnership could be in the works for Cytokinetics? I absolutely think Cytokinetics partners up with a much larger biotech company in an effort to develop and commercialize CK-2127107. Why? Such an alliance would not only fall within the parameters of the company's philosophy, but enhance the company's bottom line as has been the case since 2006 when Cytokinetics collaborated on Omecamtiv Mecarbil with Amgen (AMGN).
What are some of the risks associated with an early-stage biotech company like Cytokinetics? When it comes to an early-stage biotech company, similar in scope to that of Cytokinetics, one must almost always keep an eye on any clinical trial-based developments.
For example, the Phase I clinical-trials of CK-2127107 are what are known as "first-time in human" trials and if at any time during those trials, endpoints become unattainable, shares could experience a significant sell-off.
Potential investors should also consider the possibility of one of Cytokinetics potential partners walking away midstream. Although highly unlikely, such a move could virtually dismantle any ongoing clinical trial or marketing effort these firms had previously discussed or may be in the process of initiating.
Conclusion:When it comes to those who may be looking to establish a position in Cytokinetics, I'd keep a watchful eye on not only the company's pre-existing partnerships with such companies as Amgen and Global Blood Therapeutics, but any new partnerships it may form over the next 6-12 months with regard to CK-2127107.
Disclosure: I am long CYTK. I wrote this article myself, and it expresses my own opinions. I am not receiving compensation for it (other than from Seeking Alpha). I have no business relationship with any company whose stock is mentioned in this article.