Movado Group (NYSE:MOV) designs, sources, markets, and distributes fine watches. Its portfolio of brands is comprised of Movado (the watch without the dashes), Ebel, Concord, ESQ, Coach Watches, HUGO BOSS Watches, Juicy Couture Watches, Tommy Hilfiger Watches and Lacoste Watches.
MOV has had an amazing run-up in the past 2 years moving from a base of $15 in late 2011 to $33.52 at the time of this writing.
Technically speaking, MOV is in an uptrend. It has tested the 200 day SMA 3 times over the past 12 months and held each time. In fact, on the first two tests, MOV's price bounced above significantly. I am here to argue that MOV will not bounce strongly the third time around for fundamental reasons.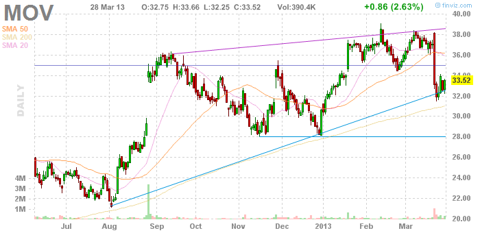 Bull Case for Movado (The Case the Market Currently Believes)
Management has executed very well. Since losses in FY 2010 and 2011, management has grown revenues consistently, handled inventories perfectly, and steadily increased margins. Gross margin for FY 2013 is now 55% and operating margin is 9.8%.
| | | | |
| --- | --- | --- | --- |
| | FY2013 | 2012 | 2011 |
| Net sales ($ 1000's) | $505,478 | $468,117 | $382,190 |
| Net sales (%) | 100.0% | 100.0% | 100.0% |
| Gross margin | 55.0% | 54.8% | 47.9% |
| Selling, general and administrative expenses | 45.2% | 47.6% | 51.1% |
| Operating income / (loss) | 9.8% | 7.2% | (3.2)% |
Movado has a fortress balance sheet. It has a quick ratio of 2.89, no long-term debt, and $6.48 per share of cash.
Management tends to give conservative guidance and has rarely missed. Hence, there is no reason not to believe management's forecast of 10% yoy net sales growth, 20% yoy operating income growth, $1.80 for FY 2014, and $3.00 EPS for FY 2017. Multiply $3 EPS with 20 p/e and you get a price of $60 in 3 years. Because of the strong balance sheet, there is room for more upside should management raise dividends or do a meaningful stock buyback.
Per Reuters:
The Company provided guidance for fiscal 2014 which is on a comparable basis to non-GAAP fiscal 2013 results adjusted for the unusual items noted above and reflecting a 28% tax rate. In fiscal 2014, the Company anticipates that net sales will increase approximately 12% to a range of $570 million to $575 million, gross margin will be approximately 54%, operating income will increase approximately 20% to $68 million and EBITDA will be approximately $80 million. The Company anticipates net income in fiscal 2014 to increase to approximately $48 million or $1.80 per diluted share, reflecting a 28% anticipated effective tax rate. The Company's guidance also assumes no unusual charges for fiscal 2014.

In addition, the Company announced today its multi-year strategic plan goals through fiscal 2017. For the next four years, the Company anticipates approximately 10% sales growth per year and approximately 20% operating profit growth per year. This is expected to result in fiscal 2017 sales of approximately $750 million, operating profit of approximately $115 million, and earnings per diluted share to slightly exceed $3.00.
Bear Case (The Case the Market will soon Realize)
These are Movado's brands and their suggested Retail Price Range:
| | |
| --- | --- |
| Suggested retail price range | Movado Group Inc Brand |
| $2000 to $9999 | Concord and Ebel |
| $500 to $2499 | Movado |
| $75 to $500 | ESQ, Coach, HUGO BOSS, Juicy Couture, Tommy Hilfiger, Scuderia Ferrari, Lacoste |
Per the 10-k, the licensed brand category, which solely consists of brands in the $75 to $500 segment, accounted for 45% of the Movado's net sales.
The Company has the right to produce, market and distribute watches under the brand names of ESQ, Coach, Tommy Hilfiger, HUGO BOSS, Juicy Couture, Scuderia Ferrari and Lacoste pursuant to license agreements with the respective owners of those trademarks. There are certain minimum royalty payments as well as other requirements associated with these agreements. Failure to meet any of these requirements could result in the loss of the license. Additionally, after the term of any license agreement has concluded, the licensor may decide not to renew with the Company. For the fiscal year ended January 31, 2013, the above mentioned licensed brands represented approximately 45% of the Company's net sales. No individual licensed brand represented net sales greater than 20% of the Company's total consolidated net sales. The loss of one or more of the Company's licenses could result in loss of future revenues which could adversely affect its financial condition.
The licensed brand category also accounted for almost 80% of the growth from FY 2012 to FY 2013 (total net sales were up $37.4 million yoy):
For Fiscal 2013 Compared to Fiscal 2012
United States Wholesale Net Sales

Net sales in the licensed brand category were above the prior year by $8.7 million (US division)

International Wholesale Net Sales

Net sales in the licensed brand category were above the prior year period by $21.0 million
Almost half of Movado Group's revenues and most of their growth are from watches priced between $75 to $500. This may not have been bad news except for the fact that Apple (NASDAQ:AAPL) is working on a watch that may launch this year (per Bloomberg).
Apple has a team of about 100 product designers working on a wristwatch-like device that may perform some of the tasks now handled by the iPhone and iPad, people familiar with the company's plans said last month.

Features under consideration include letting users make calls, see the identity of incoming callers and check map coordinates, said one of the people, who asked not to be identified because the plans aren't public. It would also house a pedometer for counting steps and sensors for monitoring health-related data, such as heart rates, this person said.

Apple seeks to introduce the device as soon as this year, this person said. Apple has filed at least 79 patent applications that include the word "wrist," including one for a device with a flexible screen, powered by kinetic energy.
It would be reasonable to assume that Apple & Samsung will price the iWatch/Galaxy Watch in the $75 to $500 price range and take half of Movado's $75-$500 market share in short order.
Who would buy a Tommy Hilfiger watch for $350 when you can get an iPhone on your wrist that looks good for the same price?
Look at Nokia and Blackberry for iPhone, Dell and HPQ for iPad, Barnes & Noble for the Kindle to see the speed and magnitude at which technology can disrupt and change profit and market share.
Movado's 10-12% yoy net sales growth, gross margin of 54%, and 10% operating margins will consequently be on thin ice. When the market realizes this, the drop could be swift. A similar situation occurred to Coach (NYSE:COH) last year. Coach's share price went from $79 to $46 in a few months and now trades at a forward p/e of 12.
Conclusion
Movado has had a great run-up. Management has executed perfectly by building a company with a fortress balance sheet and strong brand. Revenues are forecasted to be up 10% yoy and operating income 20% yoy for the next 3 years.
Not all is well though, because there is competition ahead. Half of Movado's revenues and most of their growth are from watches priced between $75 - $500. When Apple and Samsung launch their similarly priced watch products, Movado will see net sales growth stall and margins shrink.
Consequently, I believe Movado will have FY 2015 EPS of $1.50 and deserves a p/e multiple of 15-18. Movado Group is a strong sell and has a price target of $22-25.
Disclosure: I have no positions in any stocks mentioned, but may initiate a short position in MOV over the next 72 hours. I wrote this article myself, and it expresses my own opinions. I am not receiving compensation for it (other than from Seeking Alpha). I have no business relationship with any company whose stock is mentioned in this article.