Tesla Announces Its First Quarterly Profit
Shares of Tesla, Inc. (NASDAQ:TSLA) closed up nearly 16% on Monday after the company announced that it had achieved full profitability in its fiscal first quarter as sales of its Model S sedan came in at 4,750, versus 4,500 the company had predicted in its previous guidance. Adding to the excitement for Tesla shareholders, CEO Elon Musk said the company would have a major announcement in a conference call scheduled for 2 p.m. Pacific Time (5 p.m. Eastern Time) on Tuesday, April 2nd. Questions about the company remain, though, and we'll address a few of them below.
Can Tesla Make A Profit Building Model S Sedans?
Given the company's announcement Monday, the answer to that question would seem to be a simple "yes," but on Bloomberg's Street Smart on Monday, Bloomberg West Editor-At-Large Cory Johnson pointed out that we don't know enough at this point to be sure, and questioned whether the profits were due to selling cars for more than they cost to build or due to something else:
Was it, in fact, selling cars for more than they cost? That would be a first for this company. Was it through other machinations from the income statement? We don't know.
Later, on Bloomberg West, Johnson mentioned two possible "machinations":
Selling zero emissions credits. Johnson noted the company sold these for $13,000 per car last year [in past years, Tesla has sold these credits to Honda Motor Co., Ltd. (HMC), which enabled Honda to meet California's strict emissions regulations].
Re-pricing DOE warrants. Johnson noted that, as part of its Department of Energy loan, Tesla had to give the federal government warrants to buy Tesla stock, and that making accounting adjustments to how those warrants were priced could affect the company's profitability.
How Strong Is Current Demand?
Although the company has reported sequentially rising reservation numbers in the past several quarters - from 8,000 in December, 2011 to 15,000 in December, 2012 - these reservations are refundable. Cory Johnson said that when inventory numbers for the 1st fiscal quarter are presented as part of the quarterly filing next month, the comparison of inventory numbers to reservations ought to clarify the demand picture somewhat.
Can Tesla Make A Mass-Market Sedan?
The Model S was initially supposed to be Tesla's mass market sedan, and the company clung to its claim for a while that you could buy a Model S with the smaller, 40kWh battery for as little as $52,400. But as hedge fund manager and tech entrepreneur Tim Knight noted in his largely positive review of the Model S, this claim was disingenuous for a few reasons:
(1) They are taking into account the $7,500 federal tax credit, which is a bit presumptuous, since they are subtracting that right out of the retail price; (2) the low price is based on getting the lowest-level battery which not only isn't in production yet, but no one is going to want; most folks are going to get the car that has plenty of range; (3) the add-on features of the car are actually fairly important, and they add up really, really fast.

Let me save you a bit of time and tell you this: it's a six-figure car. Period. Once the retail price, tax, and all the bells and whistles are done, it's a six-figure car. End of story.
On Monday, Tesla essentially admitted that Tim Knight was right about the 40kWh option. In its press release announcing its 1st quarter profitability, it also announced that it was discontinuing the 40kWh battery option due to lack of demand. Tesla has said that it plans to eventually manufacture an electric car selling for $30,000, but previous predictions by the company to do so have been delayed by years.
In his review of the Model S, Tim Knight made an interesting analogy, calling Tesla "the Apple (NASDAQ:AAPL) of automobiles." If Tesla is analogous to Apple, it's analogous to the pre-iPod Apple: the company that sold premium products at a premium price to a tiny but zealous sliver of the market. The question for Tesla shareholders is whether the company can live up to their enthusiasm and become a mass market car maker the way Apple became a mass market consumer electronics company.
Given the questions that remain about Tesla - and the rapid run-up in its share price - some shareholders may be interested in limiting their downside risk at this point. We'll discuss a way to do that next.
A Way Tesla Shareholders Can Limit Their Downside Risk
In a recent article about BlackBerry (NASDAQ:BBRY), we mentioned that the company was too expensive to hedge against a greater-than-20% drop over the next several months with optimal puts*, but fairly inexpensive to hedge with an optimal collar**, if an investor was willing to cap his potential upside by 20% over the same time frame. Although BlackBerry was too expensive to hedge using optimal puts, the net cost of that optimal collar, as a percentage of position value, was only 1.18%. Unfortunately for Tesla shareholders, the net cost of optimal collar protection on TSLA against the same >20% downside and with the same 20% cap was more than 10 times as expensive, as a percentage of position value, as of Monday's close. Since I doubt many TSLA longs would be willing to part with 12.75% of their position to hedge against a greater-than-20% loss over the next several months, we'll look at a less expensive way of limiting risk.
Diversification + Hedging Against Market Risk
Because Tesla is so expensive to hedge directly, investors may want to ameliorate their stock-specific risk by making sure they are properly diversified. That may mean taking some money off the table if, given the appreciation in Tesla's share price, its shares now constitute a larger percentage of an investor's portfolio than the investor is comfortable with.
Although diversification ameliorates stock-specific risk, it doesn't protect against market risk. An investor who owns TSLA as part of a diversified portfolio of tech stocks could buy optimal puts on the PowerShares QQQ Trust ETF (NASDAQ:QQQ), which tracks the tech-heavy Nasdaq 100 index, as a hedge against market risk. We laid out a step-by-step example of how to do this for a $500k tech stock portfolio in a recent post, but the screen capture below shows the updated optimal puts, as of Monday's close, to hedge a diversified $500k tech portfolio against a greater-than-20% market drop by September 20th.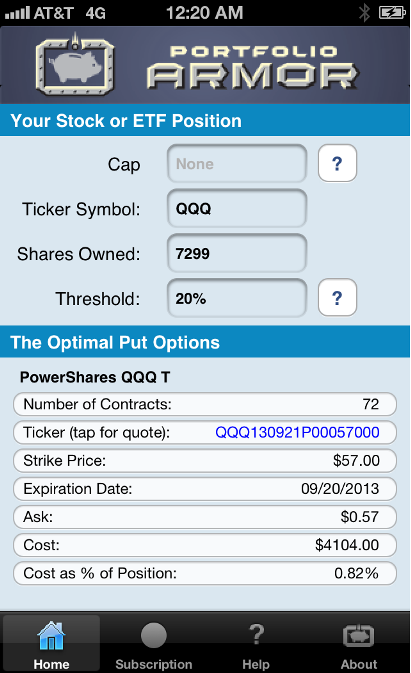 As you can see at the bottom of the screen capture above, the cost of this protection, as a percentage of position value (really, as a percentage of portfolio value in this case, because QQQ is being used as a proxy for a tech stock portfolio here) was 0.82%.
*Optimal puts are the ones that will give you the level of protection you want at the lowest possible cost. Portfolio Armor uses an algorithm developed by a finance Ph.D to sort through and analyze all of the available puts for your stocks and ETFs, scanning for the optimal ones.
**Optimal collars are the ones that will give you the level of protection you want at the lowest net cost, while not limiting your potential upside by more than you specify. The algorithm to scan for optimal collars was developed in conjunction with a post-doctoral fellow in the financial engineering department at Princeton University. The first two screen captures above come from the Portfolio Armor iOS app.
Disclosure: I have no positions in any stocks mentioned, and no plans to initiate any positions within the next 72 hours. I wrote this article myself, and it expresses my own opinions. I am not receiving compensation for it (other than from Seeking Alpha). I have no business relationship with any company whose stock is mentioned in this article.