Europe is rallying strongly this morning and the futures here in the US appear to indicate we shall follow suit, rather than mimicking the losses that Asian markets had last night. The Australians appear to be worried about growth moving forward and are being extremely cautious here, but that is opening up their currency to weakness. Being bullish on commodities now one must play the actual producers rather than the currencies or the physical commodity because the US greenback continues to strengthen against almost every major player around the world...and for good reason.
Continue to watch the transports, consumer goods and utility companies for general market guidance and the commodities for guidance on where traders are betting we go in the future as it relates to GDP growth around the world, specifically China, Brazil, India and other hot spots for growth.
Chart of the Day:
This is what a typical bull market within a bull market looks like when it starts out. As many readers know we got our start identifying the super bull markets in uranium, potash and rare earths (and most recently some of the shale plays) and every time the big boys lead the way higher with the smaller names lagging until the bull market is official. When the next rush comes in, those are the outperformers and continue to be for some time until the bull market is no longer. This chart is impressive to say the least, but we need to do a bit more research before declaring this as the run because for those unaware many have been calling for this bull market for years.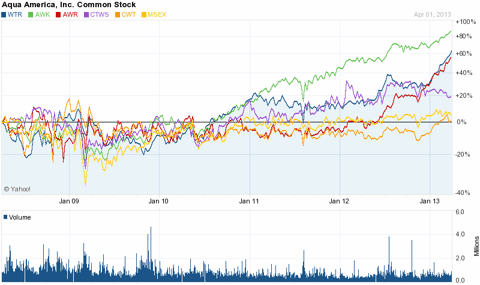 Chart courtesy of Yahoo Finance.
We have economic news due out today, and it is as follows:
Factory Orders (10:00 a.m. ET): 2.6%
Auto Sales (2:00 p.m. ET): N/A
Truck Sales (2:00 p.m. ET): N/A
Asian markets finished lower today:
All Ordinaries -- up 0.31%
Shanghai Composite -- down 0.30%
Nikkei 225 -- down 1.08%
NZSE 50 -- down 0.26%
Seoul Composite -- down 0.49%
In Europe markets are strongly higher this morning:
CAC 40 -- up 1.20%
DAX -- up 1.28%
FTSE 100 -- up 1.02%
OSE -- 0.57%
Technology
We have discussed Zynga (NASDAQ:ZNGA) a good deal lately due to investors rushing in to gain exposure to the US domestic online gaming (speaking of online gambling here) business and what could become a booming industry if New Jersey approves the bill as it has been discussed. We have tried to warn of the need to be cautious as there are much better positioned players out there to benefit from this event, should it occur, but we worry not many have heeded this advice due to the volume of emails and messages we have gotten to the contrary. Regardless of one's beliefs, the facts speak for themselves and with the recent price action, investors now find the shares appearing as if they may test the $3/share support once again - something which has not been done since late February. We still are not buyers here as our viewpoint is that even though shares are getting cheaper, our measurement of the value here is so low that they still seem over-priced. A trade, ok. A speculation, well we like that less. An investment, absolutely not.
One tech company which has caught our eye of late is eBay (NASDAQ:EBAY) which has seen a steady rise in shares since their recent earnings. The shares have been buoyed by analysts getting more bullish on the company. Just as an aside, sometimes it does do one some good to hold an analyst day and take the time to educate and speak face-to-face to those who cover you. Over the course of history whoever controlled the money controlled the world and whoever controlled the world usually controlled the money. The same holds true these days for those who process transactions, and PayPal has been a key part of eBay's continued success over the years. Well with the move to mobile and their market leading position, the company believes that these noncore businesses will be the key to growth and if history is any indication could actually lead to new business lines and service opportunities for the company to profit from - a much higher margin business than their retailing operations. We like eBay, but view it as a blue chip in the tech sector - something for our more conservative readers but also a building block to any portfolio for those who like a bit more risk.
Consumer Goods
One of the pillars of the current bull market and a leading sector right now, the consumer goods names continue to march higher. They are not big moves to the upside, but rather those long, protracted marches higher with 0.50-1.0% moves higher on a daily basis. This march higher is the type that if we were heading in the other direction would quickly sap one's will and resolve as it would be Chinese water torture. We hate that feeling, and this is the feeling that the bears must be having right about now. Why one would be net short names such as these blue chips we are not sure, but this is one sector we have a close eye on (along with the oil & natural gas sector, utilities and most importantly the transports). Readers know that Procter & Gamble (NYSE:PG) is one of our favorite names in the sector, and yesterday's 0.83% move higher was not spectacular by any means, but it was enough to push shares to a new 52-week and all-time high during the session of $77.85/share. We remain bullish, and expect the company will need to increase the dividend some more this year in order to help with the yield as it has fallen sharply with the dramatic move higher over the past few months.
Automotive
We find Elon Musk to be an interesting character and most likely one of the top entrepreneurs/inventors of his time. He is very similar to Steve Jobs and Bill Gates, having their business acumen but it is our belief that he is far more into the technical side than either of them were. His Tesla Motors (NASDAQ:TSLA) we were not very optimistic about when it first debuted and that turned out to be the correct call at that time, however since then the stock has been quite strong. Yesterday the shares finished higher by $6.04 (15.94%) to close at $43.93/share on volume of 14.1 million shares after the company announced their quarterly results which showed a profit. The company sold about 250 more vehicles than anticipated and something investors should look out for in the second half of this year is the possibility of the company starting a leasing program. We find that possibility intriguing and something which could drive recognition and growth.
Water Utilities
We are always keeping our eye out for the next super bull market within a bull market and as such we come across many sectors which go through mini runs. One sector which we have noticed acting strongly the past few months is the water utility sector which has seen nearly every name in the group advance to new 52-week highs and some to all-time highs. There are a few big names here to invest in, but there is not a lot of liquidity as far as daily shares traded for many of the names. One name we will throw out there is American Water Works (NYSE:AWK) which hit a new 52-week high during yesterday's session before finishing lower. The company was the first to be bought after the September 11 attacks on the Twin Towers and then was spun off from its German parent a few years back. Readers looking for yield and utilities with pricing power should take a look at the group.
Disclosure: I have no positions in any stocks mentioned, and no plans to initiate any positions within the next 72 hours. I wrote this article myself, and it expresses my own opinions. I am not receiving compensation for it (other than from Seeking Alpha). I have no business relationship with any company whose stock is mentioned in this article.