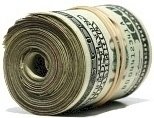 Through a rather obscure screening, I came across a relatively small company that has increased its dividends for 24 consecutive quarters, including another announcement this week. Now that spreads are shrinking on the high yield muni bond mania and with high yield corporate bond ETFs priced for Depression era defaults, this stock offers a nice mix of both low risk, sustained performance and a yield higher than what you can get in Treasuries or CDs.

Healthcare Services Group (NASDAQ:HCSG) provides services like housekeeping and food services to nursing home and other healthcare institutions. While this may not sound like a sexy line of work, its performance, dividend history and outlook is surely attractive.
With a market capitalization of under $1Billion and virtually no press and only 2 analysts covering the stock, the yield stands at 4.3%. What's going to continue to power this stock though, is sustained dividend increases in the face of a very harsh environment. They're on a streak here and the management intends on keeping these dividend increases going. While the proverbial "recession-proof"/"defensive" healthcare sector proved to be anything but in the recent downturn, this particular niche actually appears to hold true to the stereotype. In fact, Healthcare Services Group is doing so well, not only is it increasing its dividend every quarter, but it also just announced an acquisition: Contract Environmental Services, one of their competitors. With the well-known graying of America and cost pressures on healthcare providers, the business outlook is quite strong for HCSG.
As evidenced below, HCSG has delivered outsized returns of over 150% over the past 5 years versus a loss for the S&P500. And this wasn't hand-selected. During the most recent 1 year period, where the S&P500 lost close to 40%, HCSG gained close to 20% (plus dividends!).