We have seen some selling in our outperformers over the past few days and this is to be expected and welcomed. So long as they do not break through any key metrics during this breather, then one should not complain. Gains need to be consolidated in order to bring on board other strong hands for the next leg higher and keep valuations within reason for the current group of shareholders. Everyone selling at once after a monster run is usually a top, so slow and steady is what we like to see. Pullbacks in these types of stocks are where readers have the chance to get into names they may have missed out on or add to positions where they feel they are under-invested.
Keeping some powder ready right now would not be an altogether bad idea however. Summer is quickly approaching and everyone seems to like to follow the 'Sell in May' mantra. If you are a believer in the second half of the year, that is when you should buy. We are looking to do this in the uranium names as we have stated numerous times before.
Commodity prices this morning are as follows:
Gold: $1597.70/ounce, down by $3.20/ounce
Silver: $27.89/ounce, down by $0.054/ounce
Oil: $96.97/barrel, down by $0.10/barrel
RBOB Gas: $3.0928/gallon, down by $0.0087/gallon
Natural Gas: $4.025/MMbtu, up by $0.01/MMbtu
Chart of the Day
We were asked what we think oil production in Ohio will look like in a couple of years once the Utica gets cranked up. Well, simply put, the Utica will do for Ohio what the Eagle Ford did for Texas and the graph will look something like this initially (although over a longer time frame from start to end) and we will quickly see record production for the state. That is the way we envision it, and here is the chart (although it is a bit dated):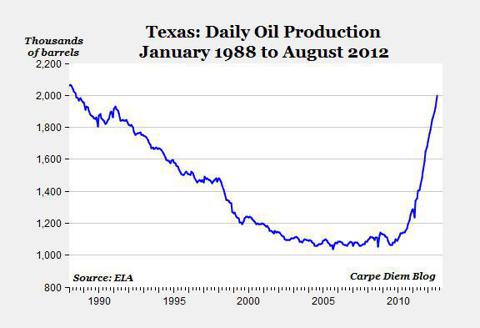 Chart courtesy of EIA via Carpe Diem Blog.
Oil & Natural Gas
Rex Energy (NASDAQ:REXX) hit a new 52-week high yesterday and with their recent drill results we remain bullish on this company and its prospects. We would really like to see an effort made to consolidate the land holdings around their acreage for which they reported the results, as those wells had shorter horizontals than some of the other names in the Utica which we follow that have had mind blowing results. It would add a bit more of a headache as more parties would be involved, but it would be a better use of shareholder money and what appears to be highly productive land. We encourage readers to compare their horizontals to those of others in the play and look at those initial 24 hour IP rates and simply wonder what they would look like with comparable laterals. We think it would be quite favorable, and as such think that many investors may have missed the chance to get in here. On a pullback we would be interested buyers.
We noticed the sharp rise yesterday in Quicksilver Resources' (NYSE:KWK) shares and saw that they sold a 25% stake in their Barnett Shale holdings. The shares rose $0.35/share (15.56%) to close at $2.60 and traded 19.5 million shares. It was a big day and also spoke to the fact that for the right assets there are still buyers out there willing to pay top dollar. We say this because the final sales price was well above what many expected the acreage to go for, over 30% higher to be precise. That might just bode well for other names in the sector looking to offload assets, such as Chesapeake and SandRidge.
Coal
It was a rather depressing day for those involved in the coal trade yesterday as the entire complex came under fire led by Walter Energy (NYSE:WLT) which hit a new 52-week low after finding support around the $26/share level. The stock is consistently discussed as a takeover target, but in this market we see very few buyers wanting exposure to the sector and fewer buyers who are already in the coal sector. It would be a bold move by anyone to make a big move into the sector...and an even bigger one to "double down" as they say.
Yes, support was broken again. To find levels lower than the current share price one has to go back to financial crisis lows.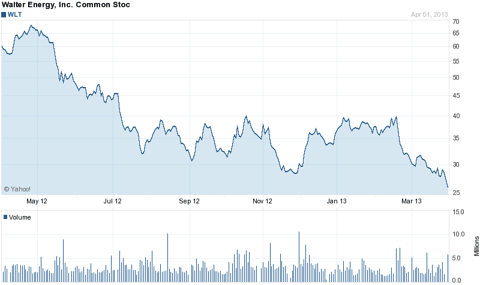 Chart courtesy of Yahoo Finance.
Trading in and out of Alpha Natural Resources (ANR) is off the table now, although it is still around some support at the $7.80/share level. Our view is that investors are growing more pessimistic regarding the sector and as such less willing to risk capital, whether that be via a short-term or long-term investment. It is our preference to be on the sidelines during these shakeouts and luckily that is where we found ourselves before the move lower yesterday. Better to be lucky than good as the saying goes.
Rare Earths
Looking at yesterday's fall below the $5/share level it sure looks like the resistance is now the old support. Our experience tells us that the longer this lasts the stronger it becomes. Something to take note of this morning.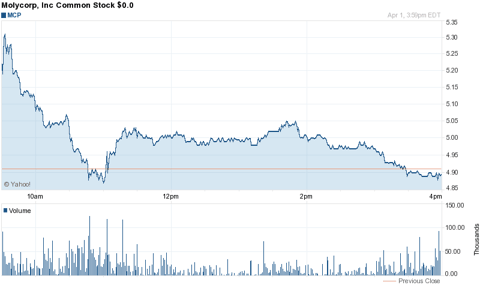 Chart courtesy of Yahoo Finance.
This is just another update for readers on Molycorp (MCP), which we have discussed as a potential buy once the dust settles. Well, it seems the dust is having a hard time finding the floor as that is a moving target at this time. Shares hit another 52-week and all-time low yesterday at $4.87/share before closing just a shade higher at $4.91/share but still finishing the session lower by more than 5.50%. With the downtrend still holding, it is hard to get bullish here, but we think it's worth keeping an eye on if for nothing else than a few well timed trades.
Disclosure: I have no positions in any stocks mentioned, and no plans to initiate any positions within the next 72 hours. I wrote this article myself, and it expresses my own opinions. I am not receiving compensation for it (other than from Seeking Alpha). I have no business relationship with any company whose stock is mentioned in this article.