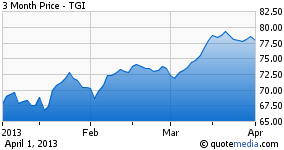 With consumer spending as well as confidence at record low levels during the recession of the past few years, the airline industry had taken a huge hit. Since 2012 though, the industry has been seeing recovery and the associated stocks some solid price appreciation. Triumph Group Inc. (NYSE:TGI) is one example -- it has registered more than twenty five percent gains in the past six months. Even so, I believe this stock has still got upside and must be added to one's watchlist to buy if there are any major pullbacks.
Triumph Group designs and manufactures products and provides services and repairs to the military as well as commercial aircrafts industry through its aerostructures, aerospace systems and aftermarket services businesses. The company has recently seen its earnings as well as revenues rise and there are many catalysts that are poised to work in its favor in the future.
Key Catalysts
The global economy has been slowly improving and due to this the commercial aviation industry is in the process of recovering from the setbacks of recession. As the global macro-economic environment improves, there has been an increase in the commercial air traffic which encourages the industry players to increase capital spending on aircrafts.
Airline business confidence levels bottomed out in 2012 and have been improving since then. According to a survey by IATA Economics, airline CFOs are showing a rising confidence as compared to 2012, and the commercial airline business has seen improved utilization rates. Also, their research indicates that large airlines cash flows are higher than expected, in fact as high as seven years ago when the GDP was double and oil price significantly lower compared to today. This January survey report by IATA highlights more growth factors for players like TGI, such as higher traffic volumes, increased passenger demand and expectations of improved profitability in the airline industry in the next several months.
Emerging countries have the problem of insufficient aircraft fleet - current levels are not enough to keep up with the demand - while developed countries face the issue of aging aircraft fleet. Both these factors will fuel growth in TGI's commercial aerostructures and aerospace systems businesses.
In 2010, TGI acquired Vought Aircraft. This deal helped formulate TGI's aerostructures business segment, and the post-integration synergies are already contributing towards strong margins. With this acquisition, TGI has positioned itself as a strong leader in the aviation industry.
TGI is anticipating growth in all of its three business lines. At a recent investor s conference, the company announced that it sees about $1.8 billion worth of opportunities over the next few years and it described this sizing as, verbatim, "more than a gleam in the eye or an expectation", indicating strong confidence in those numbers. The components business is expected to grow and gain increased market share in the Middle East and Europe regions. Its plane-side operations business that deals with aftermarkets is seen as a big opportunity by the company as well.
In 2013, TGI completed acquisition of Goodrich Pump and Engine Control Systems from United Technologies. This deal is expected to be immediately accretive to earnings in 2014 and bring in about $195 million in additional revenues for the company.
EPS Trends
The 12 analysts that cover the stock have an average earnings estimate of $6.09 for FY 2013 and $6.75 for FY 2014, an approximate 10.8% growth from previous year. Earnings estimates for FY 2015 are even better at $6.75, a 13% increase over the previous year. The annual EPS trend for the next few years is included below, based on these consensus numbers.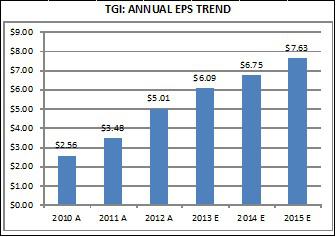 Valuation
TGI seems valued at a discount with a PEG value of 0.61, P/CF of 8.01 and PE of 12.15 (compared to Aerospace and Defense industry average of 16.2), even as its revenues and earnings have grown at a compounded annual growth rate of more than 20% over the past five years.
Fundamentals
TGI is a profitable company with a net margin of more than 9.2%, better than the industry average of 6.7%. Its gross margin of 25.6% and operating margin of 16.4% are higher than the industry averages of 23.1% and 11.3% respectively. The company's Interest Coverage in most recent quarter was 8.01 -since its operating profits are greater than interest payments, the company's debt repayment capabilities are sound.
Risks
A huge risk that investors must consider is TGI's dependence on a single customer - Boeing (NYSE:BA). Almost fifty percent of TGI's revenues come from this single client.
The cyclical nature of the airline industry is another risk for this investment. This cyclicality is strongly correlated to the global economy as well as the airline fleet demand and aging.
Because of

its recent acquisitions, one must consider risks related to synergies and integration.

Additional budget cuts by the U.S. government could hamper TGI's U.S. military business.
Conclusion
In recent years, TGI has shown strong profitability, operating efficiency and cash flows. With its recent acquisitions, the company has become well positioned to take advantage of the potential industry level catalysts discussed above.
Of the 12 analysts that cover TGI, four have a Strong Buy and seven have a Buy opinion on the stock. One analyst has rated the stock as a Hold and there are no Sell recommendations the stock. Even though the stock has gained over 25% in the past six months, TGI is set to go higher from here, and is worth buying on dips. Happy investing, folks!
Disclosure: I have no positions in any stocks mentioned, and no plans to initiate any positions within the next 72 hours. I wrote this article myself, and it expresses my own opinions. I am not receiving compensation for it (other than from Seeking Alpha). I have no business relationship with any company whose stock is mentioned in this article.