Last week, after gyrating for the past month, the S&P 500 was finally able to close in record territory:
However, investors may not be feeling the joy in their pocketbooks just yet; when inflation is factored in, it becomes clear that the U.S. stock market is still in the extended cyclical bear cycle which started in 2000:
Review Of The Quarter
So far in 2013, the U.S., U.K., and Japan have been the clear winners:
source: Bespoke Investment Group
As a result, these markets are now nearing overbought levels. During the second quarter of the year, we may begin to see global value investors rotate away from U.S. equities and into less overbought areas:
The Data Is Still A Problem
For the past few months, I have been discussing the increasing risk that the U.S. equity markets are presenting investors. Economic data has failed to impress and as a result we are seeing legendary investors, such as Warren Buffett, starting to leave the market.
From last month's research piece, Mila Kunis, Euphoria, And The Stock Market
"In the latest filing for Buffett's Berkshire Hathaway, Buffett has been drastically reducing his exposure to stocks that depend on consumer purchasing habits. Berkshire sold roughly 19 million shares of Johnson & Johnson, and reduced his overall stake in "consumer product stocks" by 21 percent. Berkshire Hathaway also sold its entire stake in California-based computer parts supplier Intel."
But so far, U.S. investors have been ignoring negative data: last week, while we saw numerous poor data points, the S&P rose to a record level: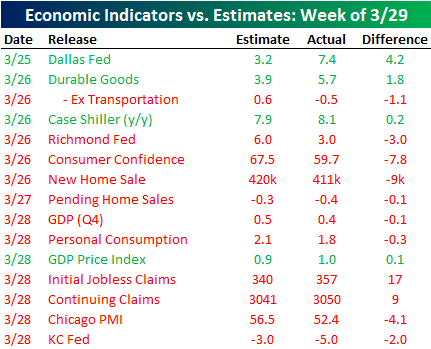 source: Bespoke Investment Group
For the past few months, I have been discussing this "disconnect" between the real world and "Pollyanna" investors. Therefore, the continued rise in disappointing economic results should not come as a surprise to readers.
Copper Prices Still Falling
Copper continues to trade lower, which is important as copper is a material that is present or required in the manufacturing process of almost all consumer goods. Typically, a stock market that is rising due to strong economic growth, will show a strong correlation to copper prices.
However, since the start of the year, copper prices have been falling:
Oil Inventories Still Rising
In addition, strong economic growth requires fuel. Trucks need fuel to deliver goods, and machines need fuel to operate. An expanding economy should see depleting inventories of crude oil; instead we are seeing the opposite:
source: Bespoke Investment Group
China's Stock Market Still Declining
Lastly, China has become a hub for manufacturing U.S. goods. As a result, Chinese companies will benefit from expanding growth in the U.S. But again, we are seeing the opposite:
What's Ahead
Monday's ISM data (which measures the sales and production of U.S. manufacturers) was worse than expected, as sectors exposed to defense are already feeling the impact from the sequester.
While an ISM number above 50 indicates expansion, a sharp decline from last month is yet another indication that the economy is not growing at the speed that investors think it is.
However, perhaps investors are starting to pay attention to the data, as investors failed on Monday to follow through and drive the market even higher. This week, investors will have to digest a busy schedule of economic releases. Watch to see if market perception changes this week as headlines on economic data replace the numerous "countdown to the record" headlines investors have been seeing for the past month.
ARTAIS Update
The ARTAIS investment model is still conservatively allocated, as the strategy is based on reducing market exposure when risks are higher than average (instead of attempting to time the market tops).
The U.S. 30-year bond is starting to look like it may be trying to reverse its nearly eight month downward trend, and may indicate the start of a reallocation away from equities and back into bonds.
Disclosure: I have no positions in any stocks mentioned, and no plans to initiate any positions within the next 72 hours. I wrote this article myself, and it expresses my own opinions. I am not receiving compensation for it. I have no business relationship with any company whose stock is mentioned in this article.