Alcoa (NYSE:AA) is set to kick off earning releases on Monday, April 8th, and below I have outlined some key points to look out for as this basic material giant seems to have everything necessary to profit from rebounding material prices.
With a current market cap of $9.11 billion, shares of Alcoa are down 1% YTD but trade 15% off their 52 week high at $8.52 per share. Analysts have a mean price target of $9.93 on the shares and a median price target of $10.00. The average earnings estimate for this quarter, from 18 analysts, is an EPS of $0.11 on estimated revenues of $5.97 billion.
Positives for Alcoa
Revenue growth over the last 3 years has averaged 8.7%, higher than the industry averages 6.1%.
Dividend yield of 1.41%.
Lots of cash! At the end of 2012, Alcoa had $1.86 billion in cash which represents 20% of the current market value.
What to Watch Out For
Alcoa has everything a contrarian investor needs to be interested.
Basic materials as a whole are down significantly (contrarian):

High cash, solid cash flows and low debt make Alcoa look fundamentally attractive.
Price of the stock is lower than the book value: P/B 0.7
All that investors and Alcoa are waiting for is a turnaround in prices but, borrowing from Alcoa's 4Q 2012 Earnings Presentation: Sentiment Moves Price.

Click to enlarge
And, unfortunately for Alcoa, sentiment has moved aluminum prices down over the last three months: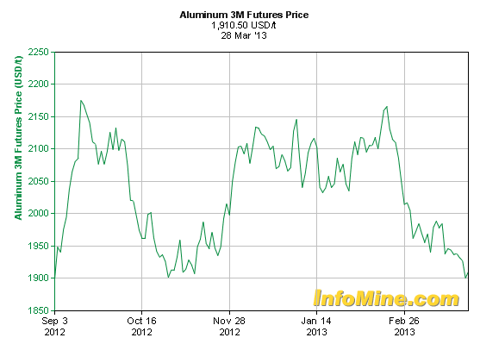 Click to enlarge
Per Alcoa, demand growth for the following 6 items will lead to increased aluminum prices: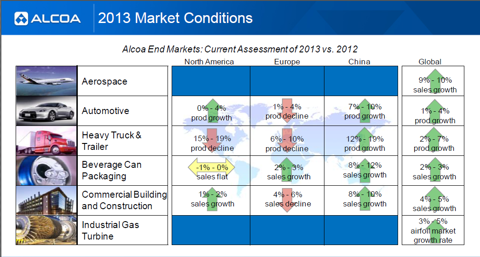 Click to enlarge
From this list, recent data shows automobile sales in-line with this Alcoa forecast. Below we see True Car's sale forecast with Ford's (NYSE:F) estimated March sales up 19% over February's (GM (NYSE:GM) up 16.4% and Toyota (NYSE:TM) up 24.2%).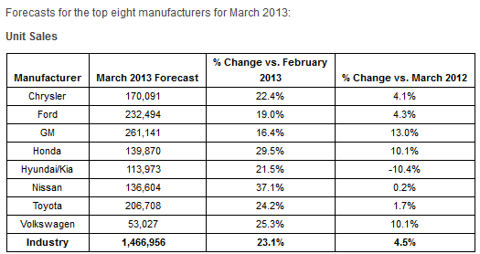 Click to enlarge
Investors should also keep an eye out for demand from China as Alcoa projects it to account for 23% of the global aluminum consumption in 2013.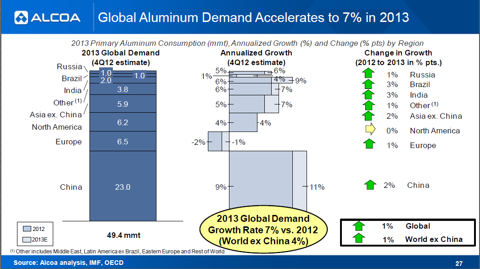 Click to enlarge
Bottom Line:
Fundamentals look attractive but Alcoa will not be turning around before sentiment becomes positive. Investors should keep an eye out for aluminum price drivers as outlined above because they will need to match or exceed 2013 forecasts for Alcoa shares to rise. Now is a great time to buy but it would be wise to only take a small position. There are a lot of people waiting for earnings reports and with Alcoa being one of the first to release earnings, any bad news or earnings misses could provide an even better entry point.
Disclosure: I have no positions in any stocks mentioned, and no plans to initiate any positions within the next 72 hours. I wrote this article myself, and it expresses my own opinions. I am not receiving compensation for it (other than from Seeking Alpha). I have no business relationship with any company whose stock is mentioned in this article.