Verizon (VZ) is my long term favorite, beyond 2010, for two main reasons. First off, Verizon has been aggressively investing in and advertising for their fiber optic network called FiOS. FiOS is a fiber-to-the-premises (FTTP) network that replaces the traditional coaxial cables used for TV, broadband internet and phone with lightning fast fiber optics. FTTP is a complete fiber optic network from the service provider to the premise of the customer.
This differs from AT&T's (T) fiber-to-the-node (FTTN) network called U-Verse in which fiber optic cables are used until they reach a cabinet outside a community. From this cabinet, all houses in a local neighborhood connect using the traditional copper coaxial cables, thus limiting its speed in order to cut corners to save on the high costs of fiber optics. Fiber optics are the future of the internet as bandwidth continues to grow exponentially with people watching more videos and TV online.
Triple Play Package
Verizon also advertises FiOS as a "triple play" package as it bundles internet, TV and wireline phone together for one low price. FiOS TV is more interactive and offers over 100 HD channels whereas the internet sees speeds of 50 Mbps to download and 20 Mbps to upload. On a comparative basis, U-Verse downloads at 18 Mbps and cable downloads at 10 Mbps. The ARPU for FiOS has been a driving force behind Verizon's aggressive buildout, averaging approximately $133 per user. Below is a comparative graph showing how Verizon has been adding more users than AT&T despite being available in less homes:
FiOS TV 4Q08 Net Adds/Total Subscribers: 303,000/1.9 million
U-Verse TV 4Q08 Net Adds/Total Subscribers: 264,000/1.05 million
FiOS TV availability/Internet Availability (homes): 9.2 million/12.7 million
U-Verse TV availability (homes): 17 million
FiOS Internet 4Q08 Net Adds/Total Subscribers: 282,000/2.5 million
Verizon's other advantages are its economies of scale and experience in building out its fiber optic network; the company is seeing lower capital unit costs than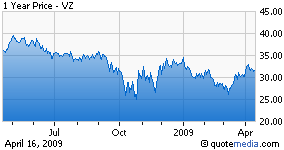 when it began this investment two years ago. Also, as the housing market rebounds, new home owners will be more likely to purchase Verizon's triple play bundle for its low cost and ease of installment. Verizon has seen a correlation between its FiOS triple play availability and its wireline retention rate. This is a significant factor considering that the telecom industry is seeing consumers consolidate their wirelines in this economic environment to cut costs and solely rely on wireless phones.
AT&T has invested more heavily in its 3G network than Verizon, further supporting my reason for the company being my near-term favorite. However, Verizon has forgone some 3G buildout in hopes that 4G, or long term evolution (LTE), will be a more widespread and successful investment. In March 2008, Verizon won seven of the ten licenses auctioned by the FCC in the "C-Block" spectrum, spending a total of $9.63 billion at the auction. Companies are waiting for this spectrum to be vacated after the national switch from analog television to digital television was pushed back from the original date of February 17, 2009 to June 12 because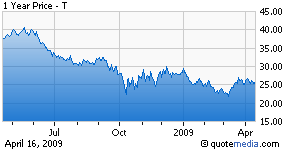 several million Americans were not prepared for the switch.
4G is better positioned to handle more advanced wireless services; this means not only smartphones, but also the possibility of wireless medical devices and gaming consoles. The spectrum also has a better capacity to handle the fast growing demand for bandwidth because wireless signals in the 700 MHz band travel three to four times farther and can penetrate obstacles like buildings more easily than signals in higher-spectrum bands.
With his take on LTE, Verizon CEO Ivan Seidenberg has stated "LTE is quickly emerging as the global standard. We're moving fast to get to 4G." 4G has advantages over 3G because it will be a completely vacant spectrum whereas the 3G network is being built over the existing 2G network through updating cell towers. LTE testing will begin in the second half of 2009 with a planned commercial launch in 2010 in 30 metropolitan areas. AT&T is not looking to deploy its 4G network until 2012 whereas Verizon expects to cover the continental U.S. by 2015.
Financial Analysis
From a balance sheet perspective, Verizon is cheaper than AT&T on an Enterprise Value to EBITDA. With the large investments in fiber optic, 3G and 4G/LTE infrastructure, ROIC-WACC spread is an important metric to measure how effectively a company utilizes capital invested in a project. These numbers for both firms are shown below:
Verizon ROIC-WACC spread: 18.03% - 8.28% = 9.75%
AT&T ROIC-WACC spread: 13.46% - 8.35% = 5.11%
Verizon EV/EBITDA: LTM: 4.1x 2009E: 3.6x 2010E: 3.5x
AT&T EV/EBITDA: LTM: 5.3x 2009E: 5.5x 2010E: 5.3x
To sum up, AT&T will be a successful investment in the near-term due to the iPhone effect that has driven up ARPU through data growth, supported record net adds and has re-established AT&T's brand image. AT&T also has a better 3G network which is more important in the near-term as most subscribers are updating to 3G capable phones.
Despite all this, AT&T's stock price has not reflected its resilient subscription-based revenues and substantial wireless growth; I feel the stock has been oversold and is undervalued at current levels. With the uncertainty of AT&T's iPhone exclusivity contract and its lack of investment in updating its various networks as compared to Verizon, AT&T is a better short-term investment for 2009 and 2010. In a long-term view, Verizon is better positioned to capitalize on the industry trend of increased bandwidth demand with its aggressive investment in both 4G and fiber optic infrastructure.
- Jake Kimble
Disclosure: The Fund the author is associated with is long T and has interests in VZ. The author's family is long VZ.