It is nice to see Apple (NASDAQ:AAPL) up nearly $8 a share today after being down over $10 a share to start off second quarter trading yesterday. I have a lot of empathy for Apple shareholders, which I am one. It seems like every day there is another analyst downgrading the shares (today it was Goldman Sachs taking the stock out of its "Conviction Buy" list) or some pundit coming up with a new colorful way to describe its recent descent from market darling to ugly duckling (Today it was Jim Cramer describing the company right now as the "JC Penney of Tech"….ouch!). And every day it seems investors wait for an announcement of a much anticipated dividend hike that never seems to come.
Watching Apple's stock price day to day has become slow drip torture. However, I continue to believe that long term, patient investors will be rewarded as the shares are dirt cheap (6x 2014's projected earnings after subtracting cash). I also believe the $420 level will hold for Apple and turn out to be its ultimate bottom. I continue to add some shares every time it goes down near this technical support level. In the meantime, while waiting for Apple's value to again to be embraced by the market; I take solace in my investment in another smartphone player, Qualcomm (NASDAQ:QCOM). This company is an arms supplier in the advanced wireless broadband technology marketplace and supplies Apple along with its competitors including Samsung (OTC:SSNLF) in the smartphone space. It shares have vastly outperformed the giant from Cupertino over the last six months (See Chart). The stock is still cheap given its growth prospects and recent catalysts. Watching its shares rise also provides some nice relief while one awaits Apple's fortunes to turn around as well.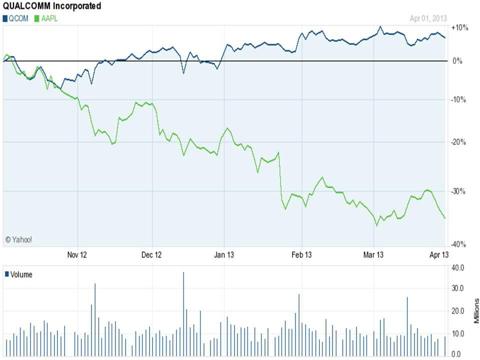 Recent positives for Qualcomm:
Raymond James just upgraded the shares to "Strong Buy" from "Outperform". The analyst firm also bumped up its price target on the shares $3 to $83 a share.
Brean Capital reported in March that Qualcomm and RF Micro Device (RFMD) were the biggest content share winners in the Samsung's new Galaxy S IV.
Earlier in March, the company announced an increase to its annualized dividend to $1.40/share from $1.00 and it will launch a $5B buyback program to replace a prior $4B program which had $2.5B left.
Consensus earnings estimates for both FY2013 and FY2014 have moved up nicely over the past three months.
4 additional reasons QCOM is a buy at $66 a share:
The company is expected to grow revenues by just over 25% this fiscal year and over 10% sales increases are expected in FY2014 as well. The stock sports a five year projected PEG near 1 (1.01).
The median price target held by the 13 analysts that cover the stock is $76.50 a share. S&P has its highest rating "Strong Buy" and a $84 a share price target on QCOM.
The company has a robust balance sheet with over $13B in net cash (more than 10% of market capitalization) on the books. The shares now yield over 2% with the new dividend payout.
Qualcomm has grown operating cash flow more than 50% over the last three years enabling the increases to its dividend and stock buyback. The stock sells for 13.5x 2014's expected earnings. The company has also beat earnings expectations 11 out of the last 12 quarters.
Disclosure: I am long AAPL, QCOM, RFMD. I wrote this article myself, and it expresses my own opinions. I am not receiving compensation for it (other than from Seeking Alpha). I have no business relationship with any company whose stock is mentioned in this article.