Rumors are swirling this morning that AT&T (NYSE:T) and Verizon (NYSE:VZ) are in talks to acquire Vodafone (NASDAQ:VOD), at an enterprise value of $245 billion (or roughly $200 billion for the equity). The deal would allow Verizon to take full control of Verizon Wireless (currently 45% owned by Vodafone) and allow AT&T to expand its presence globally.
The deal would be the largest corporate acquisition of all time, exceeding Vodafone's own acquisition of Mannesman for $183 billion during the dot.com boom.
Motivations for the Deal
Verizon
To state the obvious, Verizon gets full control of the wireless business. Management has not been reticent in its desire to own the business outright.
And why wouldn't it? In 2012, Verizon Wireless generated $75 billion in revenue, up from $70.1 billion and $63.4 billion in 2011 and 2010, respectively. Verizon Wireless operating margins fluctuated between 26.5% and 29.5% the last three years, whereas the Verizon Wireline business paltry operating profit margins between 0.2% and 2.4%.
One can see that the Wireless business represents quite a bit more value to Verizon than the Wireline business: margins are far better and revenues are growing faster.
With $21.8 billion in operating income in 2012, applying a 10x multiple places a back of the envelope value on Verizon Wireless of $218 billion, with Vodafone's 45% share being worth about $100 billion.
For David Einhorn's thesis on Vodafone, click here.
AT&T
The key to success for AT&T is persistency. After its proposed acquisition of T-Mobile from Deutsche Telekom for $39 billion in 2011 was struck down for anti-trust concerns from the Department of Justice ("DOJ") and Federal Communications Commission ("FCC"), the next logical step for growth is to buy assets abroad. Vodafone is a natural fit. 60% of its customers come from emerging markets, its reach is global, spanning 6 continents.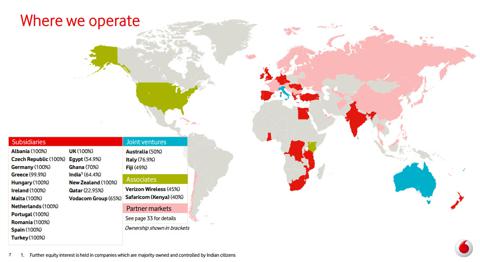 Click to enlarge
(Click to enlarge)
Vodafone
Alleviation of its chronic undervaluation. Vodafone receives a 40% premium price to its current market valuation.
Vodafone is currently valued at about $145 billion. If one believes its share of Vodafone is worth roughly $100 billion, then investors are paying only $45 billion for its remaining portfolio of global assets. It's a major player in a number of markets including Spain, U.K., Germany, Italy, India and sub-Saharan Africa.
Verizon Wireless makes of about half of Vodafone's operating profits. If Vodafone's share of Verizon Wireless is $100 billion, applying a similar multiple to its collection of other assets yields another $100 billion in value.
After accounting for about $45 billion in net debt, the proposed offer suggests the purchase price would approximate the back of the envelope calculation of the underlying value of Vodafone, alleviating the discount the market is ascribing to its equity.
Conclusion:
Vodafone represents an event driven investment, combined with an apparent low valuation and nice dividend yield. Of course, there are a number of risks involved, including regulatory approval in multiple jurisdictions. But, if the deal isn't consummated, investors are still buying a quality business at a great price.
Disclosure: I have no positions in any stocks mentioned, but may initiate a long position in VOD over the next 72 hours. I wrote this article myself, and it expresses my own opinions. I am not receiving compensation for it (other than from Seeking Alpha). I have no business relationship with any company whose stock is mentioned in this article.