The global oil and gas industry showed signs of terminal equity disease during the second half of 2012, from falling free cash flow and returns to increasing reliance on high oil prices and stagnant growth. Yet the future has never been brighter for some stellar oil companies, with a new wave of high-return discoveries and the opening of shale opportunities worldwide. This industry will be driven by a rapid deterioration of legacy assets and a revival of new projects led by the shale revolution.
Frontier exploration and oil shale will bring the industry new life due to a group of independent companies that are transforming the oil and gas cost curve for the better. The industry has added 13 million barrels/day of future oil production with a full-cycle breakeven price below US$80/barrel in just three years of exploration and shale unlocking. Deepwater oil exploration is the most substantial and most profitable of these new development areas, despite considerable technical challenges.
Fairly Valued Stocks
The global oil equities are fairly valued, given that its price discount to the market is warranted by industry challenges. The relative valuation is still within the historical P/E trading range. It traded on approximate P/E of 7.9X in 2012 (US$120/barrel oil price estimate), while an estimated 6.5X in 2013 (US$130/barrel price assumption) based on a Goldman Sachs forecast. Consequently, there will be huge "dispersion" in growth and returns that would catch investors' attention on shale winners with attractive valuations.
Global Oils P/E Multiples Vs. Global Equity Market's P/E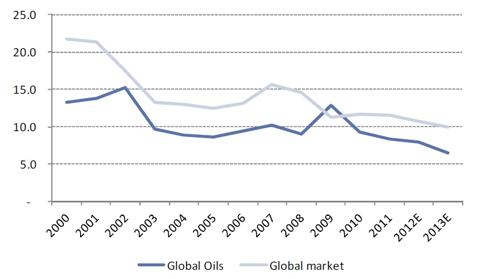 Click to enlarge
Source: Deutsche Bank
Tronox Dampens Valuations
The valuation of Anadarko Petroleum Inc. (NYSE:APC) was suppressed due to the huge liability created by the lawsuit filed by Tronox (NYSE:TROX). This overshadowed APC's two large natural gas discoveries in Mozambique, exploration success and potential in deepwater Gulf of Mexico and West Africa, and the potential impact from its 8 million free land acres in the U.S.
APC Historical Price Multiples, 2008 to 2012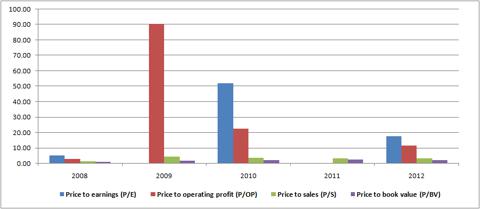 Click to enlarge
Source: Company Reports
In 2012, APC stock plummeted by 10%, versus 7% decline in peers, and 11% up on S&P 500. The stock is trading 23% below its 12-month highs and 21% above its 12-month lows, as compared with 23% above its industry peers' 12-month highs and 29% above their 12-month lows. APC is also trading 2% above 12-month highs and 29% above its 12-month lows, relative to the S&P 500.
APC 1-Yr Share Price Performance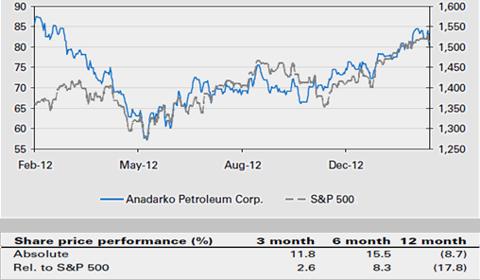 Click to enlarge
Source: Company Reports
Based on APC's 500 million shares outstanding and a 40% tax rate, for each $1 billion of legal settlement with Tronox, APC's earnings are impacted by $1.20 a share.
Comparative Peers Earnings per Share, 2013 Forecast

Click to enlarge
Source: Goldman Sachs Investment Research
Goldman Sachs & Barclays Raised Price Targets
Goldman Sachs raised its target price by 4% to and gave a Buy rating based on the following operating factors:
(1) Discoveries of LNG projects in Mozambique.
(2) Improved oil exploration in Wattenberg oil shale.
(3) Attractive assets with exposure to key win oil exploration zones for shale, LNG and deepwater exploration - that provide greater visibility versus its international and diversified peers.
(4) Upcoming mergers and acquisitions along with resource catalysts that will boost investor confidence in oil resources and commercialization.
(5) Risk/reward driven in part by investor fears on political and legal problems.
Similarly, Barclays is lifting its price target by $1 to $102 with an "Overweight" rating, to reflect the $490 million proceeds from the sale of a 33.75% stake in APC's Marcellus Liberty Rome gas gathering system to Western Gas Partners (NYSE:WES). According to the investment bank, APC has high asset quality and expected strong value creation that warrants a premium valuation.
Key Share Price Catalysts
A strong exploration program combined with an exceptional domestic opportunity in the Niobrara should drive company results. As APC builds out its Niobrara infrastructure and continues to test tighter oil well spacing, the value of the Niobrara will become more visible. Looking abroad, both present and near-future exploration news in Mozambique should support APC stock price in the short term.
Beyond the Tronox uncertainty, APC has grown by 4% CAGR (compounded annual growth rate) in share price returns over the last four years. APC's growth potential from its various shale, LNG and deepwater projects could potentially grow at or above its 5% to 7% target medium or longer term. Investors could still expect APC shares to outperform in the medium term, as they afford greater credit for exploration and longer-term growth acceleration.
Key Share Price Risks
Despite APC's strong prospects discussed above, unfavorable legal uncertainty over the Tronox liability has clouded investor sentiment on the company's stock. APC reported approximately $1.4 billion Tronox-related liabilities in its 2012 second quarter 10-Q filing.
There is greater risk of higher liability. Tronox's creditors and the U.S. government sued Anadarko, seeking $25 billion over environmental liabilities. That includes plaintiffs' damage claims exceeding $18.9 billion, while APC's estimated liabilities are based on the proceeds received from the Tronox spinoff plus interest expense. That said, an excessive focus on this risk will cloud appreciation of recent value creation by APC this year via explorations in shale/offshore.
The chart below shows APC's stock performance index. This was negatively affected by the Tronox liability, versus the SIG Oil Exploration & Production Index (EPX) on the secondary axis, with key events highlighted. EPX is a weighted index used as benchmark for the stock performance of oil companies. It is composed of 22 U.S. companies that own, lease and operate oil and natural gas facilities.
APC Stock Performance Index, 2012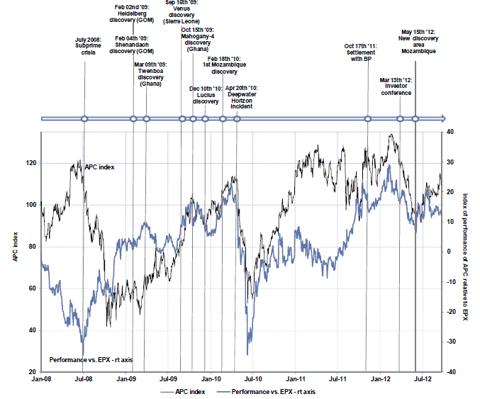 Click to enlarge
Source: Goldman Sachs Investment Research
Disclosure: I have no positions in any stocks mentioned, and no plans to initiate any positions within the next 72 hours.
Business relationship disclosure: Black Coral Research is a team of writers who provide unique perspective to help inspire investors. This article was written Hans Centena, one of our Senior Analysts. We did not receive compensation for this article (other than from Seeking Alpha), and we have no business relationship with any company whose stock is mentioned in this article.
Additional disclosure: Black Coral Research is not a registered investment advisor or broker/dealer. Readers are advised that the material contained herein should be used solely for informational purposes. Investing involves risk, including the loss of principal. Readers are solely responsible for their own investment decisions.