Six Flags' stock (SIX) price has jumped from $17 to $72 since June 2010, when the company finalized its Chapter 11 reorganization. Although such a turnaround has already amazed most investors, there are more expectation ahead: on March 22, B. Riley & Co raised its price target to $81.
Is this a bubble, or a reflection of its fair value? Discussion of Six Flags' stock's fundamental value is very limited to the public. Here I would like to share my research findings in an objective way. There are multiple approaches to value a stock, in this article we are going to use the P/E ratio one---find out profit for a normal year, and multiply a reasonable P/E factor.
How much real profit can Six Flags make in a normal year? Let us take a look at the past 6 years P/L history (Please note the company boasted a profit of $354 million for year 2012. However, after we peel off the one-time gains---$67 million from sale of investee, and $172 million from income tax expense adjustment, the real profit from normal operations is only $109 million).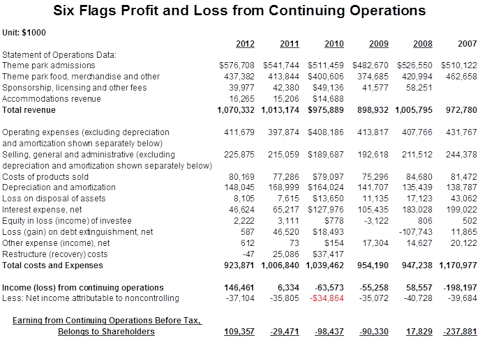 It is clear that in 4 of the past 6 years, the company lost money. 2008 was close to break-even. The only good year was FY12, $109 million profit, or 10% of sales income.
The improvement of this company's profitability is mainly driven by the following factors:
Average sales growth of 2% a year, from $972M in 2007 to $1,070M in 2012;
Tight operating expense and SG&A control, $40M reduction over 5 years;
Debt restructure and ultra-low interest rate. The interest expense dropped from $199M in 2007 to $47M in 2012;
Less loss from disposal of assets as business got stabilized.
Going forward, net profit margin has little chance to go further higher because most of what can be cut has been cut. With the company taking $400M more loan at the end of 2012 to buy back stock and pay dividend, interest expenses will increase to $70M in 2013.
Assumption of 10% on-going net profit margin for Six Flags actually is reasonable, compared with Cedar Fair's (FUN) 10%, and Walt Disney's (NYSE:DIS) 15%.
Let us be optimistic and assume $109M is what Six Flags can make in a normal year.
Now let us figure out an appropriate P/E ratio for this company. The market average PE factor is about 15 times today. Six Flags' compounded growth rate in the past 5 years was about 2%, close to inflation rate. The growth in the future can be similar (do not expect a much faster growth, after all it is not a high tech company, or from a booming industry). With long-term growth rate similar to inflation, we can apply PE ratio of 15.
So the market value for this company should be $109M * 15 = $1.6B, or $32/Share. Compared with the closing price $72.61 on 1st April, it is significantly overvalued.
You may be puzzled how Six Flags stock has been so much inflated, and wonder when the price may come down. I will share more insights in the next few articles. Please stay tuned.
Disclosure: I am short SIX. I wrote this article myself, and it expresses my own opinions. I am not receiving compensation for it (other than from Seeking Alpha). I have no business relationship with any company whose stock is mentioned in this article.