General Electric Company (NYSE:GE) is considered to be a blue chip stock by many investors, however, this designation does not appear to be well deserved for a number of reasons. Investors who buy into this belief might be stuck with a stock that lags the market going forward, or even worse, that drops significantly in the event of another financial crisis or recession. Here are a few reasons why investors should consider avoiding this stock as it might only provide modest upside if things go well, but potentially quite a lot of downside if the global economy does not prosper in the coming years:
1) General Electric shares have already been lagging in this recent stock market rally. That is not a good sign because if General Electric shares are showing signs of relative weakness now, just imagine what that could mean if the markets roll over and go into a correction. Take a look at the chart for GE and the S&P 500 Index (NYSEARCA:SPY) below as this gives a clear picture of the relative weakness: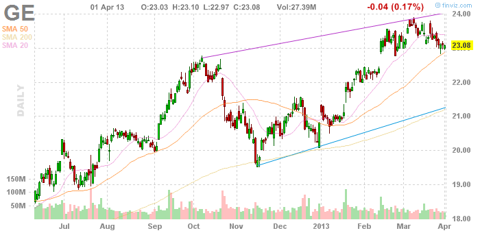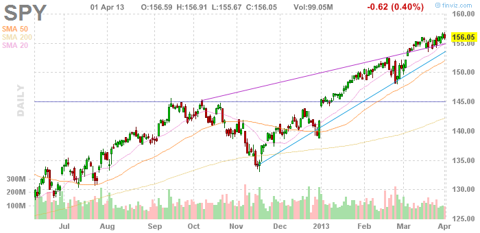 2) General Electric shares declined significantly during the financial crisis. Many investors who believed that this "blue chip" stock was safe to hold for a lifetime suddenly were experiencing the risks of owning this stock. The reality is that owning an individual stock opens a world of risks for investors, even if many still believe it is a blue chip. GE shares declined to about $7.06 in March of 2009 and investors who viewed this stock as nearly bullet-proof realized that owning stock in an industrial company with a major financial division was far from safe. Let's also not forget that GE shares topped out many years ago at about $57.81 in July of 2000. If you bought the stock anywhere near those levels, and saw it go down to nearly $7, you might not be so enamored with GE. Even years after the financial crisis, and over a decade after the high of $57.81 was reached, this stock now trades for less than half that amount, even as the S&P 500 trades at record highs. That is hardly a "blue chip" performance and for more than a decade now, this is a stock that continues to lag.
3) I feel that the problem with GE is that the upside appears limited while the downside appears to be significant. This belief is due to the size of General Electric and the fact that it is so dependent on the global economy. The world seems to be stuck in a low-growth environment and this could last for years. That might limit the upside for GE shares. Since GE is a major industrial company, it is very sensitive to the economy and another financial crisis coming from Europe, or possibly the bursting of a real estate bubble in China could create another global recession. GE also has a major financial division and that was another reason why the stock plunged during the financial crisis. While the financial exposure might have been pared back since the crisis, it is still significant. The industrial and finance businesses require plenty of capital and that brings us to another risk factor which is the balance sheet.
4) General Electric has a significant debt load and this is a major risk factor for investors to consider. Here are some numbers to ponder: GE has about $146.78 billion in annual revenues. It also has around $77.36 billion in cash. However, those numbers pale in comparison to the debt load which stands at about $414 billion. Debt increases leverage which can be a good thing in an economic boom, however, it can be devastating when the economy is deteriorating. This appeared to be a major issue that contributed to the share price decline in 2009, and it could happen again.
5) General Electric pays a 76 cent per share dividend which yields about 3.2%. This is a bit higher than the average stock in the S&P 500 Index which yields around 2%. However, GE also has an above average payout ratio and that could limit the dividend growth. For example, it pays 76 cents per share, and the company is expected to earn roughly $1.68 per share. That means the company is paying out nearly 50% of its annual earnings. This might limit dividend growth and that could hold back the stock as well.
If things go well for the global economy, GE might offer decent but probably not exciting returns. However, if things don't go well, there appears to be plenty of downside risk. I just don't feel that GE shares offer investors the upside that should be offered when taking on the risk of owning a stock, and yet there is significant potential downside risk. That is why some investors should temper their enthusiasm for this stock. GE has been a laggard for many years, and it could continue to underperform in the future.
Here are some key points for GE:
Current share price: $23.01
The 52 week range is $18.02 to $23.90
Earnings estimates for 2013: $1.68 per share
Earnings estimates for 2014: $1.85 per share
Annual dividend: 76 cents per share which yields 3.24%
Data is sourced from Yahoo Finance. No guarantees or representations
are made. Hawkinvest is not a registered investment advisor and does
not provide specific investment advice. The information is for
informational purposes only. You should always consult a financial
advisor.
Disclosure: I have no positions in any stocks mentioned, and no plans to initiate any positions within the next 72 hours. I wrote this article myself, and it expresses my own opinions. I am not receiving compensation for it (other than from Seeking Alpha). I have no business relationship with any company whose stock is mentioned in this article.