I recently wrote an article on why I am long First Solar (NASDAQ:FSLR), and with recent developments surrounding its competitors I am going to take the opportunity to examine the market landscape of companies that produce photovoltaic (PV) systems.
If you have followed the developments of the solar business over the last few years you know that solar panel manufacturing capacity has increased substantially, which has led to lower industry prices per kWh. The relationship between supply and price some believe can be explained by the Swanson law, which estimates that for each doubling of capacity prices tend to drop 20%.
Most of the expansion of capacity is attributed to Chinese solar producers such as Suntech (NYSE:STP), JA Solar Holdings (NASDAQ:JASO), Yingli Solar (NYSE:YGE), Trina Solar (NYSE:TSL), and LDK Solar Co. (NYSE:LDK). These Chinese PV producers gained market share selling at discounts with the help of state backing, and while doing so created excess supply in the market. At the same time, natural gas production in the world has expanded (especially in the U.S.) and subsidies to solar energy projects have diminished. The combination of excess supply and a decreased market has turned the industry highly competitive, driving down margins and sometimes leading to losses.
Click to enlarge image.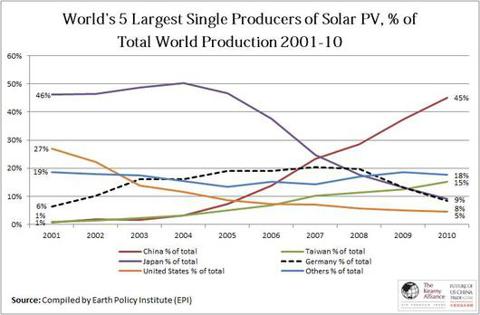 Last year, the U.S. launched an anti-dumping probe that found Chinese producers were selling at a discount to production costs and this led to imposed tariffs. Now the E.U. is expected to announce the results of a similar probe this summer, probably reaching the same conclusion. The actions taken by the U.S. and E.U. have not been well-received, and China has started an investigation to impose tariffs on imports of polysilicon, further escalating a trade dispute over solar materials and components. However, China has yet to decide on such a tariff.
Two weeks ago, the largest Chinese producer by capacity, Suntech, filed for bankruptcy with regard to its main operating subsidiary in China. Other Chinese producers have also had recent difficulties, reporting heavy losses that might lead investors to speculate on further bankruptcies or consolidations. This is, of course, just speculation because no one really knows how the Chinese government will act or how Suntech will be restructured. However, because the Suntech filing has gone to court, it has led some to believe that it is a reflection of the Chinese government's or local governments' changed view on solar energy. And there is a possibility that the U.S. anti-dumping tariffs and the expected E.U. equivalent have discouraged the Chinese effort to dominate the market at whatever cost.
While it is true that some of the Chinese PV producers have the lowest cost per kWh, the difference between the top five producers is within a few cents depending how you count. Therefore, investors should be careful when drawing conclusions from just the price per kWh. Many of the producers are not only producers; they might sell the modules for the power plant and also project development, engineering, procurement and construction along with grid integration services. Thus, investors would be wise to look at what a PV producer is offering as a package.
What Can We Expect in the Future?
For simplicity, we could take the Swanson law as an absolute law and ask ourselves: What would happen if more Chinese PV producers go bankrupt or if the Chinese market consolidates? If we assume further bankruptcies and maybe some consolidations along with increased anti-dumping tariffs, it's safe to say that:
Capacity will decrease, which can lead to price stabilization.
Fewer competitors means larger market shares for surviving companies.
Taking into account that global solar PV installation is projected to increase over the coming years and the competitive landscape of the PV business will continue to change, I would look for PV companies that have liquidity and or booked business to remain solvent the next couple of years. I would also expect non-Chinese PV companies to benefit from the recent development with the Suntech filing. Even if the restructuring goes well, my guess is that the reputation of these state-backed PV producers has been tarnished both from an investor's and contractor's point of view, leading investors and contractors to look at more stable companies.
How to Play It
I would recommend investors stay away from Chinese PV producers until there is further clarity in how the Suntech restructuring will be carried out. In the meantime, other bankruptcies or consolidations in the Chinese market might serve as triggers for non-Chinese PV producers. My favorite solar pick is U.S.-based First Solar, primarily because of its market leadership and strong financials, which are unmatched in the industry. You can read more about it here.
Disclosure: I am long FSLR. I wrote this article myself, and it expresses my own opinions. I am not receiving compensation for it (other than from Seeking Alpha). I have no business relationship with any company whose stock is mentioned in this article.