Over the years I've reviewed many portfolios formulated by individual investors that would have little hope of satisfying their expectations for income or total return. A literal schmorgis board of securities cobbled together from years of "tips" or "shortcuts" procured from the internet and local social hotspots. The usual suspects typically include levered up mREITS, closed-end funds, or risky individual stocks the account owner had little interest or understanding of and were bought purely for their indicated yield. Through the course of conversation about my firm's income strategy one question would almost always come up "How can you hold cash, or actively manage your portfolio and still receive a high income stream?". A valid concern considering income investors have long been taught that they need to forge a portfolio of stocks or bonds and only pay attention to the yield, not the risk of loss or volatility. In addition, you would naturally have to own income securities to get the benefit of the dividends they pay. I always explain that managing a successful income portfolio strategy is like hitting a moving target from a distance. Markets are changing everyday, but income investor's expenses are not; so the disconnect between an individual's required cash flow, and what the portfolio generates, can vary widely at times. Hence the conundrum every income investor faces; invest for yield or total return?
Income investors concerned with the value of their principal need to be comfortable with a total return approach. In my last article entitled Consider Making Changes To Your Income Allocations, I made the case that income investors that have enjoyed the recent returns of dividend equity funds or high-yield bond funds could stand to lighten up at this juncture. I also suggested the option of using higher quality, higher duration fixed income holdings to fill the void. For those investors content in completely side stepping duration risk while waiting out a correction in stocks might consider allocating proceeds from equity sales to the PIMCO Enhanced Short Maturity ETF (NYSEARCA:MINT). This ETF currently yields more than an average brokerage cash account, and although its NAV is not tied to $1.00, its presents a great risk-to-reward option to keep your cash flow high in the interim. The crux of my plan is that investors with an already impressive return to start the year, could stand to suspend their cash flow in anticipation of reallocating at lower price levels and in turn, higher yields. Thereby removing some of the beta from their portfolio in an attempt to preserve capital.
The other side of the coin when reducing your equity or fixed income exposure is knowing when to ratchet it back up. This is the point when having a plan, and implementing it decisively can ultimately produce excellent risk adjusted returns. A buy list should serve as your guide for making future purchases and restocking your portfolio with dividend equities.
One of my favorite general domestic dividend funds is the iShares DJ Select Dividend ETF (NYSEARCA:DVY), its most recent SEC yield is 4.1%, and has an expense ratio of just 0.40%. I particularly like this index because the one hundred stocks are nominated by dividend yield, dividend-per-share growth rate, dividend payout ratio, and average trading volume. I am monitoring two key levels of technical support: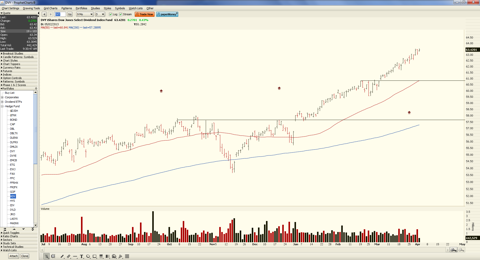 The first area coincides with minor horizontal support at the 50 day SMA. If this level of $60.75 were meaningfully broken, it would suggest further downside momentum. The second level, which currently resides at major support of $57.70, could present good opportunities for additional purchases assuming the fundamental backdrop is still aligned for intermediate term upside. Keeping a watchful eye on how the fund reacts to these two levels will tell you everything you need to know about it's intentions. Barring a complete crisis derived from an unforeseen fundamental event in Europe, or weaker than expected data domestically, I think reestablishing positions near these key areas makes sense.
I always encourage patience, so even if the fund were to fall below these levels, and pierce through the 200 day SMA, take solace in knowing that there's no rush to reenter. You can always reestablish positions at great prices on the eventual ride higher, trying to pinpoint precise tops or bottoms almost always works against you. The overarching theme is devising a plan so that you are not caught off guard during the midst of a selloff, and that sidestepping even a portion of a market correction can lead to a drastic increase in your total return.
Disclosure: I have no positions in any stocks mentioned, and no plans to initiate any positions within the next 72 hours. I wrote this article myself, and it expresses my own opinions. I am not receiving compensation for it. I have no business relationship with any company whose stock is mentioned in this article.