SCBT Financial Corporation (SCBT) is a bank headquartered in Columbia, SC. On July 1, 2012 the company converted its national charter to a state charter and changed its name from SCBT National Association to SCBT. In addition to banks all over South Carolina, SCBT also operates in North Carolina and Georgia. In Georgia it operates as The Savannah Bank in coastal Georgia, while in North Carolina it operates as NCBT, additionally Minis & Company, a registered investment advisory firm, is a subsidiary that provides full service wealth management to the banks clients.
Fundamentals
SCBT's efficiency ratio, which is essentially the banking industry equivalent to operating margin, increased in 2012 to 72.2%, from 68.8%, largely due to acquisitions. Core deposits account for 75% of the total deposit base in 2012, an increase from 72% in 2011. Non-performing assets (NPAs) decreased in 2012 for the second year in a row to $81 million, from $94 million in 2011. SCBT currently trades at 1.66 price/book value, management has delivered a 6.75% return on equity, and has delivered quarterly year over year revenue growth of 33%.
Acquisitions
Over the past three years SCBT has been aggressive in making acquisitions.
In February SCBT and First Financial, a bank headquartered in Charleston, SC, entered into an agreement for First Financial (NASDAQ:FFCH) to merge into SCBT.
In December 2012, SCBT acquired Savannah Bancorp, SCBT has successfully converted this bank to operation under the Georgia branch of SCBT.
In April 2012, SCBT acquired People Bancorporation of Seneca, South Carolina. Peoples is the bank holding corporation for The Peoples National Bank, Bank of Anderson, and Seneca National Bank.
These are just some of the acquisitions SCBT has been making, and the market has rewarded their strategy, with the stock being up around 50% over the last year.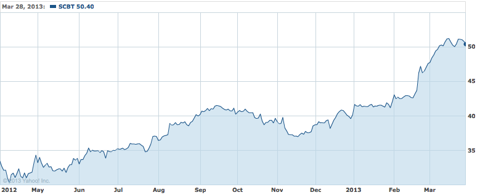 I believe that shares of SCBT can continue to climb higher, as I believe that the company will continue to expand.
Capitalization
The FDICIA considers a bank "well-capitalized" if the institution has total risk-based capital ratio of 10.0% or greater, a Tier-1 risk-based capital ratio of at least 6.0%, or a leverage ratio of at least 5.0%. As you can see from the chart below, SCBT is considered well capitalized. It is worth noting that SCBT expects their Tier-1 risk based capital ratio to decrease in the first quarter of 2013, due to the Savannah acquisition. This is something to look into when SCBT reports earnings on April 26.

Deposit Growth
SCBT has also seen strong growth in deposits over the last five years, due both to organic growth and its recent string of acquisitions. This shows, in part, that SCBT has been making effective acquisitions, and been doing a good job at integrating the new acquisitions and mergers. It also shows that SCBT has kept the deposit holders at the acquired banks happy enough to continue banking there, indicative of good customer service and a good banking experience.

Loan Growth
Along with SCBT's total deposits, their loan portfolio has been growing as well. Given the recent string of acquisitions, it should not be surprising the growth in their acquired loan portfolio. In 2008 and 2009 it was zero, but now account for $1.1 billion, or 29.5% of their loan portfolio. The acquisitions in Savannah and Peoples added $835 million in loans. SCBT saw a 5.1% increase in consumer real estate loans, a 5.6% increase in commercial owner occupied real estate loans, and a 29% increase in commercial and industrial loans. SCBT grew their total loan portfolio to $3.6 billion, an increase of 26.9%. Additionally, average loans outstanding increased during 2012 to $3 billion, an increase of 6.8% from 2011.

Summary
Even though SCBT is up around 50% over one year, I think it can still go higher and think that it easily has 15-20% upside over its current price, which closed on Monday at $48.87. Management and CEO Robert Hill have shown excellent leadership and the ability to incorporate and acquire good banks. If SCBT wants to continue to expand throughout the southeast, this quality with serve them, and shareholders very well. Even if SCBT does not continue to expand via acquisitions and mergers, I think the future looks very, very bright for this small regional bank.
Disclosure: I am long SCBT. I wrote this article myself, and it expresses my own opinions. I am not receiving compensation for it (other than from Seeking Alpha). I have no business relationship with any company whose stock is mentioned in this article.