Kuroda has Second Thoughts About Public Debt
As we have frequently pointed out in these pages, currency traders got carried away by expectations regarding future Japanese economic and monetary policy that are highly likely to be disappointed due to that shared continuum widely referred to as "reality".
One not unimportant part of this reality is Japan's public debtberg. If the BoJ really managed to spike inflation expectations to 2% per year, Japan's government would likely lose its ability to service the interest payments on its debt, never mind expand it further. Something along similar lines appears to have occurred to new BoJ chief Haruhiko Kuroda as well now, although he apparently still wants to "deliver" on the 2% inflation target:
"the Bank of Japan's new governor, Haruhiko Kuroda, has warned that Japan's debt levels are unsustainable. His comments follow calls by Japan's new government for aggressive stimulus measures to help revive the country's sluggish economy.

Earlier this year, it approved a 10.3tn yen ($116bn; £72bn) stimulus package. There have been fears that such moves will further increase Japan's public debt, which is already the highest among industrialised countries. Japan's public debt stands at about 230% of its gross domestic product (GDP).

"I too believe that is extremely high, and this situation is abnormal and not sustainable," Mr Kuroda said at a parliamentary session. He warned that while the markets were still backing Japan's finances, if there was a loss of confidence in the country's financial position it may hurt the economy.

[…]

Mr Kuroda has previously said that the bank will take steps to ensure that the 2% inflation target is met over the next two years. On Thursday, he said the bank needed to deliver on its promises. "We need to follow through on what we say and deliver bold monetary easing so as not to betray market expectations," he said."
(emphasis added)
We're curious as to how long it will take him to discover the contradiction between A (the debt is unsustainable) and B (we can still pay it if interest rates soar).
In any case, the JGB market continues not to believe one word about the "inflation target". So there is at least one market that cannot possibly be "disappointed" if Kuroda fails to deliver on his promise. However, it is a good bet that it will be disappointed if he does in fact succeed in altering inflation expectations and prices in Japan do begin to rise.
So will all of Japan's consumers, especially its fast growing number of retirees.
---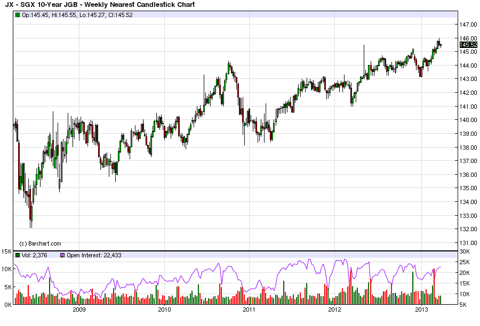 Click to enlarge
(Click to enlarge)
Continuous front month JGB futures contract: is is now only a few ticks below a new all time high. Evidently the market does not believe Kuroda.
---
Abe Two-Steps Back
It is possible that Shinzo Abe has had a conversation with the new owner of the "ministry of dreadful dreams". Reading between the lines, he too appears to have second thoughts. He now calls the new inflation goal a "challenge". It really isn't one of course. A determined central bank can always inflate in a fiat money system. If anyone was in doubt about that, Ben Bernanke surely should by now have dispelled such doubts. Nothing is easier than printing gobs of money nowadays – all you need is a computer and an internet connection.
We therefore take Mr. Abe's remarks as a hint that the inflation plan is slowly getting relegated to the back-burner again:
"Prime Minister Shinzo Abe acknowledged Tuesday the Bank of Japan's challenge in achieving a 2.0% price rise target in two years, saying there may be cases in which the central bank can't meet the target, depending on economic conditions.

"We are not calling on the BOJ to act recklessly," Mr. Abe told a parliamentary committee. "Since the economy has a life of its own and nobody can predict what will happen in the future, there may be cases in which the BOJ can't achieve the target. Mr. Abe said that if the BOJ fails to hit the target, it must explain the reasons to the government and parliament.

The prime minister stressed the importance of the BOJ pressing ahead with bold easing steps of different kinds to achieve the target, which has already had an impact on financial markets. It is "a matter of balancing," Mr. Abe said."
(emphasis added)
We'd be inclined to bet that it is eventually going to get "balanced" out of existence entirely. Meanwhile, the yen appears to finally have found a short term low, while the Nikkei has quite possibly once again delivered the traditional March top:
---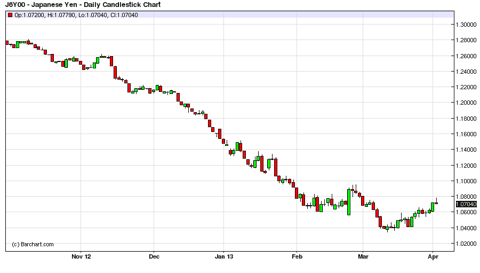 Click to enlarge
(Click to enlarge)
The yen appears to finally have found a low …
---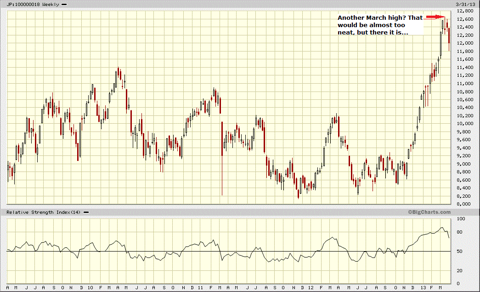 Click to enlarge
(Click to enlarge)
Another March high for the Nikkei? If so, then we can expect a slow drift down into an October/November low. It would be a noteworthy change of character if that didn't happen.
---
We should add to the above that recent economic data emanating from Japan have been nothing short of terrible. The Nikkei may have risen strongly in anticipation of the inflationary measures Abe/Kuroda are aiming to put into place, but the rally in stocks isn't going to be sustainable on that fluff alone. Unless the economy actually begins to show some signs of life, it is probably doomed. However, we would carefully watch for a possible deviation from the usual cyclical script. Normally the Nikkei tops in March and then declines into October/November. If it makes a new high beyond the March high this time around, that would certainly be deserving of attention.
Note however that unfortunately, all the recent yen selling and Nikkei buying was thus far almost exclusively the work of foreign investors. The big financial players in Japan have evidently done nothing except buy even more JGBs. If past experience is any guide, then they are the ones who are most likely to turn out to be correct.
Charts by: BigCharts, Barcharts