When it comes to planning an income-based portfolio, proper diversification remains the key. For investors looking to replace their income, selecting companies from distinct sectors helps to protect against industry-specific risks. Being able to spread about such risk is a requisite in order to maintain a consistent flow of income in light of changing economic conditions that inevitably will occur. A well-rounded dividend portfolio should be able to return a steady flow of income that will allow some companies to flourish even when others fail to do so.
However, seemingly all too often investors will find themselves replicating their exposure into like-minded equities in a pursuit for high-yield returns. As it stands, higher yields tend to flock together based on the norms of the sector. For instance, real estate investment trusts, oil and gas partnerships, and telecommunication companies typically provide the higher dividend yields that investors would like to see. It's not uncommon to see yields north of 5% in these given industries. Yet such yields remain far from the norm for the majority of the market. As it stands, most of the high-yielding investments tend to fall into a few select categories.
Therefore the risk here is that an investor may begin to concentrate on a few focused areas of the economy losing sight of the innate protection that can come about from proper diversification. For example, one who might have taken a position in Enbridge Energy (EEP) in their portfolio might also be tempted to add Kinder Morgan Energy Partners (KMP). While they each yield 7.2% and 5.7% respectively, they are both confined to the oil and gas transportation and storage industry and each is structured as a master limited partnerships with complicated tax implications. In chasing yield, such a focused aspect of the general economy may be opening up income-dependent investors to an unnecessary risk should that particular market segment begin to fluctuate.
Taking this into consideration, it is important to add supplementary income sources that could help shelter the investor regardless of the economic picture at hand. The following five companies are some of the few high-yielding enterprises that stand out in comparison to their industry norm. Each of these operate in distinct markets, most of which are not typically well-known for their higher dividend yields. Each of these investments were chosen on the basis of their historical consistency to pay an above-average dividend yield. They all have market capitalizations of more than $1 billion and they each operate within a unique industry sector that can easily be overlooked. All values were taken from Yahoo Finance as of April 1, 2013.
| Company Name | Market Cap. | Fwd. Div. Yield | Industry |
| --- | --- | --- | --- |
| Vector Group Ltd (NYSE:VGR) | $1.44 Billion | 9.9% | Cigarettes |
| New York Community Bancorp Inc (NYSE:NYCB) | $6.27 Billion | 7.0% | Savings & Loans |
| Regal Entertainment Group (NYSE:RGC) | $2.57 Billion | 5.0% | Movie Theatres |
| Pitney Bowes Inc (NYSE:PBI) | $2.91 Billion | 10.1% | Business Equipment |
| Mercury General Corporation (NYSE:MCY) | $2.07 Billion | 6.5% | Property & Casualty Insurance |
Taken individually, many of these companies may help to round out a high-yielding portfolio by adding distinct market exposure. By decentralizing one's income sources away from a particular industry, investors may find greater protection from industry-specific woes. A look at the following chart also helps to illustrate that these companies have typically maintained a relatively high yield as seen in this 10-year history.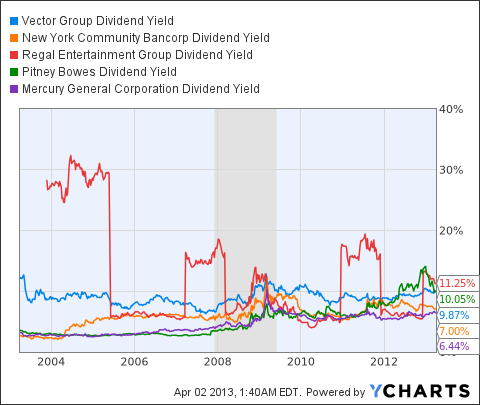 VGR Dividend Yield data by YCharts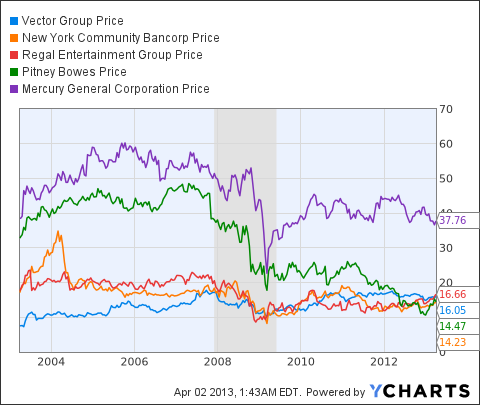 Likewise, the share prices of these companies have been relatively stable when taking a look at the long-term perspective. As seen in the chart above, only Pitney Bowes stands out as a steadily dropping price over a 10-year history, barring the Great Recession as shown by the gray area. Yet even Pitney Bowes has been raising its dividend since 1983 providing a solid income component for its investors. Until proven otherwise, the general trend for the company dividend has continued to increase as seen by the chart below.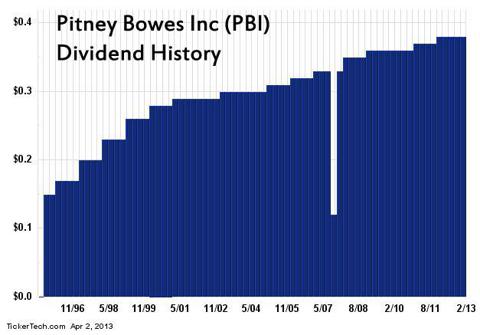 Click to enlarge
Last of all, when considering just what a typical dividend yield is, it's often ideal to contrast this characteristic against a commonly accepted metric. In our case, we'll use the yield of the S&P 500 as the benchmark for an average dividend. As a stock index that follows the common stock prices of 500 publicly traded American companies, the S&P 500 is often referred to as a measure of the market itself. As seen in the graphic below, the current yield of the S&P 500 has been declining over the years. It now rests at a mere 2.0% as of April 1, 2013.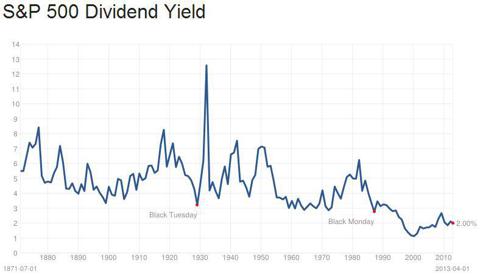 Click to enlarge
Taken altogether, these companies offer a well-rounded approach towards the construction of a high yield income portfolio. While I would personally not use these names as the foundation of such a portfolio, they individually provide more than adequate exposure to different sectors of the economy without sacrificing an above average yield. It goes without saying that several of the aforementioned names may carry distinct risks of their own that are unsuitable for some. As is always the case, investors should conduct their own due diligence to make sure that their investment choices carry the right amount of risk that is fit for the individual. Overall, the names above offer some unique opportunities for dividend investors. They can serve to broaden their perspective when it comes individually selecting high-yielding income stocks.
Disclosure: I have no positions in any stocks mentioned, and no plans to initiate any positions within the next 72 hours. I wrote this article myself, and it expresses my own opinions. I am not receiving compensation for it (other than from Seeking Alpha). I have no business relationship with any company whose stock is mentioned in this article.