This article focuses on PennantPark Floating Rate Capital (NASDAQ:PFLT) and compares it to the 24 BDCs covered in previous articles. Please visit bdcbuzz.blogspot.com for updated info or see the list of previous BDCs covered at the end.
Business Development Companies (NYSEARCA:BDCS) lend to small and mid-sized businesses, with limited financial leverage, paying out most of their income to investors and paying little to no corporate tax.
These are the five general criteria I use to evaluate BDCs:
Profitability (EPS to cover dividends, growth)
Risk (diversification, volatility, leverage)
Payout (sustainable, consistent, growing)
Analyst Opinions
Valuation (P/E, PEG, NAV)
For more information about BDCs, how I evaluate them, and my BDC investment philosophy, please see this article.
Below is an oversimplified table evaluating the companies I have reviewed among a universe of 30 BDCs giving them a relative score between 0 and 10 (10 being the best). In reality I use different weightings for almost 100 data points on each company and my personal rankings (based on my risk/return comfort) are close to these but far from exact. In future articles I will add the new companies to this table as well as update info.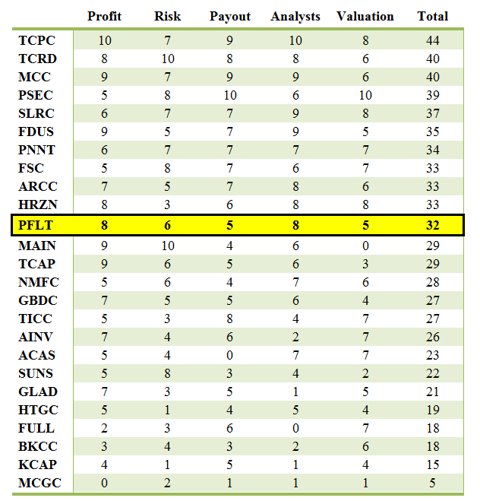 PennantPark Floating Rate Capital
Market Cap: $140 million
Div Yield: 7.6%
Div/EPS: 83%
P/E: 12.5
Price/NAV: 0.99
Debt/Equity: 0.9
Recent Developments
March 21 - announced that it has entered into an agreement to sell 3 million shares of common stock at a price of $14.00 per share, raising approximately $42 million.
Profit
PFLT is one of the newer BDCs becoming public in April 2011 and is the 'little brother' of PennantPark Investment (NASDAQ:PNNT). It has grown revenues, earnings and dividends since its IPO and with the recent offering of an additional 3 million shares is expected to grow in the coming quarters. However, it has already used most of the current capacity of its credit facility which will probably be expanded due to the recent equity offering. PFLT has been maintaining adequate coverage of its monthly dividend with net investment income and management has stated that they will continue to do so. At this point it seems early to tell what to expect for future EPS growth rates.
Risk
As of December 31, 2012, its portfolio totaled $181 million, consisting of 64 companies with an average investment size of $3 million and a weighted average yield on debt investments of 8.9%. It has less than average industry diversification with 47% in consumer discretionary and zero in energy or financials (see chart below).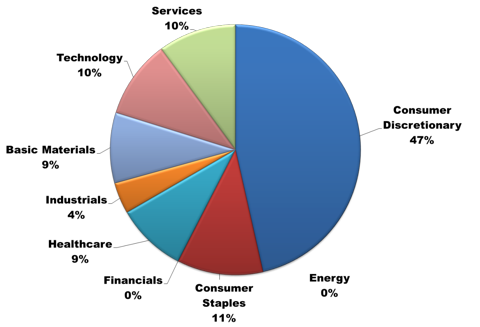 PFLT works with PNNT and may invest in the same opportunities but seeks the lower yielding, lower risk, and secured portion of the lending ladder leaving the rest for PNNT as shown in the chart below. Currently PFLT has one of the safest asset class mixes with 87% senior secured loans, 6% second lien secured debt and 7% subordinated debt, preferred and common equity investments, compared to other BDCs such as American Capital (NASDAQ:ACAS) with 58% in equity and only 16% in senior debt.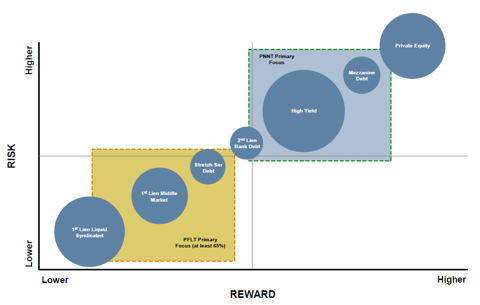 As the name of the company implies PFLT has 87% of its debt portfolio in floating rate investments which can be a double edged sword but will hopefully be a positive if the economic environment warrants interest rate increases and benefits flow to the investor. PFLT has one of the highest leverage ratios which should go down given the recent equity offering unless it expands its credit facility.
Payout
Currently the dividend yield is 7.6% and lower than the average of 9.2%, but it has a history of increasing dividends as earnings grow. With quarterly EPS expectations of around $0.30 and the current payout around $0.26 there is room for further increases.
Analysts
Most analysts rate PFLT an 'Outperform' with a target price between $14 and $15.
Valuation
Currently PFLT is priced near book value which is better than the average BDC with a 10% premium and the current P/E using LTM earnings is 12.5, higher than most with an average of near 11.
Summary
The risk profile of PFLT, with its safer asset class and floating rates is offset by the amount of the leverage and overall size. The current payout is low but expected, given the safer investments, and hopefully PFLT will continue to grow its dividend as new capital is deployed. The current valuation is average and I would consider it a 'Maybe' until there is a bit more of a track record of meeting expectations and using capital wisely. I am currently long PFLT but it is a very small position and used to balance out the overall portfolio.
Previous articles:
Disclosure: I am long PFLT, TCPC, MCC, MAIN. I wrote this article myself, and it expresses my own opinions. I am not receiving compensation for it (other than from Seeking Alpha). I have no business relationship with any company whose stock is mentioned in this article.